My latest purchase was microcap stock GlobalScape (NYSEMKT:GSB), a file transfer software and managed services company. Computer users know it best for its low end FTP products, CuteFTP and CuteFTP Pro. But that's just a small fraction of its business. The revenues are mostly from the more advanced, server-based file transfer programs like EFT Server and EFT Server Enterprise. Managed file transfer services are also growing.
OK, so the business is pretty boring. For a tech company it's difficult to find something more mundane than file transfers. As a stock, however, GlobalScape has a lot to offer. I bought GSB over the last several days at $1.46 to $1.49. Here are three reasons why:
1. Fundamental turnaround. After several periods of growth, GlobalScape posted both a sharp decrease in revenues and a GAAP loss in 2008. The poor results hit shares hard, sending them down below $.60. While the full year 2009 results are not out – and won't be until the end of March – it looks like GlobalScape has returned to both profitability and revenue growth. For the first third quarter of 2009, GlobalScape posted revenues of $4.296 million, or 14.83% more than last year, and earned over $575k. There is always event risk going into an annual report, but GlobalScape faces easy comps.
2. Positive newsflow. A series of positive press releases in the beginning of March, especially this one regarding new deployment of the high end EFT Server products at AMD (NYSE:AMD), helped spike the stock intraday to $1.75. Though it quickly retreated, I like to see the stock influenced positively by the newsflow.
3. Technical setup. See that 15% jump, now fully retraced, in early March? That spike and retreat formation has always served me well in microcaps. It defines the risk — 10% down from here, and the pattern has failed. But if it holds, it's usually just a matter of time before the spike high is taken out and 52-week highs get challenged. The longer-term picture is also bright. After gaining over 300% in just 5 months, shares have had a healthy pullback and consolidation. Anything can happen here but the path of least resistance appears to be facing north.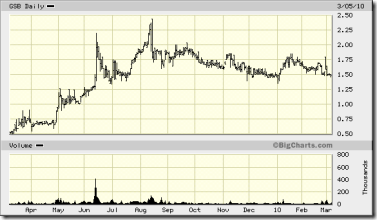 DISCLOSURE: Long GSB.