Being the 46th most powerful brand and 52nd most innovative company in the world, Mondelēz International (NASDAQ:MDLZ) operates in more than 165 countries, offering 57 brands and fetching approximately $36 billion in annual revenues. The company is a world leader in the manufacturing of biscuits, gum, chocolate, candy, powdered beverages and coffee with an assortment of multi-billion brands.
The objective of this article is to determine the effects of the company's recent performance on its stock for the future and shed some light on possible price movements considering the confectionery industry's prospects and the company's inclination to exploit them.
Industry Outlook
The confectionery industry has been forecasted to grow at a CAGR of 3% to $ 182,697.1 million by the end of 2016 increasing from a valuation of $157,640 million in 2011. The main drivers of such growth are creative product development, new flavors, original ingredients, enriched product advertisements and brand additions. Due to the prevalent availability of organic food items, predominantly in departmental stores, demand for impulse foods (biscuits, snacks, chocolates, confectionery, wafers, cakes & ice cream) has been increasing. Thus this segment has enormous potential.
Europe comprises the largest regional market for confectionery goods, particularly gums and chocolates. The US and Asian Pacific markets track behind as the two foremost confectionery markets internationally. Asia Pacific is anticipated to grow at a CAGR of 7% by 2017.
The top five manufacturers account for 50% of the international market. Mondelēz is well equipped and is already on its way to improve upon its supply chain to cater to the growth demands in the developing markets. The company recently announced its plan to invest $190 million in India to construct the biggest plant in the Asia Pacific region. This plant will be the largest chocolate manufacturing plant in India covering 134 acres of land in the Indian state of Andhra Pradesh and will have a capacity of 250,000 tons. The first phase of construction is to be accomplished by 2015.
Gum constitutes 14% of confectionery sales and led by innovation and marketing it is the fastest growing segment reflecting 7 % growth. Cadbury and Wrigley consolidate almost 60% of the market. Formulation and innovation are bar the entry of new competition.
Candy is a very split segment in the confectionery industry with the propagation of local brands and has a growth rate of 4%. Indulgent candy (premium toffees), purposeful candy (cough drops) and natural produces without sweeteners and artificial colors are drivers of growth. Only a quarter of global confectionery revenues is fetched by the top five players in the market.
According to Euromonitor, savory and sweet snacks are projected to experience a 10% CAGR by 2017. As per the growing number of health-aware consumers healthier products that promote wellness are likely to experience expansion in the coming years.
Performance
During the third quarter of 2013 an almost 2% YoY increase in net revenues was reported and missed analysts' estimates of 3%. Double digit decline in revenues from China (especially from the biscuits category) and currency headwinds caused a decrease in the net revenue. Organic net revenues increased by 5.3% during the quarter while the emerging markets cultivated an increase of 10.7%. Due to significant international exposure, currency movements had a 3% effect on net revenues during the third quarter of 2013.
The company was able to report an adjusted EPS of $0.41 and outdid analysts' expectation by 2.5%. A YoY increase of 16.7% during the third quarter of 2013 and an adjusted EPS were driven by a lower tax rate. Figure 1 shows the company's revenue growth region wise during the third quarter of 2013.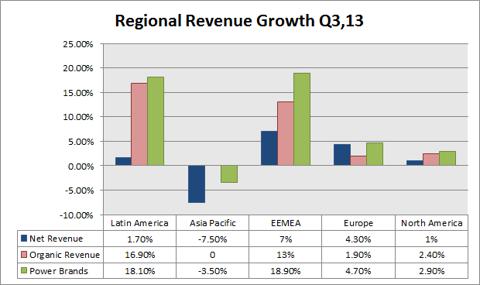 Fig 1 Source : Co. Earning Release
Latin America
A 1.7% increase in net revenues and a 16.9% increase in organic revenues were reported during the third quarter of 2013. Robust growth in Brazil and pricing in the inflationary markets of Argentina and Venezuela led to organic revenue growth. An 18.1% growth was noticed in power brands.
Asia Pacific
Fragile grades in China undesirably affected MDLZ's earnings during the third quarter of 2013. Net revenues declined by 7.5% and flat results were observed in organic net revenues. The company has a $1.1 billion business in China which underwent double digit decline due to the frail performance of biscuit sales and were counterbalanced India's double digit growth. Oreo biscuits in China resulted in a 3.5% decrease in power brands in the region.
EEMEA
Net revenues grew by 7% and growth in organic net revenues was 13%. Russia, Ukraine, GCC7 and West Africa provided double figure gains. An 18.9% growth was observed in power brands.
Europe
Net revenues were up by 4.3%. Although the region's revenue growth was negatively affected by a 1.4% decrease in coffee revenues its organic net revenues grew by 1.9%. Power brands were up by 4.7%.
North America
Growth of 1% was reported in net revenues for the region. Robust growth in candy and biscuits increased organic net revenues by 2.4%. The biscuits category in the U.S. experienced a growth of more than or equal to 5% for the ninth successive quarter. Power brands cultivated 2.9% growth.
Current Focus
The company faced quite a harsh time in the Asia Pacific region during the third quarter of 2013 yet it has managed to considerably outdo the industry's average margins. The company's trailing twelve months gross margin of 37.33% is well above the industry average of 24.7%. The company is still leading with operating and net profit margins of 11.1% and 7.88% against the industry averages of 10.92% and 7.52%. Its five year average growth rate of 4.66% against the industry's rate of 4.54% clearly showcases the company's ability to maintain its profitability despite challenges. Figure 2 depicts a graphical presentation of the company's standing prestige to date.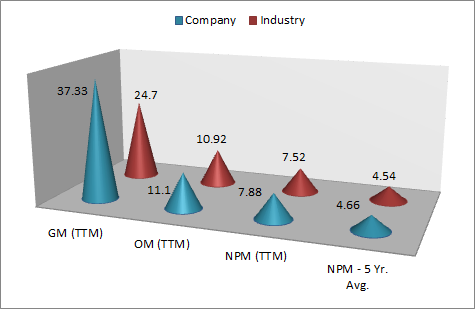 Fig 2 Source : Reuters
Sixty percent of Mondelēz's business comes from its chocolate and biscuits sales while chocolate constitutes 55% of the confectionery segment. The company's continuing construction in the Asia Pacific principal chocolate production plant in China is one of the leading features that will aid company in earning enormous incomes and increase demand from its widespread base of customers.
Valuation
After taking into account all of the available information and interpreting the facts and figures I have applied the price multiple based evaluation approach. By incorporating my analysis and making assumptions about the expected value for each multiple used I have determined that MDLZ is currently undervalued. The stock price has an estimated upside potential of at least 10%.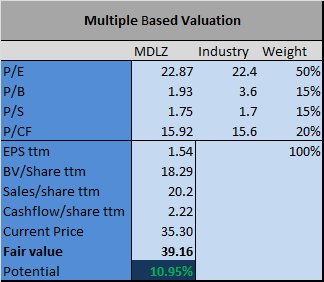 Conclusion
The supply chain improvement in India, expansion plans for emerging markets and especially the company's share repurchase plan denote significant growth potential and make MDLZ a good investment.
Disclosure: I have no positions in any stocks mentioned, and no plans to initiate any positions within the next 72 hours.
Business relationship disclosure: The article has been written by a Blackstone Equity Research research analyst. Blackstone Equity Research is not receiving compensation for it (other than from Seeking Alpha). Blackstone Equity Research has no business relationship with any company whose stock is mentioned in this article.