The most recent S&P/Case-Shiller Housing Numbers came out at the end of December when we were finishing up our annual Bespoke Report, so we have yet to provide our monthly update of the numbers. Below is a look at the month-over-month and year-over-year home price changes in the two composite indices and the 20 individual city indices.
As shown, on a month-over-month basis, the two composite indices were up slightly from September to October, but 9 of the 20 cities actually saw home prices decline. Chicago saw the biggest decline at -0.48%, followed by DC (-0.42%) and Denver (-0.35%).
Of the 10 cities that showed month-over-month price increases, Las Vegas and Miami were up the most at more than 1%. Detroit and Phoenix were up the third and fourth most, while Los Angeles rounded out the top five.
On a year-over-year basis, the two composite indices are up 13.6%. Las Vegas is up the most year-over-year with a gain of 27.05%, followed by San Fran (+24.56%) and Los Angeles (+22.06%). Cleveland and New York are up the least year-over-year at +4.9%.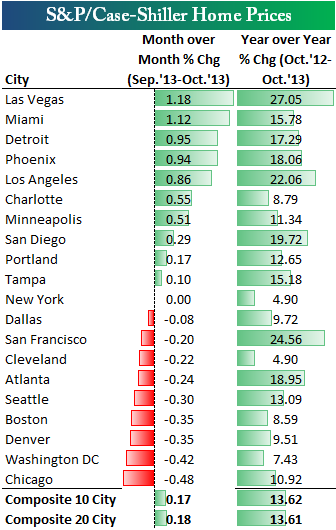 Below is a look at how far each of the S&P/Case-Shiller home price indices have now bounced off of their post-bubble lows. As shown, San Francisco is now up 53% off of its lows as the Silicon Valley IPO boom continues to push up prices. Detroit is up the second most off its lows at 47%, followed by Phoenix, Las Vegas and Atlanta. On the low side, New York is up the least off its lows at +10%.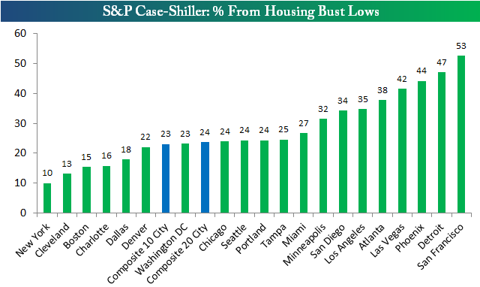 Below are price charts of the 20 S&P/Case-Shiller home price indices going back to 1989. You can clearly see the bubble of the mid-2000s followed by the bust during the Financial Crisis and now the ongoing recovery. Most notably, Denver and Dallas are at new highs.