With the imminent release of its next generation APU, code-named Kaveri, and its upcoming Q4 earnings report Advanced Micro Devices' (NYSE:AMD) stock is likely to be the focus of a lot of traders' attention.
Kaveri, based on the new Steamroller x86 core, sits at the center of AMD's 2014 business model and success today bodes well for the next few years as the technology it incorporates could have disruptive effects on computing as we perceive it.
Coming back to discussing this stock that I identified last year as a potential turn-around play for investors is a little like pulling on a favorite jacket.
Fellow AMD long Justin Jaynes, has done an excellent job collecting and aggregating all of the information we have about Kaveri, now less than a week before the NDA is lifted and the release is official. You can read his recent work here, here, and here to get up to speed on the particulars.
I, however, want to focus on the bigger picture and then take a look at the current stock performance and give investors a few ideas of how to play the upcoming events.
The Parallel's the Thing
Kaveri is the culmination of a long-term strategy that AMD undertook to flatten the architecture of a modern CPU. With each successive generation AMD has added to the resources the GPU could access directly without having to get a command from the CPU first. So that today, AMD is promoting Kaveri as having compute units rather than a quad-core CPU with an eight core GPU. This is a subtle distinction that could not be made with previous generations. HSA makes this possible.
This same kind of massive parallelism is on display with both Microsoft's (NASDAQ:MSFT) Xbox One and Sony's (NYSE:SNE) Playstation 4 and AMD's Jaguar and GCN-based APU's.
When we compare this to the solution being offered by Intel (NASDAQ:INTC) and Haswell's Iris Pro iGPU we see a completely different design philosophy. It is, in my opinion, typical of Intel's approach which is that of brute power not elegant design. The inclusion of eDRAM on-die to boost performance via caching is one that has allowed Intel to close the gap between their GPUs and AMD's but it can't scale with the future except through die shrinks.
And at this point even Intel is having problems moving to lower process nodes. We are running up against the limit of physics in this sense.
The computing world is moving away from large single-core do-it-all computing units to multiple smaller units capable of doing a few tasks well. This is the design philosophy behind Kaveri and Jaguar/Puma - AMD's small, low-power CPU cores - as well as their GCN architecture for graphics.
Gestalt Computing
Being both a tech-geek and a financial analyst it is easy to get seduced by technology that's "cool." But when evaluating a product there is so much more to it than whether the tech is any good. It has to fit what the market wants or needs. When I look at Kaveri I don't see individual bits of the product, the laundry list of specs, I see the whole unit and at its expected price points leaving aside the new technology I see tremendous value in a market where AMD is gaining market share, the desktop.
Leaked performance numbers for Kaveri are more than good enough for its target market. It may annoy enthusiasts that AMD is not challenging Intel at Intel's game and they may be willing to pay the extra premium for a graphics card, more expensive motherboard and CPU. But most people are not.
Smaller form-factors - all-in-ones, laptops, etc. - are what are dominating sales. Driving overall system performance and simplicity of design in those forms is not a trend that is going away.
By bringing these things - audio, parallel compute - on die it is innovating to solve existing technology bottlenecks while also shortening the bill of materials. OEM's love that.
These are the wild cards for Kaveri, and the initial round of benchmarks will not address them. It incorporates a handful of new technologies that have no presence in the current market but that are desperately desired by it. As they unveiled these technologies over H2 2013 the extent of the company's strategy became much clearer.
HSA architecture - simplifying design through shared memory access and creating low-latency access to powerful GPU cores for computational work. It has powerful industry support.
TrueAudio - a DSP and API that offloads positional audio data from the CPU to it to directly process sound, vastly improving overall system performance and improving gaming immersion.
Mantle - a programming API that gets graphics engine programmers much closer to the 'metal' than Microsoft's Direct X, potentially bringing console-like performance to PC's.
Integrated Crossfire controller - further improving the use of a discrete card in conjunction with the integrated GPU.
Value is created when the whole is truly greater than the sum of the parts. All of these are offer potentially disruptive levels of improved performance. The first three are in early development and adoption via partnerships while the last one is still a technology that has yet to mature as a selling point.
The Technical Outlook
Kaveri is only part of AMD's larger strategy. The upcoming Beema and Mullins small-core replacements for Jaguar will have to prove themselves in the ultraportable space and find design wins that Kabini and Temash did not. China opening up its market to the Xbox and PS/4 is a huge positive for them.
For now, though, Kaveri is the focus of the stock price and how investors will view the company in early 2014. The initial response has been positive with the stock breaking through the October high of $4.13 and is looking to fill the gap (not shown on the weekly chart) back to $4.65 before options expiration on the 19th.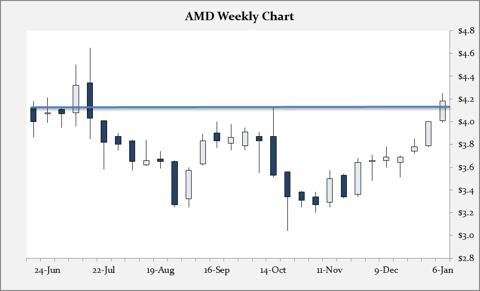 I'm looking for a close this week above $4.13 to confirm this possibility. It would be significant as the $4.05 to $4.10 area proved to be strong resistance back in May and June. The earnings call is on the 21st, the next trading day after options expiration.
Looking at the statistics on average AMD moves $0.27 close to close each week and $0.23 above the opening price ($4.01) so I wouldn't expect much more price action this week, with the high of $4.26 having been achieved. Holding current gains is what bulls should be looking for. But momentum is bullish in the wake of the Kaveri press conference so this short squeeze may have room to run.
As a long I would be lightening my position or buying cheap, short-term protection - February puts -- coming into earnings after a rally like this. There will be a strong probability of a short-term pullback and any dip will be a buying opportunity. The last two earnings reports saw short-covering rallies reverse violently. Until that pattern changes I would be cautious around that time.
I'm holding a few OTM calls and will be rolling them forward on the first sign of weakness. Until we get a monthly close above $4.13 per share, however, I see AMD as range bound below $4.42 per share, the highest daily close of 2013.
Disclosure: I am long AMD, . I wrote this article myself, and it expresses my own opinions. I am not receiving compensation for it (other than from Seeking Alpha). I have no business relationship with any company whose stock is mentioned in this article.