The first article in this series, "Building a Portfolio Part 1: Not Just Buying Stocks" discussed the change in perspective from just picking stocks looking at the company's qualities and valuation to picking stocks considering how those same stocks fit within a portfolio's strategy and current composition. The first article looked at my portfolio from a number of angles. The second article discussed how to determine whether a particular stock really fits within the portfolio. This article demonstrates my due diligence process. In the past I have, too often, purchased a stock based only on what others say about it.
In the past few months, I have focused on solidifying a 12-step process of investigation. For this article, I will take a detailed look at General Mills (NYSE:GIS) which I used as an example in Building a Portfolio Part 2: Choosing A Stock.
1. Stockcharts.com
There are two primary places I hear about a company, here on Seeking Alpha, and on BNN's Market Call and Market Call Tonight shows, which I have watched for several years. StockCharts is my first place to go. If the chart is not interesting, my research may last less than 10 minutes, and will likely only consist of the first three points here. If I can see possibilities, the adventure begins.
Two main types of charts are of particular interest to me. First the steady slow up and to the right charts, like Cineplex (CGX) or (OTC:CPXGF) or Visa (NYSE:V). These are consistently growing companies that just chug along. Market whims do not seem to make much of a difference to them. As the market rolls and pitches it is comforting to see something steadily heading in the right direction.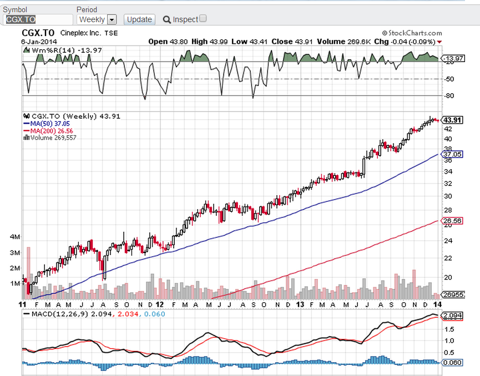 The sudden drop such as Western Union experienced is another favorite of mine. Western Union was not on my radar as something to invest in at the time of the drop, but hearing about it here on Seeking Alpha intrigued me enough to take a look. From my trading days, I usually wait for the second bounce and that was part of my delay, as well as needing to complete research.
I did not get in as quickly as maybe I should have, at $14, but by the time I did, I was confident that the company as well as the stock would be fine.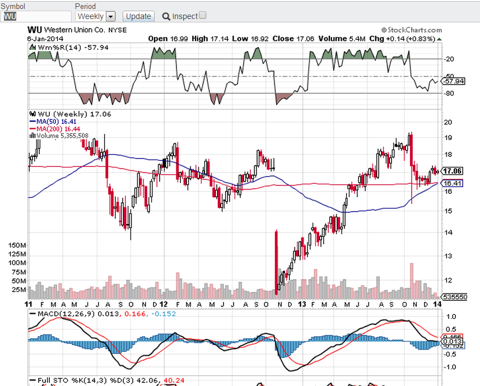 35% drops independent of macro-economic news do not happen particularly often. Other, less dramatic, examples of this are the drops in the Canadian Telecoms and REIT's this summer.
General Mills: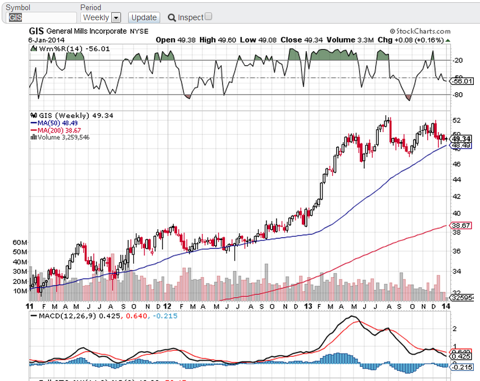 What does the chart for General Mills tell me? First, that I should have bought it last January! GIS had a tremendous year in 2013. Like some of its peers, most notably Pepsi (NYSE:PEP) which has the most similar chart, the 50 day MA took on a new trajectory last January. Since August though, GIS has been trading sideways and in the short-term is currently moving downwards with lower lows and lower highs since November. Longer term though, the October lows are higher than the June lows, so it is not too concerning as long as the next low remains higher than October's. I am not running out to buy today, as I would want to see evidence of a basing pattern and to be sure those October lows are not broken through. Meanwhile, I do not expect it to run away without me in the short-term, while I make decisions. Mondelez (NASDAQ:MDLZ) has a lovely weekly chart that makes me smile. Maybe I should be looking at this larger competitor instead?
2. Google Finance
Yahoo! Finance has more detailed information than Google Finance, but I usually stop in at Google Finance for a quick look at the basic information, like P/E, market cap, dividend, beta, current market action and a different style of chart with longer time frames than the free access to Stockcharts provides. I also like the ability to quickly compare companies, and bring up their charts together in various time periods. It is my instant source for information, but I do not rely on it to be authoritative. I often flip back and forth between Google Finance and Stockcharts looking at competitors.
A quick look at General Mills on Google Finance and I can see the P/E is 18.3, the dividend is 3.09%, paid out quarterly in January, April, July, and October on approximately the eighth of the month. Since I have just missed the ex-dividend date for this quarter, there is no haste to buy. I have ample time to try to find a better entry point if I decide to add it to my portfolio, and still not miss the next payment.
The market cap for GIS is 30.76B. I also see that it has three larger competitors; Pepsi 126.25B (I own Coca-Cola (NYSE:KO) instead), Unilever (NYSE:UL) 119.81B, which I already own, and Mondelez 61.43B.
Plotting these four comparables on the graph, if I had bought ten years ago, PEP would have been the clear winner, five years ago - GIS, and one year ago, MDLZ. Who will win the race this year? I have no idea, nor do I really care with these close competitors. My main goal with buying one of these stocks, and any one of them would fit into my portfolio, is starting that growing dividend stream for use twenty years from now. Maybe FAST Graphs will help me decide. But I am still attracted to that MDLZ chart!
3. FAST Graphs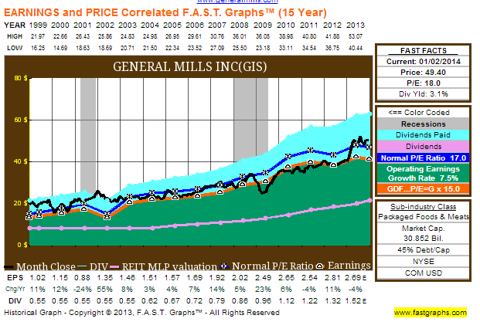 FAST Graphs has a lot more information also immediately available and comparable. GIS has a five year dividend-growth rate of 11.2% and a dividend yield of 3.1%, that easily beats the 12% Chowder Rule at 14.3%.
PEP has a five year dividend-growth rate of 9.4% plus a dividend yield of 2.8% for a Chowder number of 12.2. MDLZ has a five year dividend-growth rate of 2.6% plus a dividend yield of 1.6% for a failing Chowder number of 4.2.
Additionally, I highly appreciate Chowder's perspective of High Quality + High Current Yield + High Growth Of Yield = High Total Returns. Though I do have a value and growth component to my portfolio, the addition of GIS (or substitute) to my portfolio would fall securely within the DGI portion of my portfolio, so I am not interested in any stocks that fall outside my ideal metrics for DGI companies. It would take a lot of large raises for Mondelez's dividend to even out the yield difference between itself and General Mills or Pepsi and the recent raises do not indicate this will be the norm.
Looking at the Graphs, they are all overvalued. PEP and GIS less so than MDLZ. PEP is only just back to its regular overvaluedness since the 2009 lows, but GIS is not normally this overvalued.
There is so much more information to mine at FAST Graphs. Chuck Carnevale delivers what he promises, with fundamental analysis at a glance. I am glad he has priced it reasonably for retail investors as it is a continually used tool for me. Someday, I will learn how to make the most of it. The FAST Graph shows MDLZ has a normal P/E of 17.3 but its current P/E is 22.4 and a growth rate is not available due to the comparatively recent split up of MDLZ and Kraft (KRFT). Kraft may have more of the metrics I am looking for, but I would prefer the international exposure of MDLZ but the historical data is sketchy, if available. It is important to compare your target company with competitors and that should be done without getting lost in endless rabbit trails. So, for now I will limit my interest in these others and focus on GIS.
GIS has an earnings growth rate of 5.8%. Not stellar. And an acceptable Debt to Capitalization Rate of 45%. It is on track for a 7% increase in the dividend if there is no annual raise this year, but chances are quite good the dividend will be raised again in July this year, as GIS has increased the dividend for each of the last 10 years. We may see a 10-15% dividend increase for 2014, but I only guess based on past increases. GIS has paid a dividend for 114 years straight and though it was frozen at times, it has never been cut.
4. Reports
Looking at reports is where the heavy lifting begins. Until now, the effort has been minimal and even entertaining. The three preceding websites provide a good opportunity for sorting and choosing which stocks to begin to work on.
My discount broker provides a variety of reports free on their website and I can access Value Line at our local library.
Already I know I will likely be avoiding MDLZ and KRFT, simply because I am not be able to get clear, long term results. But I cannot resist a quick glance at the S&P Capital IQ Stock Report. For MDLZ there is 'sell' written on the top, with only a 2 star rating so my interest is waning and I do not look any further. Kraft is rated a 'hold' with 3 stars, but I am already less interested without the international exposure. So, those rabbit trails end. Despite already owning Coca-Cola, my interest in Pepsi is piqued, but I am determined to spend my time evaluating GIS for now. I prefer only holding two companies per sector, but I am not really limited. Since I am not in a hurry to buy based on dividend or on technicals, I will have ample time to evaluate Pepsi individually later.
Seventeen analysts cover GIS and here are their current ratings.

S&P rates GIS as a 3 star 'hold'. This is a very recent downgrade from December 18th, 2013, based on disappointing FY 14, Q2 results. In 2010, GIS was a 5 Star Strong Buy, downgraded to a 4 Star Buy mid-2013. This is not an encouraging sign, but I think these downgrades have been warranted.
S&P assigns GIS a rating of "low risk", stating, "Our risk assessment reflects the relatively stable nature of the company's end markets, strong cash flows, and an S&P Quality Ranking of A, which indicates well above average long-term growth and stability of earnings and dividends." (from the report dated January 4, 2013) They also give it a 99 out of 100 for investability. Nice.
Not surprisingly, the report also discusses competition and the high P/E as risks.
Their 12 month target price is $51, not too different from the current price. I am ideally looking for a 9% annual return on any investment, so I would prefer get in at a lower price. They calculate fair value to be $46.70.
One surprising tidbit I learned in this report is that Wal-Mart (NYSE:WMT) stores account for 22% of GIS's total sales. It is good Wal-Mart is doing well!
In general, I find that the report echoes what I already thought about the company; a quality company definitely worth holding if you already own it, but now is not the best time to buy.
The Thomson Reuter's report is even more readable for the retail investor. The report rates the stock 1-10 on 6 different features
GIS scores and average of 8 out of a possible 10. Broken down into; Earnings: 6, Fundamental: 7, Relative Valuation: 6, Risk: 10, Price Momentum: 3, and Insider Trading: 8.
Even at first glance, I have little argument with these assigned numbers. I did not find anything new or surprising in the rest of the report either.
The Vickers Insider Trading Chronologies also contained nothing to raise warning flags. As I likely will not be buying soon, I did not go through with a fine-toothed comb, but noticed that many of the sells were related to options purchased.
The Argus Company Report dated December 19, 2013, had much higher price target of $57, and the tone is much more positive than any of the others. "General Mills has posted above-peer-average growth of 10% over most of the past five years, but its forward multiple is below the industry average. As such, we expect the multiple to expand and look for the shares to perform well in the coming quarters. In our view, earnings should benefit from management's efforts to improve merchandising, lower costs, sustain growth in the core soup and snack businesses, and focus on overlooked product categories such as Greek yogurt. In addition, we look for GIS to grow internationally, especially in underpenetrated markets in Europe, and to gain cereal market share in the U.S. through aggressive advertising spending and the introduction of new products. In addition, the Bakeries & Foodservice division should benefit from efforts to expand into faster-growing segments such as breakfast and healthcare foodservice."
Argus explains the missed earnings expectations with three factors; Thanksgiving being in the next quarter this year, ingredient costs rising, and currency issues.
I generally find the reports available to me through my brokerage to be interesting and easy to digest. They often contain insights into the company, industry and market that I would otherwise miss.
5. Company Website
Though I find reports interesting, balance sheets just put me to sleep. My daughter learned to read them this year at university, and I may just employ her to review them. I will learn about them sometime, it just is not quite a priority yet. I see the numbers, I understand what they represent and I appreciate tracking the changes over multiple years, but a forensic account (or any accountant), I am not. I certainly could not uncover anything unusual. So, I confess that for now, I limit myself to the presentations and news releases with a nod to the financial summary.
When perusing the company website, keep in mind that you have just entered into the world of expert marketing with colourful, glossy presentations designed to lure in prospective shareholders. Now you know why I enjoy them and it usually works for me. (by the way, Blackrock was a big disappointment, but I invested in them anyway!) However, I almost scoffed when one of the first things I read on the company website was "General Mills is one of the world's larger food companies ..." Sorry guys, that's trying a little too hard for my tastes.
A good place to start on the company website is the Fact Sheet before moving onto the presentations. It is carefully crafted to shed the best light on the company and help you to feel you understand what the company is doing all in a succinct couple pages. Sometimes it does, but one must take note of the fine print such as below this first chart, snipped from page 2.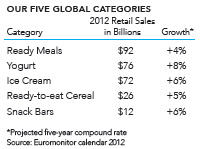 Other charts really are quite helpful. My guestimate at dividend increase was not far off. Share repurchase programs retired 2% of shares last year. The management has continually demonstrated its commitment to shareholder's interests and expect the double-digit return on capital to shareholders to continue.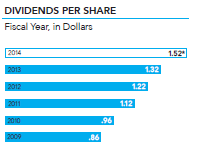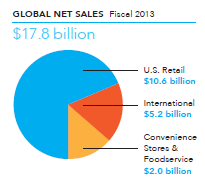 The annual report unsurprisingly begins with cute kids and Cheerios, and I can certainly say I understand more about the company now. Information from the Annual Report is liberally sprinkled throughout the article and a careful read is absolutely required before investing.
Often the presentations are interesting and encapsulate information in engaging graphs and pictures. If you are too tired to read through the Annual Report, start with the Presentations. One of my all-time favorite presentations is from Costco. The pictures of Costco Taiwan reminded me of an experience years ago at West Edmonton Mall, the largest Canadian mall, on Boxing Day, the largest Canadian shopping holiday. I am not sure I have that much shopping patience. That picture alone almost initiated a buy!
6. News
Now that I have had a chance to make my own impressions of the company, read analysts reports and get some input straight from the horse's mouth, it is time to check out what other people are saying and scan the news. My broker has an excellent news section, and I often see news first on Google Finance. General Mills announced January 3rd that Original Cheerios will now be produced GMO free. Great news! I am sure that will make Moms worldwide feel better about feeding processed cereal to their children! Lest you think I dislike Cheerios, my children and I ate our share, but our Cheerios days have been over for quite a few years. Did you know that we few Canadians eat more Cheerios than Americans? I am not surprised as I do not know any kids who do not eat Cheerios! We are only outdone by the British. We also consume more yogurt.
7. Seeking Alpha
Some of that news may come from Seeking Alpha, but I also like to do a search for the company. This leads me to all the articles related to that company; many of which I may have missed, or are from corners or contributors of Seeking Alpha that I do not usually visit or follow. It is often interesting to see how opinions of the company have changed over time.
In contradiction to the S&P analysts who downgraded the stock. Seeking Alpha contributors have been sounding quite positive about it.
8. Is it Best of Breed?
As I have mentioned before, I like to focus on best of breed stocks. Is General Mills best of breed? No. It may not even be second in line. Pepsi and Unilever are largest by market cap. But largest is only not always best. I have not yet answered the question of which company is best of breed in this sector and industry. In this case, just because it is not best of breed, does not mean it does not belong in my portfolio. There is still room for a quality company like General Mills.
9. Story
This sector is all about brand story. There are excellent brands everywhere. General Mills certainly owns some of them.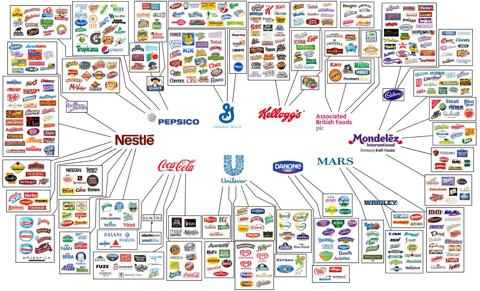 10. Does it have an Economic Moat and Margin of Safety?
Certainly the well-loved and recognized brands give an economic moat to General Mills, and there are some barriers to entry to build a brand with that level of status and marketing. However, competition abounds as is clearly shown in the above chart of brands.
Is there a margin of safety? I think the FAST Graph and current P/E shows that there currently is not in the share price, but the nature of the industry and this company show there is a margin of safety included there. Everyone agrees there is little risk partnering with this quality, investable company.
11. Is earnings growth consistent or cyclical?
One of the great benefits of investing in this sector is that it is clearly not cyclical, but steady growing earnings. These are not growth companies that will . No matter what happens to their jobs, Moms everywhere will still buy Cheerios for their children, though, if things get really tough, they may supplement with a little more oatmeal (Quaker is owned by Pepsi).
12. What is wrong with this company? What challenges does it face? What would make you sell?
General Mills is a well-managed quality company, but it has not performed as well as usual lately. Competitiveness in this space abounds. In several places it was mentioned that GIS missed the opportunity to participate early in the Greek Yogurt market. When the yogurt segment accounted for 6% of the growth this past year, that was a costly mistake. The risk of not being on ahead of consumer trends has hurt many a company and it is likely to hurt GIS again.
Input cost inflation is a risk for any company. The CEO, Ken Powell mentioned in his letter to investors in the most recent annual presentation that inflation of input costs was 10% in FY 2012, but dropped to 3% for FY 2013. It is expected that FY 2014's increase will remain at 3%, though this has been an extremely volatile metric in recent years.
Yes, there are many risks, but with GIS these risks are relegated to being particular. There is virtually no risk this company will go bankrupt or have difficulty getting their products to market. The Cheerio and Yoplait market is not likely to dry up overnight.
Advertising is a massive cost for this company, which only slightly offends my pragmatic sensibilities. The company expects this to increase over the next few years and I believe that investment will pay off as they roll out new brands and variations of old brands, introducing them to their public.
If and when GIS enters my portfolio, it will be there to stay - unless something dramatically changes about the company or the dividend is cut, of course. Shares may be added and occasionally trimmed, but not likely sold completely. This is a company which has paid dividends for 116 years and continually produced desirable consumer food products. I think the chances are good that I may partner with it for a very long time.
Summary
As a technically oriented trader, all I cared about was the chart and how long it would take to get the 10-20% short-term gain I was looking for. I did not really care about the company. Now, my focus is completely different. There is much more initial work involved, but it is far more satisfying, especially in my confidence level in the companies with which I invest. The chart now primarily tells me when to get in. The rest of the decision is fundamentally deciding if the company is one I want to partner with.
I do not feel that I have mastered the art of due diligence, and this article does not detail all of the metrics I use to evaluate a company, but rather attempts to list the resources and general processes I currently use. I look forward to a discussion of which metrics you find most important and if you feel there is an important investigative piece missing, other than learning to truly understand the balance sheet.
As a newer investor, coming up to only three years of self-directed investing and 1.5 years of transitioning to Dividend-Growth Investing, I write for newer investors. I think anyone with the ability to invest time and energy into learning about portfolio management should manage their own investments. I hope that my articles, instablogs and comments encourage the average person and newer investor to move more quickly towards understanding their own goals and needs, to develop an effective strategy or "business plan" for their investing, learn how to evaluate a company, and how it fits into their own portfolio.
Disclosure: I am long KO, V, UL, WU, CPXGF, . I wrote this article myself, and it expresses my own opinions. I am not receiving compensation for it (other than from Seeking Alpha). I have no business relationship with any company whose stock is mentioned in this article.