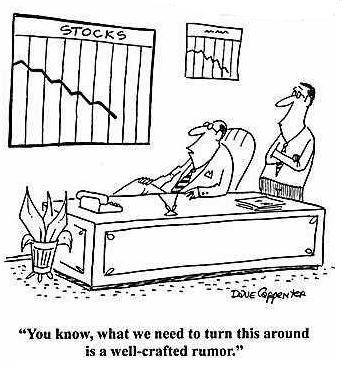 Outlook: Equity markets searched for solid footing for next move upwards. Consumers' resilience as expressed by stronger retail sales is a big plus as they dominate the US economy. Emergence of financials added an element of comfort. However, generally positive economic news is being met with an S&P 500 reaching its January high with investors looking for the next catalyst…clearly jobs!
CEF Weekly Review: The 13 closed-end fund (CEF) types on average posted a 0.3% increase for the week ending 3/12/10. The high-low spread was 1.9% vs. 4.7% last week. On an aggregate, unweighted basis, the weekly average price change for the 500 CEFs was up 0.2%.
The weighted 49 CEFs comprising the Claymore CEF Index registered an advance of 1.1% for the week and a 1.3% gain YTD. The S&P 500 increased 1.0% for the week; up 3.1% YTD.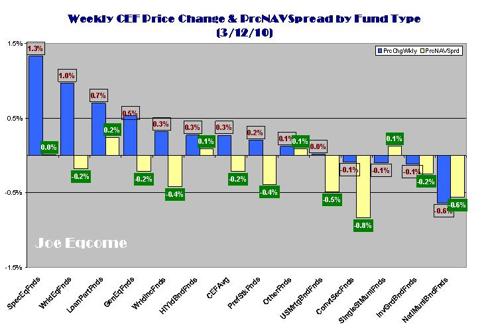 (Click here for YTD CEF performance. The table is based on a smaller CEF sample size as all the data fields are not available for the CEF universe.)
The Eqcome CEF Fear Index crossed over from easing trend to one of concern; price advancing 0.2% and NAV advancing 0.3% for the week.
The CBOE Volatility Index (VIX), which typically moves inversely with the stock market—but is mostly a measure of volatility, advanced 0.9% after nearing a 52 week low the previous week. While choppy earlier in the week, the VIX surged on Thursday peaking mid-day and later drifted lower into Friday's close.
The S&P 500 average daily trading volume jumped this week to 4.8 billion shares rising 20.1% from what has been a slow start for the year.
CEF Weekly Fund Type Performance: Equity-oriented fund types generally advanced while debt-oriented fund types rode in the back of the bus. SpecEqFnds advanced 1.3% on the strength of real estate oriented funds which surged 2.7%. Stronger than expected retail sales and a "food fight" breaking out over bankrupted General Growth Properties gave a boost to retail property REITs and REITs in general. HiYldBndFnds again joined the risk trade after a brief absence; ditto for WrldIncFnds.
With increasing gloomy talk regarding state budgets, with California woes drawing investors' attention, muni bond fund types continued to suffer. Interestingly, despite that chatter, NatMuniBndFnds underperformed SingleStMuniFnds both in terms of price and NAV.
The PrcNAVSprds[1] which typically move in the direction of the stock prices appeared not to have received the memo this week. CEF fund type prices generally advanced less than the advances of their respective NAVs possibly indicating some temerity on the part of CEF investors. This was confirmed by the slight increase in the Eqcome CEF Fear Index.
CEF Winners and Losers: One of the CEFs with the greatest positive PrcNAVSprd for the week was The Denali Fund (DNY). DNY share price advanced 4.8% while its NAV declined -0.6% generating a positive PrcNAVSprd of 5.4%. There was no news on the tape to account for such a surge. Horejsi Group, which are significant investors in the CEF market segment, continues to add to its position in DNY and now controls 76% of the CEF. DNY is very thinly traded and Horejsi weekly accumulation represented 50% or more of the weekly volume.
This week's CEF with the greatest negative PrcNAVSprd was Evergreen Utility and High Income Fund (NYSEMKT:ERH). ERH's price was off 21.4% while its NAV was off -0.3% generating a negative PrcNAVSprd of 21.2%. On Thursday, the 11th, ERH announced a 31.8% reduction in its distribution from its previous month rate of $.11 per share to $.075 per share.
Evergreen Income Advantage (NYSEMKT:EAD) also cut its monthly distribution a more modest 8.5%. Evergreen International Balanced Income Fund (EBI) and Evergreen Multi-Sector Income Fund (NYSEMKT:ERC) maintained their previous distribution rates.
Economic & Earnings Outlook: (Click here for next week's economic calendar; click here for earnings announcements and estimates.)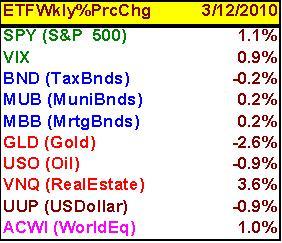 ETFs: (Click here for ETF YTD sector performance.)
Insider Trading: Horejsi Group (Horejsi) continues to dominate CEF insider trading. For the second week of March it added to its earlier positions of the previous week to Boulder Growth & Income Fund (NYSE:BIF) and Denali Fund (DNY) that of Boulder Total Return Fund (BTF).
BTF and BIF are running neck and neck with regards to Horejsi's capital committed for the month of March; each with a total expenditure of approximately $1.1 million.
BTF position was augmented by another 30,844 shares at an average price of $14.28 per share. BIF position was further extended by 118,341 shares at an average price of $6.26 per share. Horejsi owns approximately 24.2% of BTF and 31.7% of BIF. Horejsi also added another 4,300 shares to its position in DNY for an expenditure of $65,125 where it owns a 75.7% interest.
Daniel S. Choquette, a Managing Director of Putnam, the CEF's sponsor, established a new position in Putnam Managed Muni Income Fund (NYSE:PMM). Mr. Choquette purchased 7,200 shares at an average share price of $6.95 for a total expenditure of $50,400. James Keenan, a portfolio manager of Blackrock High Income Shares (NYSE:HIS) purchased 10,000 shares at an average share price of 2.03 for a capital expenditure of $20,300.
MCG Capital Corp (NASDAQ:MCGC) had insiders both buying and selling. Robert L. Marcotte, a SVP and Managing Director, sold 8,500 shares at $5.51 per share while still retaining 211,495 share holding. Kim D. Kelly, a Director of MCGC, purchased 3,000 shares at an average per share price of $5.44.
There was other de minimis insider buying. (Click here for a hyperlink to the Joe Eqcome CEF Weekly Insider Report.)
CEF Distribution Announcements This Week: The following is a link to a table of CEF distribution announcements this week as well as the previous week's with yet expired ex-dividend dates. The list is not intended to be inclusive. (Click here for Weekly CEF Distribution Announcements.)
Significant CEF Corporate Events: PIMCO Income Strategy Fund (NYSE:PFL) (formerly, PIMCO Floating Rate Income Fund) announced the terms of a transferable rights offering of additional common shares of the Fund (the "Offer"). PFL will issue to its common shareholders of record ("Record Date Shareholders") as of March 24, 2010 (the "Record Date") one transferable right (the "Rights") for each common share held. Holders of Rights will be able to purchase one common share for every three Rights held. The Rights are transferable and are expected to be admitted for trading on the NYSE under the ticker symbol "PFL.RT."
The Subscription Price will be determined on the Expiration Date based on a formula equal to 90% of the average of the last reported sale prices of the Fund's common shares on the NYSE on the Expiration Date and on each of the four preceding trading days. The subscription period commences on March 24, 2010, and will expire at 5:00 p.m., New York time, on April 23, 2010, unless extended (the "Expiration Date").
Three of Nuveen's closed-end funds began trading their respective MuniFund Term Preferred shares (NYSE:MTP) on the NYSE as of Monday, March 8, 2010. The CEF's and their respective MTP trading symbols are: Nuveen Insured Massachusetts Tax-Free Advantage Municipal Fund (NGX PrC), Nuveen North Carolina Dividend Advantage Municipal Fund 3 (NII PrC) and Nuveen Connecticut Dividend Advantage Municipal Fund 3 (NGO PrC).
The Gabelli Global Multimedia Trust Inc. (GGT) authorized the adoption of a 10% distribution policy for the Fund's common shareholders. The Board of Directors will determine the quarterly distribution amount and timing of the initial distribution pursuant to the 10% annual distribution policy at its next scheduled board meeting in May 2010.
CEFs Focus for the Week: The Adams Express Company (NYSE:ADX). ADX's annual shareholders' meeting is March 23, 2010. Shareholders have been asked to vote on 3 proposals for which the Board has recommended an affirmative vote for all.
Leaving aside the ratification of the public accountant ("Proposal 2"), shareholders should vote "NO" on "Proposal 1", which is for the re-election of ADX's current Board (Adams Express Proxy Proposal 1: How to Vote Against the Directors (2/23/10). Shareholders should also vote "NO" on "Proposal 3", which is re-approval of the 2005 Equity Compensation Program (Adams Express: Vote "No" on Incentive Compensation (3/9/10). Other ADX reports below.
Why These "NO" Recommendations? The reason for these recommendations is that the Board has done very little to enhance shareholder value. The retail shareholders who own approximately 80% of ADX have suffered persistent and abnormally large share price discounts to NAV. In order to have the influence of an institutional holder of the stock, retail shareholders must act in unison.
What is Our Goal? What we as retail shareholders of ADX want is a "Proposal 4: Enhancing Shareholders' Value Program".
The core of this proposal, which I have outlined in detail elsewhere, (Recommendations to Enhance Shareholders' Value at Adams Express: Part III), would be the establishment of a Shareholders Valuation Enhancement Committee by the Board.
The Committee would be charged with hiring an independent, major investment banking firm with no relations to the firm, its management or its Board, to produce a study with recommendations on enhancing shareholders' value through specific proposals such as: 1) conversion to an ETF, 2) A managed distribution program, 3) a like-kind exchange, 4) liquidation, etc.
Does "Proposal 4" Seem Unreasonable? This seems like a reasonable request by the owners of this company. If the investment bank comes back and says the Board is doing everything it can to enhance shareholders' value and no more can be done, then we the shareholders have nothing to complain about—they "ran it to ground". If they come back with some recommendations to enhance shareholders' value, then they should be seriously considered.
The denying of both the Board and the incentive management program will surely get their attention. To paraphrase Edgar Watson, "A good scare is sometimes more effective than good advice."
Parting Comment I was amused watching the trading in Cornerstone Progressive Return Fund (NYSEMKT:CFP) this week as it paid its last "big" dividend on Friday, its ex-dividend date. The last trade was at 4:00 pm: 3,400 shares, up $.24 per share over the previous trade of 7.20 and well above the "ask" for the stock. I wouldn't want these guys as my secret agents. Not to worry, the SEC doesn't have a clue; even if you led them to it and held the meeting at Fenway Park.

---
[1] A positive PrcNAVSprd can be interpreted as negative because it typically signals a share price movement less favorable than the NAV. All things being equal, price and NAV should move in tandem. A price movement greater than the NAV may indicate the stock is overvalued relative to its NAV which in theory is the stock's intrinsic value. The opposite would be true for a negative PrcNAVSprd.

Disclosure: Author owns a diverse portfolio of CEFs that include BIF and ADX and has no interest in Cornerstone funds