The trucking industry is a minefield of companies going broke and rolling-over. Case in point-Yellow Freight. But one such company that hasn't stopped trucking just yet is Old Dominion Freight Line (NASDAQ:ODFL) headquartered in Thomasville, North Carolina.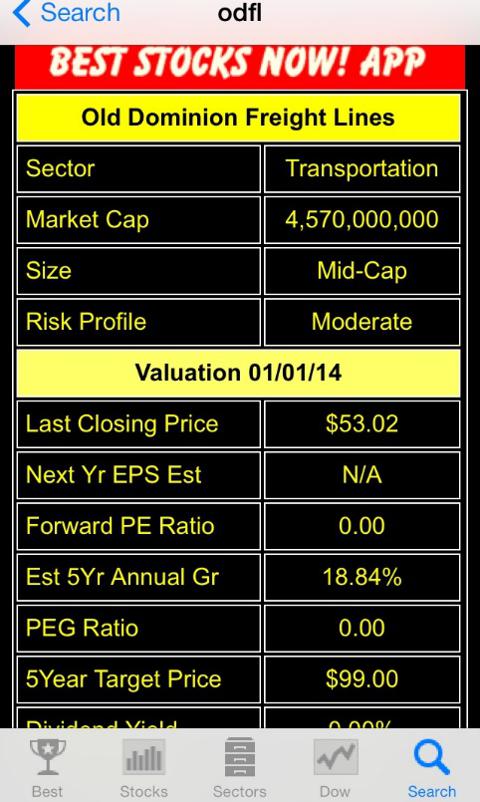 Click to enlarge
Data from Best Stocks Now App
Not only was ODFL one of my top stocks in 2013, it also was recently awarded 'Fleet of the Year'. If you followed me throughout 2013, this comes as no news to you. I have been tooting ODFL's horn for quite some time now-tweeting (not tooting), talking, and writing about it.
But this recent award is not the reason I'm tooting ODFL's horn yet again. I keep talking about Old Dominion Freight Line because it's hitting new highs-AGAIN.
ODFL is a $4.6 billion mid-cap growth company. It started out in 1934 with only one truck making deliveries between Richmond and Norfolk, VA. But today ODFL has more than 30,000 tractors and trailers as well as nearly 13,000 employees all across the country.
ODFL's growth and success today is in part due to World War II as the need for transportation between bases increased during that time. The company has been growing and expanding ever since and finally became public in 1991.
And ODFL has been trucking along ever since it became public.
Performance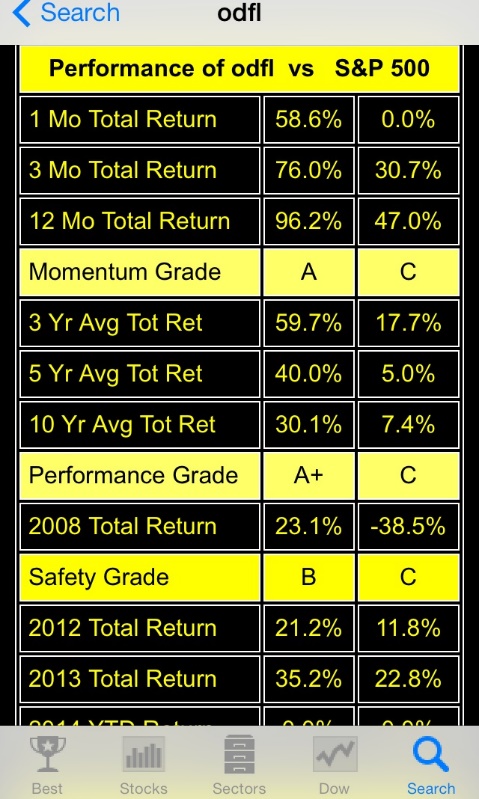 Data from Best Stocks Now App
Over the past ten years ODFL has delivered more than 30% to investors.
Over the last five years it has delivered 40% while during that same timeframe the market has returned a measly 5%. That even takes into account the year 2008! How could a stock possibly make 40% returns even accounting for 2008?
Well, ODFL turned on its windshield wipers and drove a bit more cautiously and returned 23% to investors the same year the market was DOWN 38.5%
Over the past 3 years ODFL has more than tripled the returns of the market delivering an incredible 60%.
And over the last 12 months ODFL has almost doubled.
ODFL gets a performance grade of 'A+'.
TRUCKIN'!
Indeed!
Valuation
I know some investors are cautious about buying stocks that are hitting new highs. This is why we look to valuation.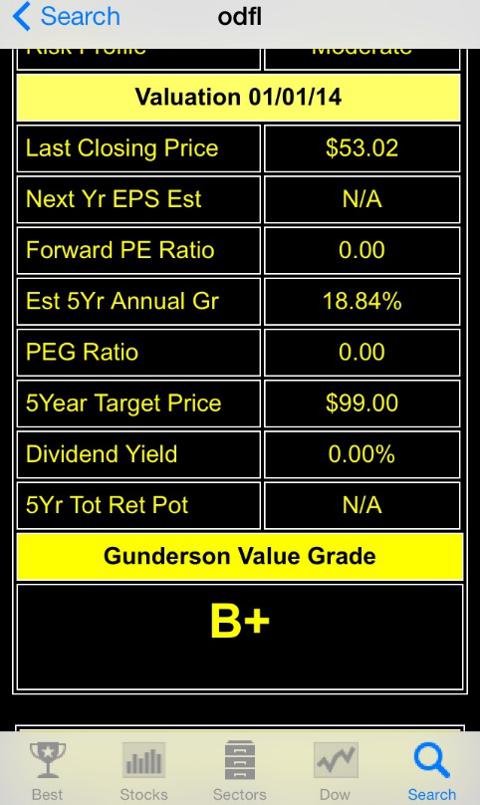 Click to enlarge
Data from Best Stocks Now App
ODFL comes in with a PEG ratio of 1 and 89% upside potential still. It gets a valuation grade of 'B+'.
Stock Chart
But performance plus valuation alone is not enough. Let's check that stock chart.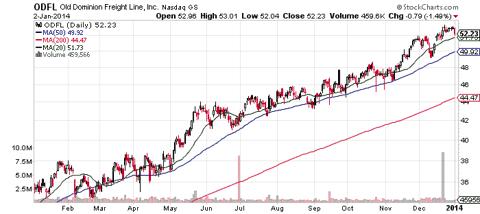 Click to enlarge
As you can see ODFL keeps on delivering the goods to its shareholders.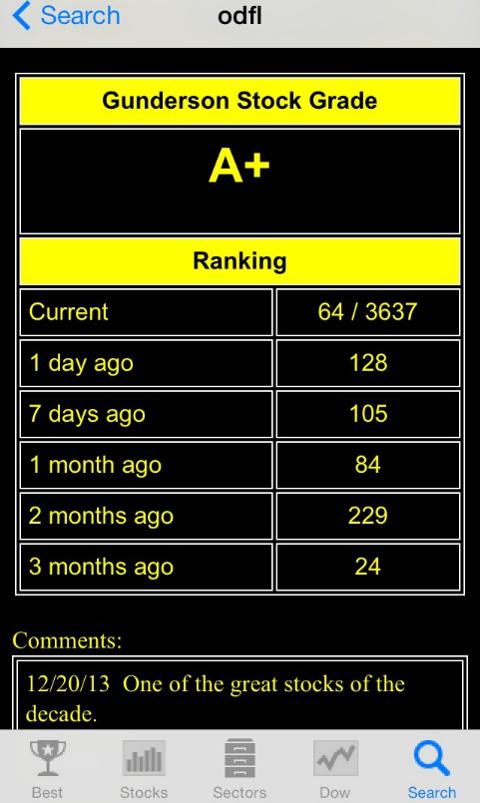 Click to enlarge
Data from Best Stocks Now App
When I look at the 3,637 stocks in my Best Stocks Now App database, many of them much sexier than ODFL, I come up with a stock that's ranked #64 and it earns a proprietary Gunderson Stock Grade of A+.
It is also a stock I have a big position in at Gunderson Capital Management.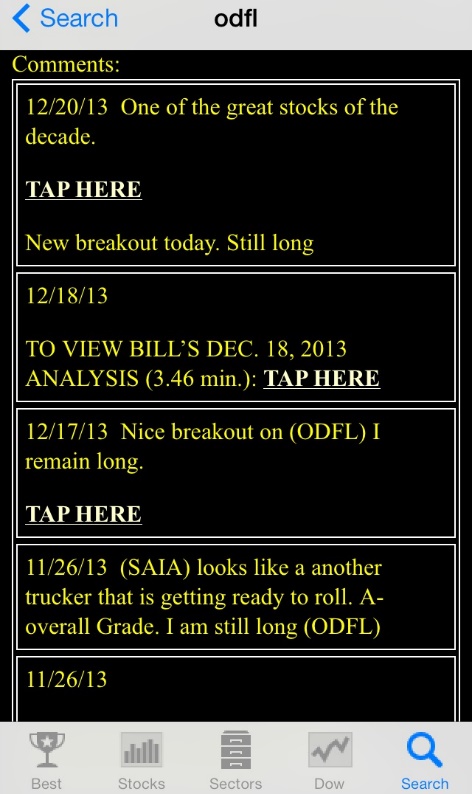 Data from Best Stocks Now App
Stocks still have risk. That is why I never make any one position more than 3-4% of my overall
portfolio. Follow me on Twitter or at my website for a change in opinion of the stock or for information on my management services.
Disclosure: I am long ODFL, . I wrote this article myself, and it expresses my own opinions. I am not receiving compensation for it. I have no business relationship with any company whose stock is mentioned in this article.