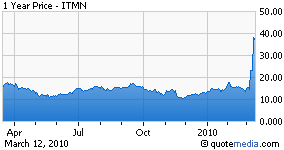 Nobody knows exactly how Intermune's (NASDAQ:ITMN) lung-disease treatment works. But that didn't stop investors from sending the company's shares soaring March 10 as an FDA panel recommended its lung-disease treatment, pirfenidone, for approval. The vote of confidence from the FDA's Pulmonary-Allergy Drugs Advisory Committee sparked buyout speculation on Wall Street, which sees gold in orphan drugs, such as pirfenidone, with the potential to sell to niche markets for high prices and retain extended patent protection.
Gilead (NASDAQ:
GILD
) and Roche (
OTCQX:RHHBY
) have been mentioned as potential suitors, but neither commented on the possibility. Furthermore, the notion is premature considering a final decision on approval hangs in the balance.
Intermune, which is based in Brisbane, California, could make more than a billion dollars per year from pirfenidone should FDA reviewers follow the panel's recommendation and approve the drug. The panel called the results of a late stage study of pirfenidone "statistically very persuasive." While the FDA doesn't have to take the panel's advice on approvals, it usually does.
Approval of pirfenidone would be a boon for people suffering from its target, idiopathic pulmonary fibrosis, a scarring of the lungs without a known cause. The disease decreases lung function and often leads to death by respiratory failure within three to five years. It is estimated to affect 14 to 43 per 100,000 people in the United States.
While pirfenidone is already approved in Japan, no medications for IPF are approved in the United States and lung transplantation is considered to be the only intervention that can improve survival in patients with the condition.
The FDA has previously said it expects to act on Intermune's application for approval to market pirfenidone by May 4, 2010.
Shares of Intermune closed the week at $36.76, a steep climb up from February 1's close of $16.50.