Visitation
J.C. Penney (NYSE:JCP) has been visited by the four apocalyptic horses, and as each passes it shall not return.
In July 2011 a white horse appeared carrying a magnificent rider, Ron Johnson, the former leader of Apple's Retail Stores. The new CEO of J.C. Penney was ready to conquer all that opposed him. Five months previously J.C. Penney had exited the catalog business. It needed a leader who would bring it to the Promised Land.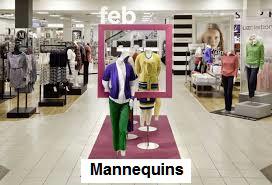 Admiring management, as if being presented to royalty, knelt before Mr. Johnson, and submitted to his will. Sadly they did not know that many would be cast aside before they had risen. Stakeholders looked expectantly at the 40,000 mannequins that Mr. Johnson installed in his stores, displaying beatific smiles because of their confidence that their savior had arrived to lead them. He marched forward with the assurance of soldiers of old, and proceeded to exercise his resolve.
On the fateful date of December 7, 2011, in defense of our home brands from distant invaders, J.C. Penney announced plans to install mini-Martha Stewart shops in many of its stores during the year 2013. Mr. Johnson's company purchased 16.6% of Martha Stewart Omnimedia (NYSE:MSO) stock in order to please Martha so that she would not bolt as the white horse would do when it threw Mr. Johnson from its saddle in April of 2013.
On February 1, 2012, J.C. Penney began the policy of "Everyday prices." J.C. Penney no longer accommodated its customer's desire to receive periodic price concessions. Mr. Johnson began to rip down the past, without heed toward the loyal masses that supported his charge for more than 100 years. "Everyday pricing" is still referred to on the J.C. Penney website, long after its discontinuance.
Mr. Johnson looked, and knew what he had done was good. Within just 7 months, the same number as the measure of days that our Lord needed to create the world, Mr. Johnson transformed J.C. Penney.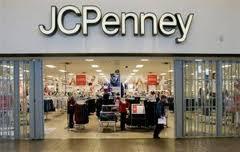 In April of this year 2012 J.C. Penney laid off 13% of its Dallas home office. No mercy for staff who steadfastly had obeyed the commands given them.
Forewarning of the Future
The summer of 2012 began with a premonition of doom. JCP stock declined from a high on February 22 at $42.69 per share to $24.56 on June 22. Positive results were not happening as fast as Mr. Johnson had envisioned. Michael Francis, JCP President, part of his dream team, left suddenly. We have always sacrificed lambs to free us from the expiation of our own sins. Employees complained bitterly that they were also treated as sacrificial lambs when their commissions on sales were rescinded. Sales productivity further declined.
In August 2012 a red horse pranced before J.C. Penney's stockholders and financial analysts. War was in the air. Many fortune hunters attempted to jump upon the red horse's back in anticipation of victory
The most successful equestrian in the group was William Ackman, the hedge fund manager. In October 2010 he purchased for Pershing Square Capital Management 39 million JCP shares at $25. per share. He had previously moved for termination of Myron Ullman, J.C. Penney's former CEO. Mr. Johnson, a proponent of war, now leaped upon the red horse and held high his lance as he saluted and sheltered the new leader, Mr. Johnson, as he took up the sword and deployed his soldiers.
Old friends were trampled by the red horse. Ron Johnson planned to reduce merchandise supplied by long term relationships of private brand suppliers from 50% to 25% of sales, and replace them with high profile branded merchandise. New friendships were made. Small shops, stores within a store, were designed and began to appear. Blue jeans would be represented by Levi's, The Original Arizona Jean Company and by i Jeans, Buffalo. It was a strange concept to have customers traversing the breadth of a large store to compare a single product such as Jeans in three different places.
Unlike Mr. Johnson's term at Apple where he was selling a product whose price Apple controlled, Mr. Johnson introduced a large quantity of merchandise that could be purchased elsewhere, and whose selling margins he was unable to control because of the market's competitive conditions.
In March 2013 Mr. Johnson announced "I'm completely convinced that our transformation is on track." JCP stock rose 5.9% that day, the largest one-day increase since January 2012.
A Cloud of Want Appears
A small amount of time passed. An immense black horse had galloped across the shopping mall, but was slowed by so many who tried to seat themselves upon its back. The horse was heavily laden because fourth quarter 2011 sales were off 28.4% from a year ago, and its riders attempted to escape the dearth. Same store sales were down 32%. The riders didn't perceive until it was too late that hunger was upon the land.
Things were going so badly that on April 8, 2013, the board released Mr. Johnson 17 months after he began. Myron Ullman, the Former CEO, was recalled and now runs the company.
In August 2013 William Ackman of Pershing Square Capital Management was experiencing the deprivation. His investment's share value declined. He continued his attempt to remove Thomas Engibous as the chairman of the board. Mr. Enigbous is quoted "His latest actions are disruptive and counterproductive at an important stage in the company's recovery." William Ackman resigned and directed the sale of his company's 18% share of J.C. Penney's stock to CitiBank, losing $500 million. A short number of days later another board member, Steven Roth, resigned. His Vornado Company controlled 6.1% of J.C. Penney stock.
On September 26, 2013, J.C. Penney, with Goldman Sachs as the sole underwriter, announced plans to issue 84 million shares of its stock at $9.65 per share. Along with an additional 12.6 million shares the sale netted the company $932 million. The move stood in contrast with CEO Myron Ullman's remarks from earlier that day, when he did not foresee "conditions for the rest of the year that would warrant raising liquidity."
This transaction provided liquidity that Mr. Ullman denied was needed. It would carry J.C. Penney through the 2013 holiday season.
During a November 2013 conference call to Wall Street analysts, Mr. Ullman announced that JCP is "Restoring initial markups necessary to support the return (to a) promotional department store strategy," gross margins, currently 29.5 % of sales versus 32.5 % a year ago: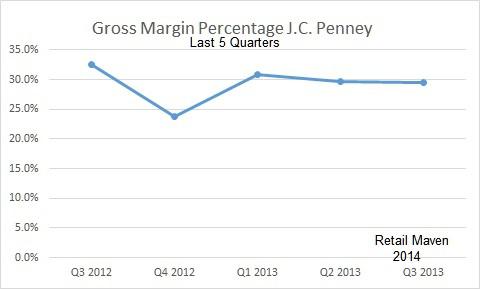 were lower due to the impact of clearance sales intended to eliminate inventory overhang and to transition back to the promotional pricing strategy for which the company is known.
Enter a pale horse
At first the observers didn't understand why the horse had appeared but they soon realized its role in things to come. Mr. Johnson's tenure was blamed for the appearance of the final horse. Some say the pale horse was sent onward by those seated upon the black horse, others because the patrons became disloyal. No one accepted direct responsibility, so the horse was not opposed and had the field to itself.
It was too late to revert to past ways. Even now many observers may not realize this truth. They talk of past glory, of regaining lost sales and increasing margins to the good old past as they head for the hills and hide in their caves. Without repentance there is no redemption. The market said, "I am what I am," and "no intruder will disrespect my ways and pass unscathed."
The season of good will to men was beginning and great upheavals were about to occur. Observers began to talk of EV and EBITDA. They invoked the magic ratio, "P/E" and talked about stock dilution and business trends. Evaluation of taxes for a business who paid none, depreciation when a business was bleeding money and stock dilution, which may have discouraged stock holders, has little to do with correcting the problem when the Angel of Death was considering as it was warming its toes over the burning stacks of cash.
Things to Come
The observers neglected to speak about the last quarter of the year 2011 when the GM was 30.2% or about last quarter of 2012 when GM was 23.3%. Only few said that it was impossible to bring GM to the 37% needed along with $4.2 billion in sales.
All that now counts in order to preserve J.C. Penney's is for it to raise its margins and sales volume. No fancy analysis is needed, just results.
Unfortunately, I do not believe that J.C. Penney will be able to increase its margins and sales rapidly enough to enable it to survive in its present form.
I am an observer who spends many hours within retail stores near its cash registers tabulating sales and estimating margins and as member of a network of spectators who exchange information and discuss possibilities of failure and success. The shortfall that I speak of, with only little doubt will occur.
I have observed that buyers are purchasing low margin house wares in greater proportions then last year when compared with high margin apparel items. Expensive, high styled apparel is sold mostly when it bears a large discount. Add on items such as high margin coffee supplies for items such as Keurig coffee makers are omitted from orders.
Shoppers seem to be purchasing odd lot items that probably represent remnants of private label goods that are no longer carried. This type of sale usually represents low margin goods.
In all I find no evidence that J.C. Penney is regaining its historic margins. what I see is that it is purchasing business through the sale of promotional goods.
Evaluating sales volume is difficult. One may get comparatives by recording a sample of average sales on the same day year after year throughout many stores.
I have been shown a compilation of such sales that have been assembled on the Saturday following Thanksgiving for the years 2011, 2012 and 2013. The average sale on this list of 3,455 sales completed in different stores is 2011-$31.24 , 2012 -$29.77, 2013 .- $30.96 These sales do not include sales tax nor do they indicate the customer made an additional purchase.
I have been additionally shown a comparative traffic count for a fixed hour on a fixed day for the above years. It had shown that traffic declined by 7.2% in the year 2012 from 2011 and has increased 1.1% from the year 2011 to the year 2013.
These are not truly scientific studies, but this type of information has been useful to me with my investing choices in the past.
I state all this to prepare you for J.C. Penney's fourth quarter 2013 results. My belief is that it will be shockingly deficient with results needed to prevent disaster.
In February, when the 7th seal is broken and the 10-K is bared all will be revealed, and my conviction shall be confirmed or disproved.
I know that a great silence is about to begin.
Disclosure: I have no positions in any stocks mentioned, and no plans to initiate any positions within the next 72 hours. I wrote this article myself, and it expresses my own opinions. I am not receiving compensation for it (other than from Seeking Alpha). I have no business relationship with any company whose stock is mentioned in this article.