By David J. Phillips
Vivus (NASDAQ:VVUS), whose share price is down sharply in the last 12-months due to the flawed launch of its obesity drug Qsymia, is looking to boost investor confidence with a successful launch for its new erectile dysfunction (ED) drug Stendra (branded as Spedra in Europe). Despite attractive clinical claims attributed to this second-generation phosphodiesterase type-5 (PDE5) inhibitor, Stendra is entering an established market long dominated by Pfizer's (NYSE:PFE) Viagra and Eli Lilly's (NYSE:LLY) Cialis -- generic Viagra is now available outside the U.S. too - and is unlikely to emerge as a preferred option requested by physicians.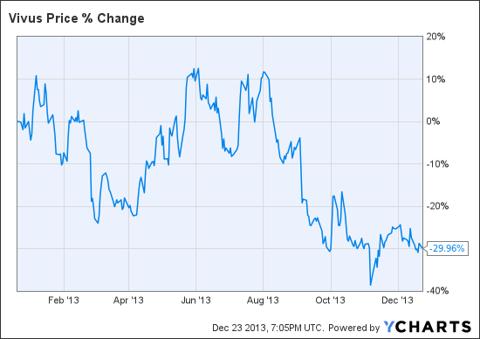 Click to enlarge
VVUS data by YCharts
The first weight-loss treatment approved by the FDA in the last decade, Vivus launched Qsymia in September 2012 to much fanfare. However, embrace of the diet pill by overweight patients and physicians has been slower than anticipated. Activist investors blame a management and sales team lacking commercial experience needed to overcome reimbursement hurdles and safety concerns as the key reason why reported sales in third-quarter 2013 came in at an anemic $6.4 million (compared with consensus estimates of $12 million).
YCharts recently surveyed the wider landscape of ED drugs and came to the surprising conclusion that the patent expiration of Viagra would hurt Lilly most.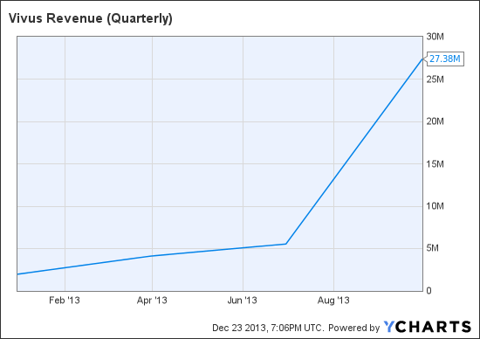 Click to enlarge
VVUS Revenue (Quarterly) data by YCharts
Next to those tiny sales, the market cap of about $1 billion looms large.
Led by new chief executive Seth Fischer, Vivus is walking a new path with its ED drug Stendra (avanafil), choosing to outsource promotion via licensing deals: in July 2013, VIVUS announced an exclusive pact worth up to $121 million (plus royalties) with the Italian pharmaceutical group Menarini to commercialize avanafil in Europe; Auxilium Pharmaceuticals (NASDAQ:AUXL), which already markets a portfolio of ED treatments, including testosterone and Xiaflex (recently approved for Peyronie's disease - painful curvature of the penis caused by plaque buildup), inked a marketing deal worth up to $300 million to Vivus (plus royalties) for rights to Stendra in the U.S. and Canada.
As mentioned, Stendra, a PDE5 inhibitor, works in similar fashion to rivals Viagra and Cialis by increasing blood flow to the penis. Look for Vivus and its marketing partners, however, to differentiate Stendra by promoting subtle clinical differences of its second-generation agent:
•Unlike Viagra, demonstrated efficacy (in randomized trials) doesn't decrease with the intake of high-fat meals;
•Onset-of-action between 15 to 30 minutes is the quickest of the four PDE-5 inhibitors available in the U.S. Unless reprimanded by the FDA (for claims made outside of stated labeling), look for the drug to be promoted as a "fast-acting Viagra"; and,
•Treatment with Stendra is more selective for PDE-5 relative to other drugs in the class, resulting in "more specific effects" - read 'efficacy' - in the penis and fewer systemic side effects, such as cross-reactivity with PDE6 receptors in the retina (which can lead to blurry vision and photosensitivity).
With ED afflicting up to 30 million men in this country alone, management opines that there remains significant commercial opportunity for Stendra to stake claim to a double-digit share of the $2.9 billion U.S. market. Unfortunately, peak sales estimates of $400 million - $500 million in 2016 (one-year prior to expiration of Cialis' first key patent), could prove too optimistic.
Notwithstanding marketing claims, after adjusting for proper dosage, no one agent in the class has been shown to be more efficacious or safer than the others. How, therefore, are Vivus's marketing partners going to surmount reimbursement challenges when therapeutic substitutions -- generic versions of Viagra -- are available at less than $2.00 per pill in most industrialized countries (save the U.S.)? Further, Auxilium has only about 150 sales representatives to sell the drug here at home.
German drug maker Bayer AG (OTCPK:BAYRY) epitomizes the troubling future facing Vivus. Approved in 2003, Bayer launched Levitra (vardenafil) with data demonstrating its favorable efficacy and safety profile in men with ED and concomitant conditions, including diabetes, hypertension and dyslipidemia. Bayer failed miserably in marketing the drug as the 'go-to' erectogenic agent in these same groups of men most likely to develop impotence, generating sales of $422 million in 2012 - one-fifth the dollars generated independently by Viagra and Cialis.
The availability of generic PDE5 inhibitors has discouraged the active development and deployment of other second-generation drugs in the class. Mirodenafil, a PDE5 inhibitor that has been available in Korea since 2007, sold as Mvix tab, hasn't hit U.S. pharmacy shelves - even though its developer, SK Chemicals Life Science, also owns a unique, first-in-class orally dissolving film (Mvix - ODF).
Similarly, udenafil, marketed by Dong-A Pharmaceuticals in South Korea (2005) and Russia (2008) under the trade name Zydena, has a relatively rapid onset and a long duration (comparable to Cialis). Yet, four years into late-stage clinical trials, U.S. partner Activis (ACT), still hasn't submitted a new drug filing with U.S. regulators (earlier studies suggested ingestion with alcohol could raise heart rate and other cardiac risks).
Perchance, Activis just sees the writing on the wall (management didn't return calls seeking comment) - why should the company invest additional R&D dollars in the ongoing development of udenafil required to address FDA efficacy and safety concerns in other ethnicities (like whites, Hispanics, and blacks)? Even with favorable outcome and safety profiles, it would be difficult to penetrate the established U.S. market and find meaningful share.
Undoubtedly, lessons that Vivus management and its suffering shareholders will eventually find out.
David J. Phillips, a contributing editor at YCharts, is a former equity analyst. His journalism has appeared in Bloomberg BusinessWeek, Forbes, and Kiplinger's Personal Finance. From 2008 to 2011, David was a reporter for CBS News Interactive.

Disclosure: None