By Carla Fried
With the Street increasingly calling attention to the overdone rally in small cap stocks, the recommended rotation is to take some profits in that sleeve of your portfolio and rotate into large caps, where more reasonable -- and even compelling -- valuations are easier to come by. Large caps are also expected to benefit from a pickup in global growth, as they typically derive more revenue from foreign operations than smaller firms.
That said, it's not as if large caps are a sea of insanely compelling valuations. Procter & Gamble (NYSE:PG), General Electric (NYSE:GE), Coca-Cola (NYSE:KO), and AT&T (NYSE:T) are among the largest of the large caps in the S&P 500 stock index all have trailing PE ratios above 20, despite sluggish growth.
If you're inclined to take some profits out of your pricey small caps and rotate into large caps, parsing the recent portfolio activity from some renowned investors with a value/contrarian approach can unearth some large caps worth further financial research. Morningstar's stable of 26 funds/portfolios deemed Ultimate Stock Pickers includes value standouts including Berkshire Hathaway (NYSE:BRK.B), Dodge & Cox Stock, Oakmark and FPA Crescent. (Full disclosure: Morningstar is an investor in YCharts.)
According to the latest portfolio filings for the Ultimates, Wal-Mart (NYSE:WMT), Philip Morris (NYSE:PM), Exxon Mobil (NYSE:XOM), Qualcomm (NASDAQ:QCOM) and Pepsico (NYSE:PEP) were the highest conviction buys. While Warren Buffett established a large position in Exxon Mobil in the last quarter, it's interesting to note that its rival Chevron (NYSE:CVX) trades at an even more compelling valuation: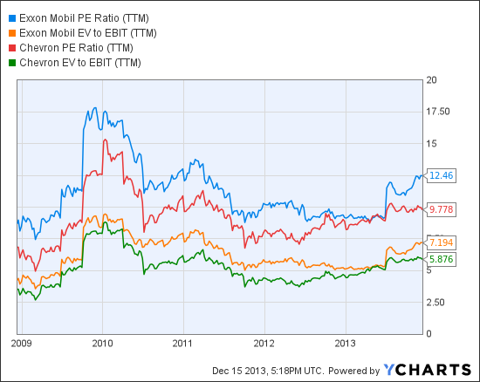 Click to enlarge
XOM PE Ratio (TTM) data by YCharts
And for income investors, Chevron's 3.3% dividend yield is more than a half percentage point ahead of Exxon-Mobil's. Both majors deliver impressive dividend growth.
Both Google (NASDAQ:GOOG) and Microsoft (NASDAQ:MSFT) are the most widely held stocks among the Ultimate Stock pickers, showing up in 16 of the 26 portfolios. Most owners held the positions but didn't add to them in the most recent quarter. That said, both FPA Crescent and Dodge & Cox Stock, two funds with standout performance over the long-term, added to their Microsoft positions in the third quarter.
While Microsoft will never be confused with a fast-growth tech company, it is just the sort of large cap that can make a lot of sense at this juncture. Despite its consumer facing misfires and continuing search for a new CEO, its business services is delivering. Cash flow is not exactly a problem: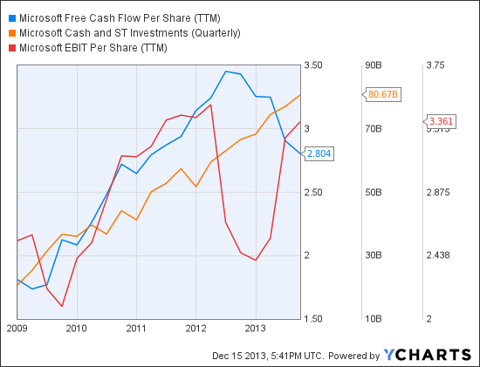 Click to enlarge
MSFT Free Cash Flow Per Share (TTM) data by YCharts
An above-average dividend yield and some buyback activity pushes Microsoft's shareholder yield above 4%.
Qualcomm was among the top buys for the Ultimate Stockpickers in the latest roundup. The Oakmark Fund, which demands a steep discount to intrinsic value to bite, established a new position Qualcomm in the third quarter, signaling it is very much in undervalued territory.
Interested in a truly contrarian investment idea? The $8.4 billion FMI Large Cap fund is in the Ultimate Stock pickers. The portfolio holds just two dozen or so stocks and is geared to participate in the upside and outperform on the downside by owning high-quality companies it hasn't paid up for. According to Morningstar, FMI Large Cap has captured 92% of the market's upside over the past 10 years while absorbing just 77% of the downside (compared to 99/103 for similar large cap funds.) The fund's 9% annualized return over the past 10 years is two points ahead of the S&P 500.
FMI Large Caps biggest position is Potash Corporation of Saskatchewan (NYSE:POT) at 5% of assets. The fund established the position in the second quarter and doubled its stake in the third quarter.
The potash fertilizer industry was thrown for a loop this past summer when an eastern cartel broke up and sent prices plummeting. No surprise, so too did PotashCorp's share price.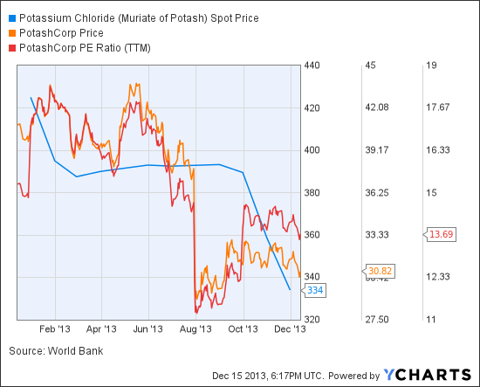 Click to enlarge
Potassium Chloride (Muriate of Potash) Spot Price data by YCharts
Some top value funds outside the Ultimates are also circling round Potash. T. Rowe Price Equity Income established a position in the third quarter and the Artisan Value and Artisan Value Equity funds added to their stakes. As this chart shows, the stock is now trading close to its crisis valuation and far below its long-term norm.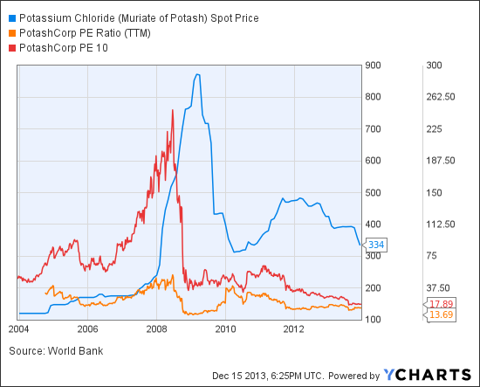 Click to enlarge
Potassium Chloride (Muriate of Potash) Spot Price data by YCharts
For patient investors looking to rotate out of expensive and into cheap(er), PotashCorp stands out. According to Morningstar's proprietary estimate of fair value, wide-moat PotashCorp currently sells at a 20% discount to fair value. The average for other wide moat stocks is currently just 1% or so.
Carla Fried, a senior contributing editor at ycharts.com, has covered investing for more than 25 years. Her work appears in The New York Times, Bloomberg.com and Money Magazine.