By Dee Gill
AT&T (NYSE:T) shares offer an eye-catching 5%-plus dividend yield now, which puts the telecom among the top 10 highest yielders in the S&P 500. But will poor share price performance wipe out the benefits of its big dividend? Pitiful gains in AT&T shares this year already make them look bad next to the broader market, even with those outsized dividends.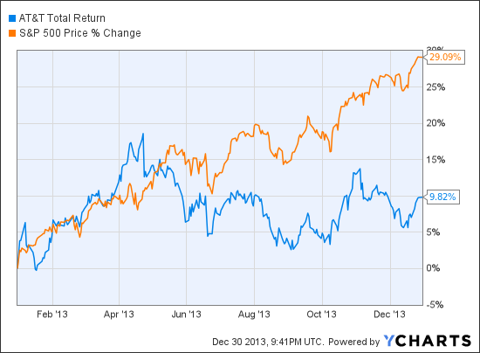 T Total Return Price data by YCharts
AT&T, like many companies offering hefty dividends, has problems that cause shareholders to reach for the Rolaids. Its residential landline businesses is in decline, which means the earnings and cash flow spun out for niceties like big dividends and investing in higher growth ventures is scarce. If revenues from wireless services don't grow fast enough, the share price could fall enough to essentially wipe out the benefits from that big yield. Or the company could limit the dividend increases. Considering how much a shareholder should worry about these worst-case scenarios is a good exercise for any investor ogling AT&T's yield now.
In occasional columns, YCharts uses fundamentals analysis to evaluate big dividends. For a right-brain element, we also assign a rating for each investment based on an estimated stress level taking on the shares would generate. A 3-Rolaids rating indicates a high risk investment; a 1-Rolaids rating the least risky. (High yield investments that don't involve antacids are rather rare.)
Prior installments in this series on notably big dividend yields focused on payouts at tobacco stocks, above-5% dividend yields at healthcare REITs, on 12.5% dividend yield at Windstream (NASDAQ:WIN) and the risks that go along with it, and on the 8.5% dividend yield at Frontier Communications (NYSE:FTR).
A quick glance at AT&T's payout ratio might alarm some investors, as the company has been paying more than it earned. But strong cash flow means that it has a lot of money to pay its current dividend, as well as regularly raise it in the modest manner it has for the past 29 years. It also collects cash by selling off assets, like the Connecticut landline business it recently agreed to sell to Frontier for $2 billion.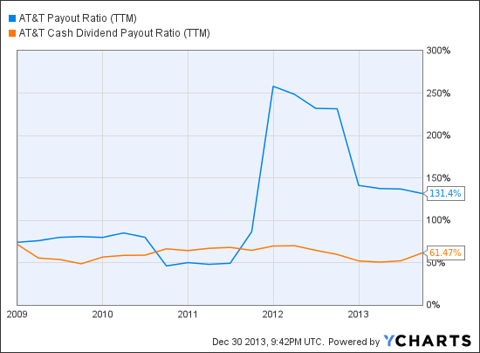 T Payout Ratio (TTM) data by YCharts
AT&T's dividend growth is steady, which is a particularly appealing feature. But the increase this year was a modest 2.2%.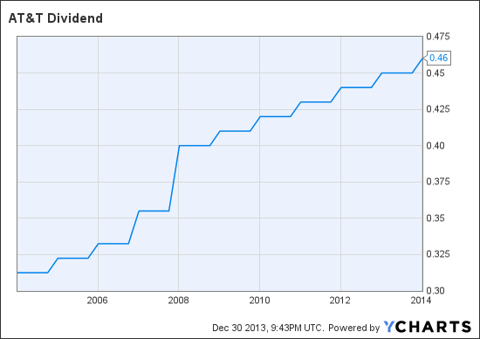 T Dividend data by YCharts
While the dividend looks quite safe, shareholders should be more concerned about the company's lack of growth, which keeps the share price from rising. The U.S. market is saturated with mobile phones, and the competition is growing. AT&T has added some lower-cost mobile plans to fight for share, but that hurts profit margins. Its wireless segment added 19% in revenues in the past nine months but segment income ticked down a little.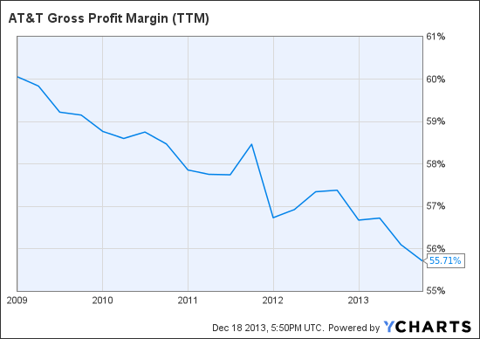 T Gross Profit Margin (TTM) data by YCharts
AT&T is rumored to be in merger talks with European carrier Vodafone Group (NASDAQ:VOD), which would create the world's largest telecom as well as provide a source of growth. But the deal, at an estimated cost of $110 billion, also would give AT&T another capital-needy network amid stiff competition. In other words: one more place to spend its cash other than on shareholders.
In the absence of a Vodafone deal that the markets like, there seems little to drive the share price much higher in the short term. AT&T added less than half as many new subscribers last quarter as Verizon (NYSE:VZ), and its shares are not particularly bargain priced. AT&T earnings are forecast to rise about 7% and 8% in the next two years. The shares trade at a forward PE ratio of about 14.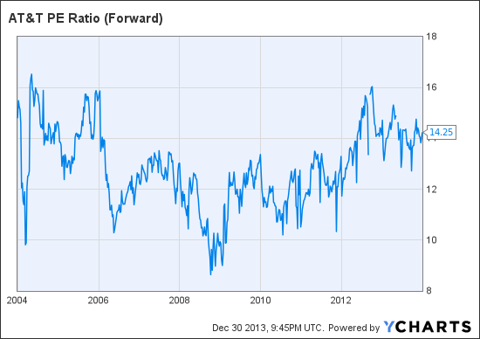 T PE Ratio (Forward) data by YCharts
While AT&T's dividend hardly seems in danger, its merely modest growth could be a detriment if interest rates rise. Unless the company finds an efficient growth engine, investors buying AT&T for more than income may find few gains in selling the shares.
2 Rolaids
Dee Gill, a senior contributing editor at YCharts, is a former foreign correspondent for AP-Dow Jones News in London, where she covered the U.K. equities market and economic indicators. She has written for The New York Times, The Wall Street Journal, The Economist and Time magazine.