As far as share price is concerned, AT&T (NYSE:T) didn't really do much in 2013.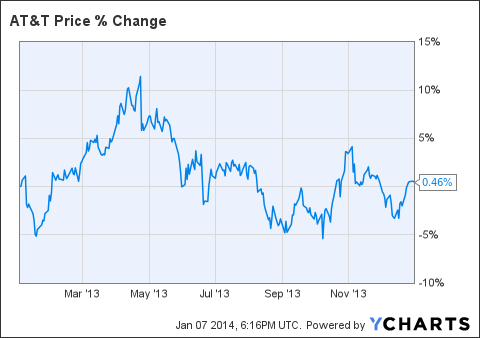 It could be argued that the sideways motion of its share price was partially offset by its abnormally high dividend. Its 5.30% yield doesn't make the cut for a lot of investors without accompanying capital appreciation, however. Still, 2014 is a different year and I'm bullish on AT&T's prospects going forward.
Setting up for the future
After raising cash by divesting of assets, AT&T is now buying up spectrum. It recently agreed to acquire 49 Advanced Wireless Services, or AWS, spectrum licenses from Aloha Partners II, L.P. This gives the company extended coverage over 50 million more people in 14 states.
The transaction is still subject to approval by regulators, but AT&T expects to close the deal in the second half of 2014. The added spectrum will help the company meet the ever-increasing demand for mobile Internet services.
A senior VP at AT&T, John Donovan, noted that his company is seeing a 50% growth rate in mobile data already, which will likely continue to increase with demand and the rolling out of its network in new markets. He explained that the company would also need a denser grid, and continued expansion.
The big growth driver going forward
Referring to things like connected cars and the Internet of Things, Donovan said AT&T "will continue to make investments and really push aggressively into those kinds of services." This gives some insight into where the company is headed.
One of the first of "those kind of services" will be the connected car. With its AT&T Drive mobile platform, which is for developing LTE connected car services, the company is positioning itself to take the lead in this newly developed market. I expect 2014 and 2015 to be the years the connected-car starts to go "mainstream," and AT&T just inked some big-time deals to get the first-movers advantage.
Rise of the connected-car
The flashiest deal was signed with Tesla (NASDAQ:TSLA), a multi-year exclusive deal that sets up Tesla vehicles with wireless connectivity. Both current and future Tesla models in North America will essentially be rolling hotspots, equipped with more than just infotainment systems. Things like remote engine diagnostics and software upgrades will now be possible as well.
AT&T also recently signed a deal with General Motors (NYSE:GM), which will allow GM's 4G-connected cars to be added onto mobile data plans traditionally reserved for things like smartphones. The hardware will be standard in GM's 2015 models where users will have built-in 4G and the ability to download apps for their cars from GM's planned digital store. GM's OnStar safety and security system will also apparently benefit, becoming 100 times faster than the previous technology allowed.
The connected-car will be one of the first new markets that AT&T will benefit from, as it acquires new data plans and customers from autos. Research firm GSMA predicts that 35 million cars will be sold with embedded mobile connectivity by 2018. That equals a potential $50 billion market that AT&T is setting itself up to dominate.
Valuations and fundamentals
In relation to earnings, shares of AT&T look cheap compared to shares of Verizon (NYSE:VZ).
| | | | | |
| --- | --- | --- | --- | --- |
| | P/E | Forward P/E | Dividend (Yield) | Market Cap |
| T | 25.61 | 13.05 | $1.84 (5.30%) | $184 billion |
| VZ | 63.98 | 14.04 | $2.12 (4.40%) | $140 billion |
Data provided by Yahoo Finance
Verizon may be cheaper by other tradition metrics, though: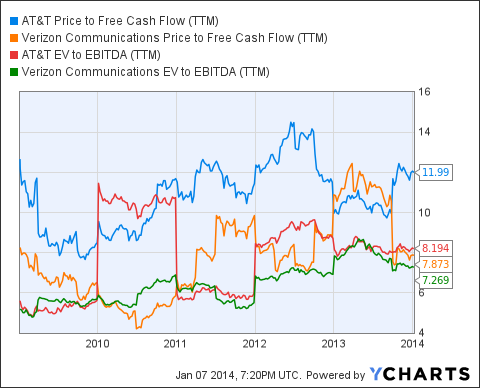 T Price to Free Cash Flow (TTM) data by YCharts
AT&T's better yield gives it an advantage over Verizon, however. There are a few other things to consider when looking at shares of T as well:
low expectations are likely baked into the share price at this point, and the market probably isn't expecting much growth.
90% of the company's highly capital-intensive LTE build-out is complete, and according to Donovan, the rest will be complete "by mid-year." This means expenses should be much less than previous years.
The bottom line
AT&T is buying up spectrum and moving into services that cater to future markets. Things like the connected-car, connected-home (covered by AT&T's Digital Life Platform), and the Internet of Everything in general will generate more and more demand for data use. AT&T is positioning itself for this upcoming boom, and should be able to escape the saturated smartphone markets to chase new sources of growth arriving with the future. That's a good thing for long-term shareholders.
Disclosure: I am long T. I wrote this article myself, and it expresses my own opinions. I am not receiving compensation for it (other than from Seeking Alpha). I have no business relationship with any company whose stock is mentioned in this article.