Alright, let's get it out of the way - BlackBerry is going to dilute. Now, let's move on and talk about the good. What's a little more dilution amongst friends?
BlackBerry's (NASDAQ:BBRY) digging in, and I like it.
My history with BlackBerry is as follows, in easy bullet point form for your convenience:
In February of 2013, I predicted that the BlackBerry 10 was going to fail, and mark a significant downturn for the company.
Through November 8, I wrote a series of articles explaining why, with Thorsten Heins as CEO, the company remained a significant risk.
On November 20, 2013, at what I predicted was going to be an all-time bottom for the company, I took a long position in the company that I have since sold.
Forward from there, I've been following John Chen and predicting that he is going to be the person capable of returning the company to profitability and steadying the ship.
Recently, the confidence seems to be drifting back into BBRY. BlackBerry has traded up 7% in the last three months, and up 15% beginning of 2014. If it's been a good start to the new year for John Chen's "BlackBerry revival".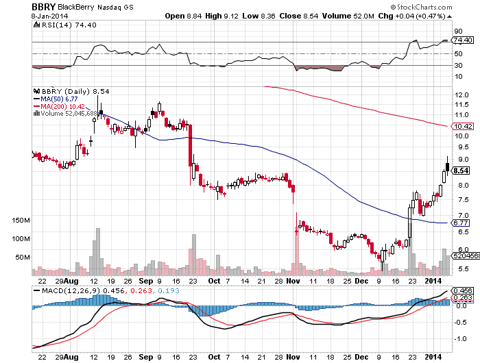 It was announced Wednesday afternoon, that Fairfax was providing BlackBerry with $250M more in financing. The press release read:
BlackBerry® Limited (NASDAQ: )(TSX: BB), a world leader in mobile communications, announced today that Fairfax Financial Holdings Limited has agreed to purchase, through its subsidiaries, an additional $250,000,000 principal amount of 6% unsecured subordinated convertible debentures of BlackBerry (the "Debentures"). The additional Debentures will be purchased pursuant to the exercise of a previously-announced option that was granted in connection with BlackBerry's private placement of $1 billion principal amount of Debentures on November 13, 2013, and the transaction will be completed on or before January 16, 2014.
First and foremost, there is going to be talk about dilution here - and rightfully so. But, more important that is BlackBerry really getting a cash position in where John Chen and team can dig in, go to work, and do what they plan. This cash infusion is going to be the fuel that hopefully propels the BlackBerry ship heading into the next couple of years.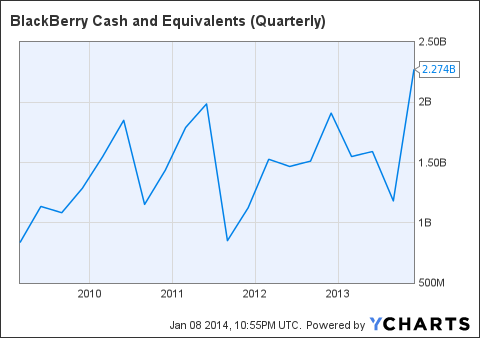 BBRY Cash and Equivalents (Quarterly) data by YCharts
It also is a small nod that Fairfax seems to like what they see - aside from the monster potential earnings from such an investment in BlackBerry (especially if Chen rights the ship). I like what I see, too.
This comes just a day after AT&T (NYSE:T) said it would continue to support the phone maker; although, walking into your local AT&T store nowadays might paint you a bit of a different picture. I know it does in my town. It was reported on Seeking Alpha yesterday, Tuesday:
AT&T mobile chief Ralph de la Vega has provided BlackBerry with a measure of support at CES, stating his company is "supporting [BlackBerry's] efforts to continue being a viable supplier." Like other major carriers, AT&T has long shown an interest in supporting rival platforms to Android/iOS, with the goal of obtaining leverage against Google and Apple.
Meanwhile, John Chen has declared BlackBerry will now "predominantly" focus on selling phones with physical keyboards, a market niche where BlackBerry still claims a sizable base of loyal users, rather than touchscreen-only devices, where the company has seen limited success competing against the iPhone and Android hardware.
This is exactly the type of support that the company needs right now. BlackBerry, I'm sure, is hoping that this has somewhat of a domino effect with other carriers. Additionally, it is continued fuel for the positive momentum that the company has had since its latest earnings report.
In the past, I had alluded to the fact that BlackBerry might be picking the correct route by setting down the enterprise road. I like it because it is what the company has been traditionally strong with. In that same vein, BlackBerry seems to be holding on another oldie but goodie: it's physical keyboard.
Make no mistake about it, one of the company's major flaws was the fact that it missed the smartphone revolution. While companies like Apple (NASDAQ:AAPL), Nokia (NYSE:NOK) and Microsoft (NASDAQ:MSFT) were focusing on touchscreen smartphones, BlackBerry was trying to hold its ground instead of evolving. In today's case, I don't feel that keeping the physical keyboard is ignoring evolution, because it can coexist with a touchscreen smartphone. BlackBerry is trying to play to the hand of its remaining supporters at the same time that it is trying to evolve.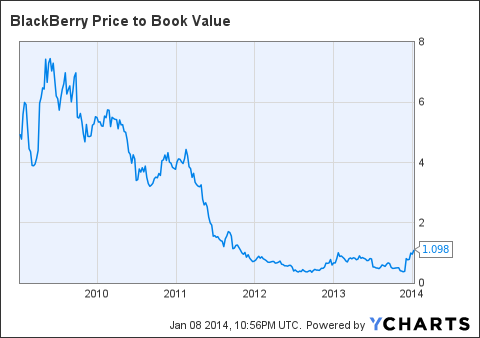 BBRY Price to Book Value data by YCharts
The company continues to be attractive and cheap on its book valuation. Even with the dilution, there is a decent common sense argument for the company being able to reach the $10 (or potentially above) once again. the question remains, do you think that John Chen is the man for the job? I do, and although I have no position, I remain cautiously optimistic about the future of BlackBerry.
Disclosure: I have no positions in any stocks mentioned, and no plans to initiate any positions within the next 72 hours. I wrote this article myself, and it expresses my own opinions. I am not receiving compensation for it (other than from Seeking Alpha). I have no business relationship with any company whose stock is mentioned in this article.