Ah, the end of the holidays. To say 2013 was a tremendous year for stocks is like calling Santa Claus fat... It's something we all know but cheerfully look past.
We are now in January, the holidays are finally over and we've even had some light volume pullbacks in the first few trading days of 2014, mostly due to pent up investors booking profits on the dawn of the new year for favorable tax implications. So, now what do we do?
Those with experience trading equities should certainly embrace what lies ahead. The January Effect is the annual ritual of money managers and hedge funds putting fresh money to work into new ideas... Their favorite small cap stock picks for 2014.
I've been trading for almost two decades, and I can sincerely say that January and February following a successful prior year has been quite the profitable endeavor. Momentum is extremely bullish, and a severely accommodating federal reserve looks to fuel the fire even further with limited tapering and robust economic numbers abroad.
When looking at my track record with Seeking Alpha and the articles I've written in the past, i.e. Halozyme (NASDAQ:HALO) and Nektar (NASDAQ:NKTR), you will see one theme which is evident... My homework is always done, my points are valid and simple to understand, and my timing has been impeccable.
I have been blessed with so many great picks as of late. Sungy Mobile (NASDAQ:GOMO), Amira Nature Foods (NYSE:ANFI), Barracuda Networks (NYSE:CUDA), and Himax (NASDAQ:HIMX) have each skyrocketed by at least 100% in the past 6 months.
Today, I'd like to talk about a strong little company that has been around for quite some time, but only recently has given investors a good reason to climb aboard. The name of the company is called Pointer Telocation.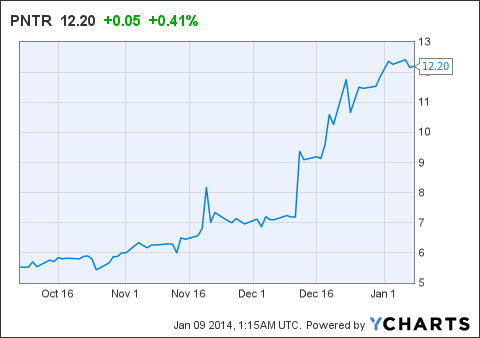 Pointer (NASDAQ:PNTR) was founded in 1991, and has been publicly traded since 1995. Management and Executives of Pointer are truly confident in their company, as over 70% of the shares outstanding are held by insiders.
Based in Israel, Pointer has built quite a niche for themselves. The company does business in 45 countries. They are one of the leaders in vehicle tracking and retrieval. They are also one of the pioneers of GPS services and RFID technology.
Their technology and services are used for everything from mobile devices like smart phones and tablets, to vehicle deployment of civilian, government agencies, and military worldwide.
When the company last reported Q3 earnings on November 14, 2013, Wall Street was certainly impressed. Pointer reported record quarterly Revenues of $24.4mm, easily surpassing analysts estimates of $19.9mm. EPS came in at .14 cents, vs. .09 last year, or 33% above those levels. Total revenue for 2013 was 74mm.
CEO David Mahlab stated that Pointer Telocation will easily break through the 100mm in revenue mark for the first time ever in 2014, calling it a "Significant milestone for the company." That is a 35% jump in revenue year over year, which is some serious growth for a company that has been around as long as Pointer.
The new phase of growth the company is enjoying can be explained quite simply by one word... Cloud. Their new focus in on their rapidly growing and newly deployed technology called Mobile Resource Management, or MRM, which is a cloud based system for fleet management, logistics, route planning and GPS, complete with mobile applications for smart phones tablets and other portable devices. The market is a $3 Billion dollar opportunity right now, but industry experts say that figure is likely to double over the next 2 years as more companies replace old hardware and outdated technology.
These are huge numbers for Pointer, as well as long time competitor Ituran Location, (NASDAQ:ITRN) who is also a small Israeli based company that has found success in this niche. There is plenty of room for both companies to cash in, and cash in big.
The most interesting thing about Pointer is how insanely cheap shares still are, even after a nice run post earnings. It has an extremely low valuation, with a market cap just under $70mm. Wall Street has yet to factor in important recent corporate events, such as the recent acquisition of the remaining 41% of Shagrir Systems, which Pointer says will be immediately and highly accretive to earnings for 2014. This was announced well after guidance was issued two months prior, thus it is not factored into estimates by Wall Street.
More importantly, Ituran Location, Pointers' competitor, trades with a market cap just under $500mm, yet they reported revenue for fiscal 2013 of only $160mm in revenue. As you can see, Ituran trades for just over 3xs revenue. Pointer on the other hand, trades at an absurdly cheap 1.3x revenue, and that's if they only meet the absolute low end of their guidance of at least 100mm. In reality, once Wall Street plays catch up, Pointer should be trading at a minimum of at least 2xs revenue, which would put the stock price at $25 per share, or a 140mm market cap, which is still insanely cheap in comparison to Ituran.
Pointers' stock looks very attractive at these levels and I believe it should be aggressively bought here, ahead of its next earnings report which should be in roughly 3 weeks. I would not be surprised at all if the stock touched high teens before the earnings release, as a small float, good story and great earnings are the perfect recipe for big moves north for this little engine that could. All aboard, I say...
Disclosure: I am long PNTR. I wrote this article myself, and it expresses my own opinions. I am not receiving compensation for it. I have no business relationship with any company whose stock is mentioned in this article.