Over the past couple of months, I had been encouraging investors to take a look at cigarette giant Philip Morris (NYSE:PM) at a 4.50% dividend yield. On Wednesday, shares broke through that price point at $83.56. Shares of the company have been under pressure since the company took down expectations for 2014 in November. Today, I'll provide a quick update on Philip Morris. This will not be my usual number-filled update on the sector, but it is one that investors do need to read.
Reaching key dividend points:
Philip Morris shares were in the low $90s before the 2014 "warning", at which point the $3.76 annual dividend yielded about 4.10%. With shares coming down into the mid and lower $80s, the dividend yield has risen. Here's a quick table of some of the yield points that have been hit and the next couple to come if the stock continues lower.

At Wednesday's close, the dividend yield was up to 4.52%. Philip Morris shares are close to their 52-week low of $82.86, as you can see from the chart below. As we have entered 2014, the pain from a disappointing 2013 is almost over. Even though the year is done, the company still has to announce final results, which are expected to show a revenue decline. Let's discuss that potential earnings report next.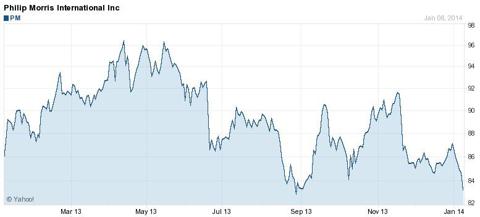 (Source: Yahoo! Finance)
What to look for in earnings:
Obviously, the headline numbers are important when Philip Morris reports (date to be determined). Current estimates call for net revenues after excise taxes of $7.79 billion, a decline of 1.2% over the prior year period. When it comes to revenue declines, Philip Morris is looking to rival Reynolds American (NYSE:RAI), which is also expected to show a decline in 2013. In terms of earnings per share, Philip Morris analysts are looking for $1.37 in Q4, up from $1.24 in the prior year period. While analysts are expecting 2013 earnings per share of $5.41, up from $5.22 in 2012, earnings per share growth is expected to trail that of peers Altria (NYSE:MO) and Lorillard (NYSE:LO). Lorillard has done a great job in the e-cigarette industry, where Philip Morris will look to launch later this year and into 2015.
The second item to look for will be an update to the yearly forecast. Using 2014 as an investment year, Philip Morris has said that currency neutral EPS would be up 6% to 8%. The company believes it will be back to its longer term goal of 10% to 12% EPS growth in 2015 and beyond. Currencies have hit Philip Morris the past year or two, so it would be nice for them to become a tailwind at some point. The 2014 updated forecast will shed light into that.
The final item I'll be looking at is balance sheet information, especially numbers on debt and cash flow. Philip Morris has taken on a lot of debt in recent years to buy back lots of stock and pay dividends. That has made the balance sheet weaker, and it will continue to do so until cash flow improves, or the buyback slows down. I'm already on the record saying that the buyback rate will slow down when the current plan finishes in 2015. The condition of the balance sheet at that point will determine how much the slowdown is.
Where Philip Morris stands now:
As I said above, this is just a quick update on the space, not one of my usual full detail articles. There are two quick numbers I want to focus on, dividend yield and P/E. The first chart shows the dividend yields of the four cigarette names I always discuss.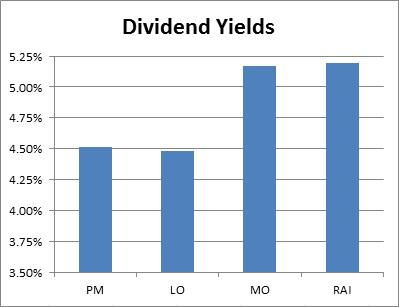 In recent months, Philip Morris' yield has jumped above that of Lorillard. Lorillard will probably raise its dividend in early to mid February, at which point Philip Morris should return to the lowest of the four yields. The second chart shows the P/E value for these names, based on Wednesday's closing prices and expected 2014 earnings.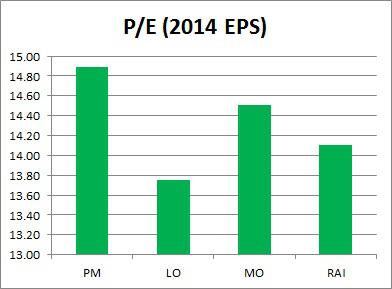 Philip Morris has traded at a premium to the space for a number of years now. That premium has evaporated a bit, but the 2014 warning has pushed it back up again. Analysts were expecting $5.89 in earnings this year before the company warned. Now, those analysts are looking for $5.59. That 30 cent EPS hit has pushed the valuation of Philip Morris back up a bit, even with shares trending towards the 52-week low.
Final thoughts:
Philip Morris now yields more than 4.50% thanks to the latest fall in shares. A recent downgrade seemed to be the latest culprit, but investors should realize that the analyst was trying to trash the industry. This is the same analyst who downgraded Apple (NASDAQ:AAPL) for paying workers low enough wages that caused workers to commit suicide. So don't take it to be a true downgrade.
In the end, Philip Morris shares are near their 52-week low. While the disappointing 2013 year is over, projections for 2014 have come down after the company warned that results would lag during this "investment year". Philip Morris has a strong dividend and buyback, which will cushion investors through this down time. The hope going forward is that product launches will push this company back to growth. At a 4.50% yield, this stock is worth another look.
Disclosure: I have no positions in any stocks mentioned, and no plans to initiate any positions within the next 72 hours. I wrote this article myself, and it expresses my own opinions. I am not receiving compensation for it (other than from Seeking Alpha). I have no business relationship with any company whose stock is mentioned in this article.
Additional disclosure: Investors are always reminded that before making any investment, you should do your own proper due diligence on any name directly or indirectly mentioned in this article. Investors should also consider seeking advice from a broker or financial adviser before making any investment decisions. Any material in this article should be considered general information, and not relied on as a formal investment recommendation.