As a dividend-driven investor who sees a company's cost-cutting efforts as a very positive catalyst, I've decided to shift my focus to the department store sector and highlight several reasons behind my decision to remain long on shares of Macy's (NYSE:M).
#1 Recently Announced Cost-Cutting Initiative
On Wednesday, January 8 Macy's announced a number of store closings as well as an estimated 2,500 layoffs in an effort to save as much as $100M per year over the next several years.
Terry J. Lundgren, Chairman, President and CEO of Macy's noted that "the actions that were recently announced will reinforce our focus on continuous improvement in our M.O.M. strategies (My Macys localization, Omnichannel integration and Magic Selling customer engagement) and will help us to maximize the impact of the exceptional talent we enjoy at every level of our organization".
What does this mean for Macy's? In short, it means that not only is the company focused on improving its M.O.M. strategies, it's also focused on improving its talent pool, which could potentially lead to a better customer services experience for its consumers and a higher percentage of up-sales that are completed by its retail-based staff.
#2 Near-Term Performance & Trend Status
On Wednesday, shares of M, which currently possess a market cap of $19.43 billion, a forward P/E ratio of 11.99, and a dividend yield of 1.93% ($1.00), settled at a price of $51.84/share. Based on their closing price of $51.84/share, shares of M are trading 1.16% below their 20-day simple moving average, 2.84% above their 50-day simple moving average and 10.79% above their 200-day simple moving average. These numbers indicate a short-term downtrend and a mid-to- long-term uptrend for the stock, which generally signals a moderate buying mode for most long-term investors.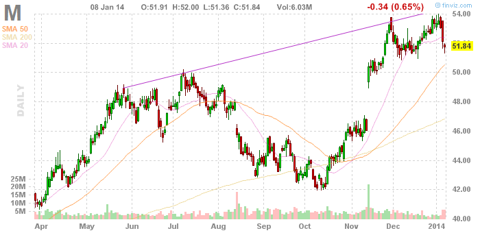 Click to enlarge
#3 5-Year Dividend Behavior
Since March 11, 2009, the company has increased its quarterly dividend four times in the last five years, with the most recent increase having taken place in June of 2013. The company's forward yield of 1.93% ($1.00) coupled with its ability to maintain its quarterly dividend over last five years, make this particular department store play a highly considerable option, especially for those who may be in the market for a moderately-yielding stream of quarterly income.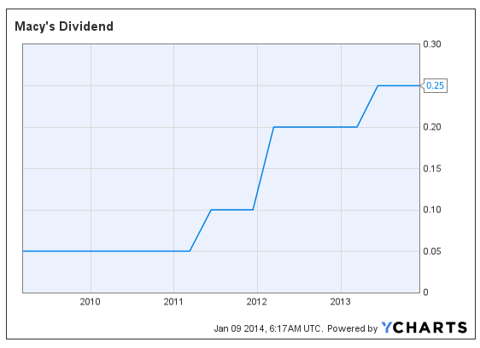 Click to enlarge
Based on the company's recent dividend behavior I expect Macy's next dividend increase to occur by the end of the second quarter of 2014 and fall into a range of $0.08/share-to-$0.12/share on an annualized basis.
#4 Comparative Dividend Performance
Not only does the company's 1.93% dividend yield and 5-year dividend growth make this particular stock a highly attractive option for most income-driven investors, its dividend growth over the last five years versus one of its sector-based peers is also something investors should consider. From a comparative standpoint, Macy's distribution has grown an impressive 400% over the past five years, whereas the distribution growth of its sector-based peer TJX Companies (NYSE:TJX) has only increased 141.7%.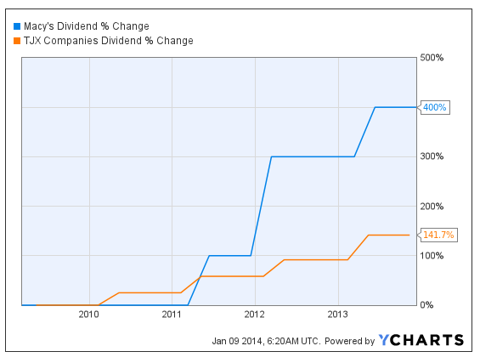 Click to enlarge
Risk Factors (Most Recent 10-K)
According to Macy's most recent 10-K, there are a number of risk factors investors should consider before establishing a position. These risk factors include but are not limited to:
#1 - The company's sales and operating results depend on consumer preferences and consumer spending.
#2 - The company's business is subject to unfavorable economic and political conditions and other developments and risks.
#3 - The company's business could be affected by extreme weather conditions, regional or global health pandemics or natural disasters.
#4 - Inability to access capital markets could adversely affect the company's business or financial condition.
#5 - A material disruption in the company's computer systems could adversely affect the its business or the results of its operations.
Conclusion
For those of you who may be considering a position in Macy's, I strongly recommend keeping a close eye on the company's continued cost-cutting efforts, its dividend behavior, and its ability to enhance shareholder value over the next 12-24 months as each of these factors could play a role in the company's long-term performance.
Disclosure: I am long M, . I wrote this article myself, and it expresses my own opinions. I am not receiving compensation for it (other than from Seeking Alpha). I have no business relationship with any company whose stock is mentioned in this article.