On Tuesday, McDonald's (NYSE:MCD) announced a beef sustainability initiative (website available here) where it plans on using environmentally sustainable beef by 2016 after realizing beef accounted for 28% of its carbon footprint. Now, as an investor and consumer, you may be curious as to the meaning of sustainable beef and the extra cost. Unfortunately, there is actually no definition of sustainable beef though McDonald's, Cargill, and others are working on developing one.
Basically, McDonald's is looking to purchase beef that is raised and transported in an environmentally friendly way. By 2014, McDonald's hopes to have developed a more comprehensive definition, at which point additional costs can actually be calculated. While the details have yet to be filled in, this was an interesting announcement, and one that I hope signals a shift in strategy for the company.
Over the past thirty years, McDonald's has been an exceptionally successful company; that is beyond dispute. However, consumer taste does change, and for the company to continue to be successful, it needs to innovate. McDonald's has built a fantastic brand among baby boomers, but among younger consumers, so-called "Millennials," McDonald's brand has some issues. Its food can be perceived as unhealthy and of low-quality, and many younger consumers are willing to pay up a little bit for Chipotle (NYSE:CMG), Buffalo Wild Wings (NASDAQ:BWLD), or Starbucks (NASDAQ:SBUX). Among these consumers, the minimum wage is often an important political issue, and McDonald's ignited a PR brouhaha by suggesting employee's get a second job on a budgeting website. Then, images of a frozen McRib helped to further the negative stereotypes about McDonald's food: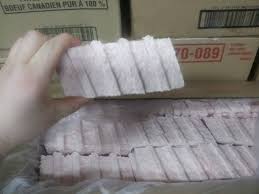 These consumers are the consumers of the future, and for McDonald's to stay relevant, it needs to figure out a way to be as appealing to them as the Golden Arches are to their parents. Up until this point, McDonald's has employed what I like to call the "Field of Dreams Approach:" if we build it, they will come. In other words, McDonald's saw what young consumers liked, made a similar product, and assumed they would switch to MCD's offering.
For instance this fall, McDonald's recognized that young consumers love chicken wings and announced "mighty wings." As I predicted here, this initiative has been a disaster, and the company has 10 million pounds of unused chicken wings. Consumers liked Buffalo Wild Wings as much for the sports bar environment as for its wings. Simply offering competing wings would not get them to switch to McDonald's.
Younger consumers that have left traditional fast food restaurants for fast casual restaurants are willing to spend a little more rather than find the cheapest food (which is great for margins), but they have different demands. Issues like fair trade, sustainability, freshness, and food quality are more important than having the cheapest offering. That is why we have seen companies like Chipotle and Starbucks sign fair trade deals that encompass sustainability, farmer pay, and healthiness. The restaurant battle is shifting more towards quality, atmosphere, and social-consciousness and away from a sole focus on price.
McDonald's leading push into beef sustainability is a sign that the company recognizes that it needs to mold its brand to better appeal to fast-casual consumers. While price will always be a core competency as it is critical to the existing customer base, McDonald's can make efforts to improve its brand and regain share among younger consumers who represent the company's future. With its major advertising buy in the upcoming Winter Olympics, McDonald's is perfectly positioned to rebrand itself as a socially-conscious company that offers food at great prices. If MCD fails to do this in the coming months and years, it will see same-store sales that continue to lag as it loses more share to fast casual operators.
I am hopeful McDonald's can reposition itself for success in the coming decades, but different taste and priorities among Millennial consumers are a major challenge to the firm's long term health. At 16.3x earnings, McDonald's is pricing in an ability to grow for years to come, and I believe the risk remains that the company underperforms in coming years due to an inability to shift and steal back business from the fast-casual sector. Even with a nice dividend, I think investors are giving management too much credit after the mighty wings disaster and wouldn't buy shares unless they fell below $90.
Disclosure: I have no positions in any stocks mentioned, and no plans to initiate any positions within the next 72 hours. I wrote this article myself, and it expresses my own opinions. I am not receiving compensation for it (other than from Seeking Alpha). I have no business relationship with any company whose stock is mentioned in this article.