The Global X Guru Index ETF (NYSEARCA:GURU) offers individual investors exposure to some of the performances of top hedge funds with the simplicity of an ETF wrapper, and without needing to pay the typical 20% performance fees charged by most hedge funds. The ETF does this by using the information filed by hedge funds with the SEC to construct a portfolio of the most popular equity positions of a select group of hedge funds. The stocks are screened for liquidity, are equal weighted and adjusted quarterly.
The performance of the ETF has been quite impressive, having delivered a 76.6% return since its inception in June 2012. By comparison, the S&P 500 would have returned only 48.9%, over the same period. Following its strong performance, the fund has become increasingly popular, and now manages over $420 million in assets.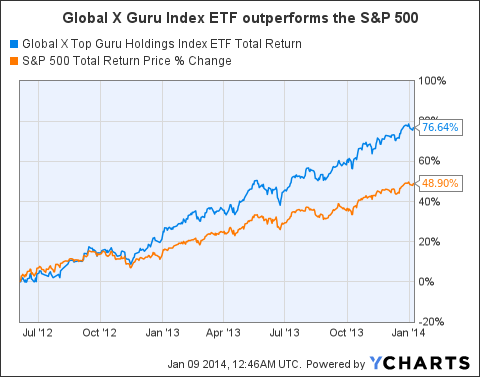 GURU Total Return Price data by YCharts
| | | | |
| --- | --- | --- | --- |
| Total Returns | 3-Months | 1-Year | Since Inception |
| GURU | 13.1% | 40.0% | 76.6% |
| S&P 500 | 11.5% | 28.1% | 48.9% |
All hedge funds with more than $100 million in U.S. equity investments are obliged to file Form 13F with the SEC, which details their investment holdings. Form 13F is publicly accessible from the SEC, and anyone can use the information to construct their own portfolios based on their most favorite investment fund managers.
There are, however, pitfalls with replicating trades by scanning through 13F Filings, and one of them is that they are only published quarterly. On top of that, Form 13F is only required to be filed within 45 days after the end of the calendar quarter; which means the hedge fund may not even be holding that particular investment by the time the document is publicly available. Fund managers are not obliged to disclose their short equity positions or their investments listed on a foreign exchange. However, they are obliged to declare their U.S. listed long equity positions, equity options, warrants, and certain debt securities.
The Global X Guru Index ETF primarily invests in equities, which means that it does not exactly copy the holdings of hedge funds. Hedge funds may hold a very diverse selection of investments, ranging from debt securities, equity options, currencies and commodities; and so the performances of the ETF and the underlying hedge funds may vary significantly. But, that does not necessarily mean that the ETF will necessarily underperform the underlying hedge funds, and the ETF still benefits from the insights of the select group of hedge funds.
The Global X Guru Index ETF charges a 0.75% management fee, which may not be the lowest ETF fee. The Schwab U.S. Broad Market ETF (NYSEARCA:SCHB), which tracks the performance of U.S. large and small cap stocks, charges only a 0.04% fee. But it is much lower than the typical 2% management fee charged by hedge funds, and there is no performance fee to be charged. This makes the ETF an interesting consideration for investors who approve of the 'follow the rainmaker' strategy; but does not have the time to sift through multiple SEC filings and adjust their portfolios frequently, nor desires to pay the high costs of investing directly with hedge funds.
Disclosure: I have no positions in any stocks mentioned, but may initiate a long position in GURU, over the next 72 hours. I wrote this article myself, and it expresses my own opinions. I am not receiving compensation for it (other than from Seeking Alpha). I have no business relationship with any company whose stock is mentioned in this article.