According to a quasi-scientific analysis conducted by Investor Village's AAPL Sanity board and reported on by CNN, it is estimated that Apple (NASDAQ:AAPL) sold 119,987 iPads on the first day of pre-orders. This is relatively consistent with the observations of phanfare blog that Apple was selling 20,000 iPads per hour early in the day on Friday March 12. CNN mentions some conclusions, but I believe that there are a few more important observations:
Apple limited iPad sales to two per customer. While the average consumer would likely only be purchasing one iPad, this could have stemmed the potential sales for enterprise users or developers.
According to Apple, the pre-orders only cover the US, Australia, Canada, France, Germany, Italy, Japan, Spain, Switzerland and the UK. Therefore, as with the iPhone's slow initial worldwide launch, it is important to put the numbers in some perspective.
While it appears that the Wi-Fi model was much more popular than the 3G model, note that the 3G version will not be released until later in April, assuming no further delays. AT&T (NYSE:T) should be quite pleased to see another 37,000 new potential customers as well.
I share the sentiments of Victor Castroll, analyst with Valcent Financial Group. "Apple has been able to generate over $75 million in revenue in one day on a product that 99.9% of purchasers haven't touched or for that matter, even seen in person." While much of this can be attributed to consumers' familiarity with the iPod Touch and iPhone, I attribute the majority of customers' confidence to Apple's brand and all-star CEO, Steve Jobs. When Steve Jobs calls a product magical, consumers and investors would be wise to listen.
The fact that Apple was able to sell so many of these $500+ gadgets despite the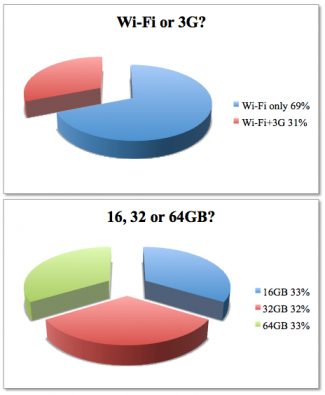 tumultuous economic climate is a testament to its ability to continuously "wow" its customers. While the flood of iPad pre-order estimates will continue to trickle in as we lead up to the launch, remember that historically Apple has followed a pattern of "buy the rumor, sell the news."
Apple seems to have improved this pre-ordering and production processes dramatically since the iPhone was launched but it is always fun to see those rabid Apple fans camping in line outside of stores. Nothing like more free publicity for Apple.
Image Source: AAPL Sanity
Disclosure: Author holds a long position in AAPL and T. Author is also short AAPL Mar. 220 puts.