Valeant Pharmaceuticals (NYSE:VRX) and its highly volatile share price are not for the faint of heart. The company preannounced strong results and bold goals, and shares ripped 11% higher after selling off 4% the previous day. Although this isn't an easy company to value, I think it is a no-brainer buy for long-term investors thanks to its wonderful business model and incredible management team, led by CEO J. Michael Pearson.
What Valeant Does
Valeant is a pharmaceutical company with origins tracing back to 1960. It sells everything from dermatological products, to generics, to eye care branded under Bausch & Lomb. The current iteration of the company truly began in 2010 when Valeant merged with BioVail, with the merged entity keeping the Valeant name and organizing in Canada under the leadership of J. Michael Pearson.
Pearson's strategy is simple yet brilliant. The company doesn't spend billions of dollars on research & development spending; rather, the firm focuses on making small acquisitions of high margin products across generics, eye care, and dermatology. Pearson has realized that most R&D spending has a negative return on investment, so instead of trying to make the next blockbuster drug, Pearson would rather buy a company that makes highly profitable products with great market share.
Coming from a management consulting background at McKinsey, Pearson isn't afraid to slash expenses to make acquisitions more profitable. While some CEOs make acquisitions that turn out to be "diworsification," Pearson has shown a Warren Buffett-like ability to acquire companies and create value for Valeant shareholders. Valeant also books much of its revenue in places like Bermuda and Ireland which carry significantly lower tax rates than their US and European counterparts. Moving pre-tax earnings of $100 million in the US to Bermuda could result in cash tax savings of $30 million.
Why the Street Loved the Update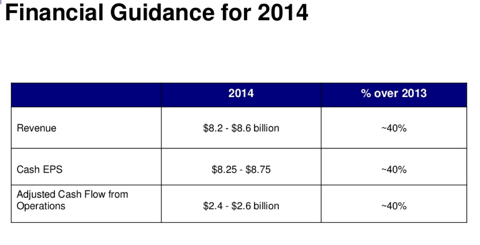 Pearson gave a bullish update on the company, projecting 2013 cash earnings per share of $6.11-$6.17, an increase of 35%-37% compared to the prior year. More importantly, Valeant expects cash earnings to increase about 40% in 2014 to $8.25-$8.75 per share. The company also continues to pursue a "merger of equals" as Pearson attempts to make it one of the 5 largest pharmaceutical companies in the world by market capitalization. At this time, Sanofi (NYSE:SNY) is the 5th largest on the globe at a market value of $138 billion. Valeant is worth just $42 billion at the moment, so Pearson's prediction suggests considerable upside.
More importantly, there is no reason to doubt Pearson. His execution thus far has been flawless. Since becoming CEO in February of 2008, shares are up over 1,040%. Just $100 invested in Valeant at the beginning of his tenure would be equal to $1,040 in only 6 years.
Legendary Value Investors Love Valeant
Even though Pearson's track record speaks for itself, several prominent value investors are on board with Valeant. Benjamin Graham disciples Richard Cunniff and Bill Ruane have approximately 20% of their famous Sequoia Fund invested in Valeant. Buffett's former CIO, Lou Simpson, currently has 9% of his assets invested in the company. ValueAct Capital currently has 17.8% of its $11 billion invested in Valeant. To top it off, Pearson recently purchased $15 million worth of stock on the open market.
Buffett himself may not own any shares of Valeant, but the Superinvestors of Graham-Doddsville certainly approve of the company, but more likely the fantastic capital allocation abilities of Pearson.
Downside Threat: Competition
Bears tend to criticize Valeant for its heavy debt burden, but given the firm's ability to make accretive acquisitions and reduce debt in a timely matter, I do not believe debt is a major concern for shareholders. However, competition most definitely is a concern.
I'm not talking about a company coming up with a better skin cream than CeraVe or Bausch & Lomb losing its strong market position. Rather, I fear the market has caught on to the brilliant strategy that Pearson has been executing.
Endo Health Solutions (NASDAQ:ENDP) is a healthcare company run by former Valeant President Rajiv De Silva. Like Valeant, Endo is hoping to arbitrage tax rates to a similar acquisition strategy. Actavis (ACT) is pursuing a similar strategy after acquiring Warner Chilcott to domicile itself in Ireland. Therefore, with low organic growth rates, the threat to Valeant is that competitors start scooping up smaller businesses, forcing Valeant to overpay or miss out on growth entirely. However, I think Pearson's proven ability to make great acquisitions at attractive prices should help the company maintain its strategic dominance going forward.
Hold Valeant for the Long Term
I don't like buying stock on huge up days, but I think investors can make an exception for Valeant. Management is absolutely fantastic, and the company looks like it could be a compounding machine for years to come. I have tremendous faith in the company, and I think patient investors will reap a bountiful reward. I know I'll be buying any pullback.
Disclosure: I am long VRX, . I wrote this article myself, and it expresses my own opinions. I am not receiving compensation for it (other than from Seeking Alpha). I have no business relationship with any company whose stock is mentioned in this article.