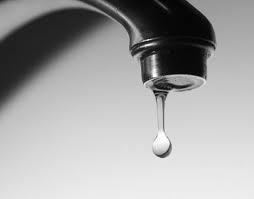 As of October of 2013, mainland China owned $1.3 trillion in US Treasury securities. Meanwhile the country is facing a fresh water crisis of epic proportions. Fifty years ago, China counted about 50,000 rivers over a certain size, but as rivers have been increasingly diverted for industrial, agriculture, and drinking water, the number of rivers have shrunk by more than half and today number only ~23,000. So despite being foreign reserves rich, China is water poor. To quiet potential social unrest as well as a coming healthcare crisis due to toxic water consumption, China will increasingly come to rely on the only long-term solution to satisfy fresh water demand: salt water reverse osmosis ("SWRO"). Investors can participate in the trend by investing in water infrastructure ETFs or key SWRO equipment providers like Energy Recovery Inc. (NASDAQ:ERII).
The South-North Water Diversion Project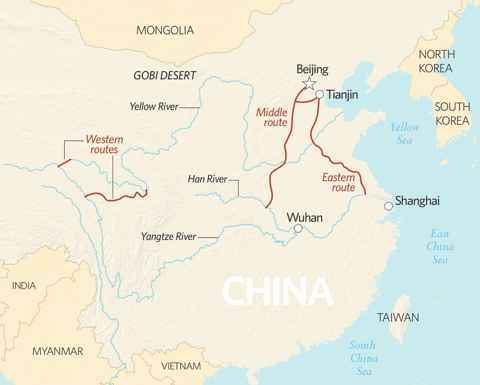 In a desperate quest to solve its fresh water crisis, China's policymakers have embarked on a multi-decade infrastructure project called the South-North Water Diversion Project. The aim is to divert water from the Yangtze River to the Yellow and Hai Rivers. The project relies on a number of diversion canals and will divert 44.8 billion cubic meters/year of water from south to the industrial and more arid north.
There are major concerns about such a large scale project. Diverting the flow of water from the Yangtze could further endanger an already disrupted ecosystem. Also, with a lower flow of water, the river would have its self-cleansing capabilities further reduced and will likely lead to an even more stagnant and polluted river system. And of course Southern China will still need to be adequately supplied with water as robbing Peter to pay Paul won't work in this case. There are also political consequences as well: several of China's water projects will directly affect downstream nations like Bangladesh, Myanmar, and India and will likely raise tensions.
As the Economist magazine points out, the projected cost of the North/South diversion project is $79.4 billion. The Economist believes it would be cheaper to desalinate the equivalent amount of seawater. I agree, and would add that SWRO plants are also an environmentally and geopolitically superior solution.
Investment Plays
One of my favorite investments in the SWRO market is fluid energy innovator Energy Recovery. 90% of Chinese desalination plants use ERII's technology to save energy costs and reduce emissions. ERII has proven itself the market leader with over 15,000 internationally patent-protected energy recovery devices deployed worldwide: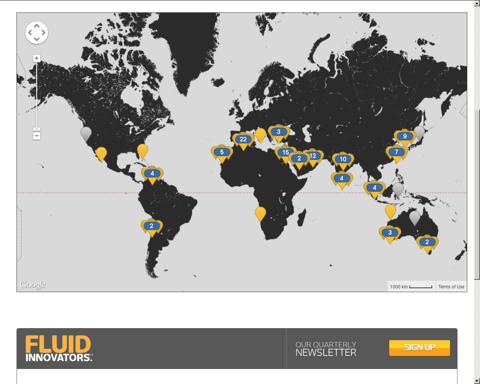 Note: while the interactive map and "SIGN UP" button on the graphic above will not work within this article, you can access the map and sign-up for the newsletter here.
Energy Recovery is also pursuing $1 billion in opportunities in the gas processing market. As are result of ERII prospects for growth in these two worldwide markets, the company is one of two small-cap picks which could gain 50% in 2014 - a year that should see ERII return to solid profitability.
Three Water ETFs
Exchange traded funds offer investors a more diversified way to invest in water infrastructure. Here are two ETFs to consider:
First Trust ISE Water ETF (NYSEARCA:FIW)
This ETF tracks the ISE Water Index - a benchmark of firms that derive a substantial portion of their revenues from the potable and wastewater industries. You can read more about this ETF on its webpage. The Index selects the top 36 stocks in the industry by market capitalization and rebalances twice a year. FIW has a total NAV of $131.6 million and expenses are contractually capped at 60 bps in annual fees through April 2014. One thing to consider is the typically light trading. The funds' top-5 holdings are:
| | |
| --- | --- |
| Holding | Percent |
| Rexnord Corporation (NYSE:RXN) | 4.36% |
| Pentair, Ltd. (NYSE:PNR) | 4.18% |
| Lindsay Corporation (NYSE:LNN) | 4.07% |
| California Water Service Group (NYSE:CWT) | 3.92% |
| Badger Meter, Inc. (NYSE:BMI) | 3.91% |
The fund has a 3-year NAV return of 18.0 while the one-year returns is 31.5%.
PowerShares Global Water Portfolio (NASDAQ:PIO)
The PowerShares Global Water Portfolio ETF is based on the NASDAQ OMX Global Water Index. The fund typically invests 90% of total assets in companies listed on a global exchange that creates products to conserve and purify water for homes, businesses, and industries. The expense ratio is 0.75% and the fund holds 36 securities.
48% of the fund's holdings are in the United States. While the fund's one-year return is 23.33%, the three-year return has lagged benchmarks with a 7.22% annualized return. You can read more about this ETF on its factsheet.
Other ETF options are PowerShares Water Resources Portfolio (NASDAQ:PHO) and Guggenhiem S&P Global Water Index ETF (NYSEARCA:CGW).
Summary & Conclusion
Fresh water drinking supplies are in short supply in many regions of the world including the Middle East, Florida, and Southern California. China has 20% of the world's population yet only 7% of the world's fresh water supply. Worse still, much of the "fresh" water in China is so polluted it is not safe to bathe or irrigate with it, let alone drink. China must solve its massive fresh water supply requirements or it will face social unrest and/or huge health care costs. Chinese policymakers may well discover that investing in SWRO plants and equipment from ERII to provide long-term fresh water for its citizens may result in much bigger long-term rates of return than either US Treasuries or re-routing two of the major rivers of the planet.
ERII = $5.37
Mkt Cap: $275.5 Million
52wk Range: $3.24 - $7.75
Avg Vol (3month): 512,371
EPS ((ttm)) = -$0.24
Dividend (Yield) = N/A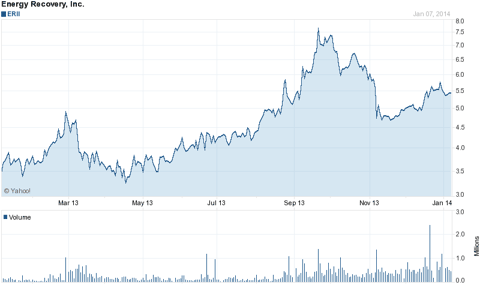 Disclosure: I am long ERII, . I wrote this article myself, and it expresses my own opinions. I am not receiving compensation for it (other than from Seeking Alpha). I have no business relationship with any company whose stock is mentioned in this article.
Additional disclosure: I am an engineer, not a CFA. The information and data presented in this article was obtained from company documents and/or sources believed to be reliable, but has not been independently verified. Therefore, the author cannot guarantee its accuracy. Please do your own research and contact a qualified investment advisor. I am not responsible for investment decisions you make. Thanks for reading and good luck!