The rhetoric about currencies, fiscal polices, debt levels, and the import/export situation between the US and China are a bit worrisome as they may impact near-term to intermediate-term stock markets. We can't quantify any of that, but the public barbs have been increasing in frequency and severity. Maybe it's just posturing for internal audiences, but maybe it is also a precursor of national behaviors that may escalate and not be good for markets.
Numerous articles were published this weekend (March 13-14, 2010) about the response by Premier Wen Jiabao to demands by President Obama for China to let the market revalue its currency, presumably to rise in its exchange rate relative to the US dollar.
Excerpting from articles in the Wall Street Journal, Financial Times and Business Week, Mr. Wen said that U.S. efforts to boost its exports by weakening the dollar amounted to "a kind of trade protectionism." Wen said further,
I can understand that some countries want to increase their share of exports. What I don't understand is the practice of depreciating one's own currency and attempting to press other countries to appreciate their own currencies solely for the purpose of increasing one's own exports. This kind of practice I think is a kind of trade protectionism. Since the U.S. is the issuer of the main international currency, any instability in its currency causes us great concern. Last year I said I am worried, and this year I also say I am worried.
Mr. Wen also said there is a risk of a "double dip" global recession given continued risks in financial systems and high jobless rates in many countries, and that China is dealing with the "extremely difficult" task of maintaining growth in an economy that is an "unbalanced, uncoordinated and unsustainable" expansion.
China Daily (March 14, 2010) wrote,
China's economy cannot develop without the context of the broader global environment, and the recovery of many Chinese companies is mainly backed by the government's supportive policies, Chinese Premier Wen Jiabao said on Sunday at a press conference in Beijing after the conclusion of the national legislature's annual session.

The economy is complicated by a lot of uncertain factors, although the world is generally recovering, the main problems of the global economy still exist, Wen said.

"The unemployment rate of the world's main economy is still high, some countries' debt crises are still deepening, and the world's commodity prices and exchange rates are not stable, which are most likely to become the cause of any setback in the economic recovery," he said.
China has expressed concerns about the value of the dollar, the fiscal imbalances in the US and degree of leverage in the US balance sheet. The Obama administration is trying to have an upper hand, but has not been effective in causing China to change its currency peg policy. Obama and the Congress are seeking to attribute some of the financial and economic problems in the US to China's policies. China will have not of it. How far the behaviors may escalate is uncertain, but the potential for disruption of affairs or of frightening investors out of risk assets is material.
China FTSE/Xinhua 25 Faltering:
While FXI (China FTSE/Xinhua 25) has risen over the past month, it has not yet gone past the 50% retracement level from the most recent low, which itself went down to levels not seen since July 2009.
This 1-year Brick chart looks toppy.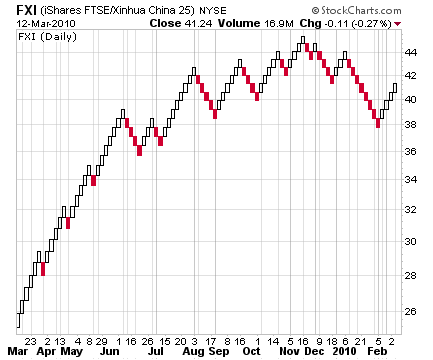 US Stocks Are Strong, But … :

Small-cap and mid-cap US stocks have been surging, and the large-caps have recovered to January highs. However, with all that is going on within US borders and in major national economies, such as China, should the markets be so sanguine?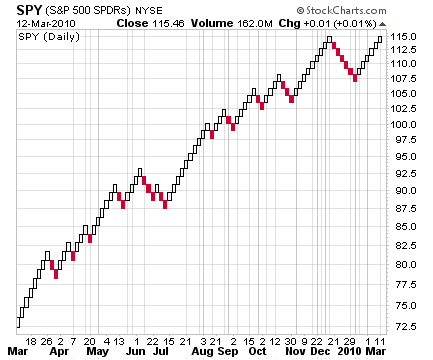 Perhaps what is more certain is that stock markets will adjust to new expectations on exchange rates. Recent expectations of near-term Yuan appreciation now seem dim. How other currencies play out in response will be on close watch.
As of about midnight tonight, after Wen's statements, stock are open and down in China, Hong Kong, Korea, Taiwan, Thailand, Indonesia, Malaysia, Japan, Singapore and Australia. US futures are also in the red. People apparently don't like the tone of the dialogue between Washington and Beijing.
Readjustment is likely, winners and losers in the short-term are hard to know.
Holdings Disclosure:
As of March 14, 2010, we hold SPY, MDY and IWM in some, but not all managed accounts, We do not have current positions in any other securities discussed in this document in any managed account.
Disclaimer:
Opinions expressed in this material and our disclosed positions are as of March 14, 2010. Our opinions and positions may change as subsequent conditions vary. We are a fee-only investment advisor, and are compensated only by our clients. We do not sell securities, and do not receive any form of revenue or incentive from any source other than directly from clients. We are not affiliated with any securities dealer, any fund, any fund sponsor or any company issuer of any security. All of our published material is for informational purposes only, and is not personal investment advice to any specific person for any particular purpose. We utilize information sources that we believe to be reliable, but do not warrant the accuracy of those sources or our analysis. Past performance is no guarantee of future performance, and there is no guarantee that any forecast will come to pass. Do not rely solely on this material when making an investment decision. Other factors may be important too. Investment involves risks of loss of capital. Consider seeking professional advice before implementing your portfolio ideas.