It's been almost a year since I originally wrote about Winthrop Realty Trust (NYSE:FUR). I knew very little about REITs then and Winthrop was the first one I analyzed. The stock was selling at $6 per share at that time and today it stands at $13.00 and has paid out $0.91 per share in dividends. That's a total return of around 132% for what was actually a relatively safe bet. Of course, the market did not realize that at the time.
With that in mind, it's time for me to revisit Winthrop to see if it's still worthwhile selling near $13 per share. While it is not dirt cheap any more, there are still reasons it might be a good buy. The most important reason is that the company has a very strong balance sheet and is well positioned to potentially grab some real estate assets at distressed prices.
One very notable hedge fund manager, Bruce Berkowitz, has jumped in on Winthrop for this very reason. Berkowitz's Fairholme Capital owns over 4 million shares, or roughly 25% of the company. CEO Michael Ashner also owns about 3.1 million shares, so you could say that management is heavily invested in this enterprise.
Berkowitz has lauded CEO Michael Ashner for his prior work with Vornado and Apollo Group, where he was able to make favorable moves in the distressed real estate market. With Winthrop's strong balance sheet, no reason Ashner could not create a great deal of shareholder value in the coming years, as commercial real estate defaults continue to rise.
With that, let's take a closer look at Winthrop.
Overview
Winthrop is a REIT based out of Boston, MA that engages in three different primary activities:
Ownership of investment properties
Origination and acquisition of loans and debt securities
Ownership of equity and debt securities in other REITs
They own office, retail, and residential properties spread across the Eastern and Midwestern United States. Their retail space is all in the Southern United States, dispersed across 7 different states, while the rest of their portfolio seems to stretch in a wide belt from Massachusetts to Texas. Their portfolio is heavily diversified, which leaves them less susceptible to adverse conditions in any particular market.
Winthrop owns 3.5 million common shares of Lexington Realty Trust (NYSE:LXP), which I have written about before, and I believe to be currently undervalued. You might also read Dan Wieman's excellent articles relating to Lexington. Winthrop is also involved in several joint ventures.
When I first came across Winthrop, the thing that caught my eye was their great balance sheet. They were loaded with cash and had relatively low leverage for a REIT. Moreover, their properties were dispersed across the country and they did not appear to have excessive exposure to any bubble markets.
One year later, Winthrop's balance sheet is still in excellent shape. While stockholders' equity has dropped $60 million between their most Q3 filing and their year-end filing for '08, that was mostly due to write-offs from their equity interests in Lex-Win Concord. Most investors familiar with the company were probably already expecting this. According to CFO Tom Staples in the 3rd Quarter earnings call, Winthrop's equity investment in Lex-Win Concord is now recorded at $0 and any realized income from that venture will be recognized as a gain now.
Winthrop's blended occupancy rate was at 85%, as of Sep. 31, 2009, which was a decrease from 96% the prior year. This is far from spectacular, but the decline mostly came from the loss of two tenants in their Jacksonville, FL based property. In mid-January, Winthrop announced that it had found new tenants for this property. As Winthrop was able to re-sign tenants at its Andover, MA and South Burlington, VT properties, Winthrop could potentially have a 90%+ occupancy rate for FY '10.
In late '09, Winthrop conducted a rights offering and sold roughly 4.5 million common shares, for proceeds of over $40.3 million. Company execs have not given an explicit purpose behind this offering, except that they want the capital to pursue new deals. My only complaints about the offering are that it was done while the stock was undervalued and selling below book value. I would have preferred for them to have waited till the stock at least hit the $11 - $13 mark (where it sets now). All the same, this offering could still prove to be beneficial and was not terribly dilutive.
With that, let's further analyze the financials.
Balance Sheet
First off, let's take a glance at Winthrop's balance sheet. This incorporates results from their Q4 '09 earnings announcement: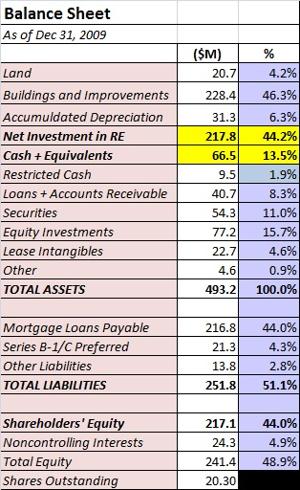 The most immediate thing that should stand out is the large cash balance. It now stands at about 13.5% of total assets (15.4% if you count "restricted cash"). Leverage is very reasonable, as well, with total liabilities at about 51% of total capital. This is certainly less aggressive than most REITs.
Even when you look at their other asset accounts, they tend to be more liquid than most REITs. For instance, 11% of FUR's total assets are in securities and 15.7% are in equity investments. Piecing together all of this, FUR would appear to have a strong balance sheet and great liquidity right now. That is precisely what I want to see in this environment, especially as commercial real estate defaults increase in the next few years and companies that have cash will have opportunities to scoop up these cheaper assets.
Real Earnings
The next thing we should look at is Winthrop's earnings potential. We want to look at GAAP earnings, FFOs, cash flows, and play around with those numbers to try to determine a real level of profitability. It should be noted right from the get-go, however, that piecing together an earnings picture for Winthrop is not precisely an easy task, due to the varied nature of their operations. Also, one should note that I am using the current share count to gauge profitability, rather than "weighted average" share counts from prior periods. This is so that the earnings will be more forward-oriented.
Below is a chart summarizing Winthrop's earnings for the past four fiscal years. Below those numbers, I have created some measures in order to try to gauge real profitability. Explanations are below the chart: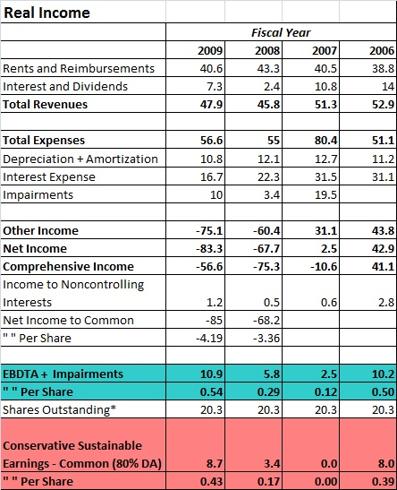 The first measure I added (highlighted at the bottom) is Earnings Before Depreciation Taxes and Amortization (EBDTA) excluding any impairment charges or one-time items. Note that my measure is similar to EBITDA, only without the "I". My reason for doing this is that debt is an important component of a REIT's financing structure and it doesn't make any sense to me to ignore interest payments in any "real earnings" measure.
The second measure I labeled "Conservative Sustainable Earnings", which is my clumsy term for a modified version of my first measure. The only difference with the second measure is that I pick a "target percentage rate" and multiply it by depreciation and amortization. The belief here is that by ignoring all depreciation, we might be ignoring property improvements that are needed to maintain the value of the properties. For Winthrop, I excluded 20% of their depreciation charges --- this might be an overly conservative figure.
One very important note here --- these "real earnings" figures I have created do not take into account "Other Income" and losses. The reason for this being that it's extremely difficult to create any normalized earnings estimate based on those figures. Instead, I am relying on an assumption that "Other Income" will mostly be positive for the long-term future. I believe that Winthrop will be able to make reasonably good deals moving forward and that their current investments will move upwards overall. I could easily be wrong on this.
With all that in mind, earnings don't look too bad, won't you eliminate non-recurring items and non-cash items. For the most recent fiscal year, it would seem that Winthrop was earning somewhere around 43 - 54 cents per share solely based on their real estate properties. Keep in mind that FUR's net investment in RE only makes up about 44% of their balance sheet, so this is not bad at all right now.
Next thing we should do is take a look at Winthrop's cash flow picture.
Cash Flows
The chart below analyzes Winthrop's cash flows. Unfortunately, FUR's most recent earnings release did not include cash flow figures, so this chart is based off their most recent 10-Q filing for the first three quarters of FY '09. Explanations are below the chart: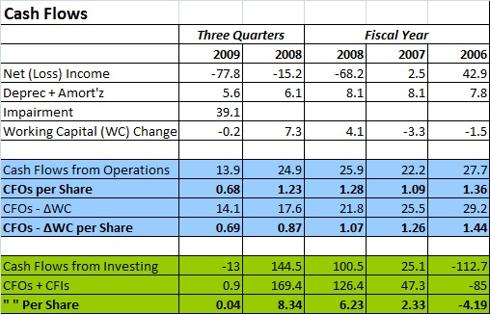 The first highlighted measure is "Cash Flows from Operations" [CFOs] on a per share basis. The next measure is CFOs excluding Working Capital changes. My third measure was a bit trickier. Normally, I would look at Free Cash Flows [FCFs] for a REIT; however, it's really difficult to categorize what counts as a "capital expenditure" for Winthrop, given their diverse operations. Instead, I simply looked at "Cash Flows from Investing Activities" [CFIs] in total, which may not be a very useful metric in all honesty.
It's unclear to me whether my CFOs + CFIs figure is of any real use. CFOs per Share and CFOs excluding Working Capital Changes are the most important metrics here and I'd argue that the latter is one of the most important things to look at with all REITs. Winthrop's profitability based on this metric was about 69 cents per share for FY '09, which is still solid.
FFOs
It's also worthwhile to look at Funds from Operations. The first set of FFO measures includes one-time write-downs. The second set eliminates these figures: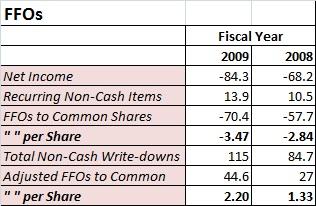 However, this is where things get problematic. Winthrop has enough "one-time" items in their financial statements that it's obvious that some of these items are fairly common. How do we quantify Winthrop's "Other Income"? It's difficult for me to give a clear answer on that issue. By keeping the one-time writedowns, Winthrop looks highly unprofitable. By eliminating them, Winthrop looks extremely profitable.
Below is another chart. This one shows "Earnings with Equity Adjustments." Since I have been following Winthrop in February '09, I had expected the Lex-Win Concorde to get written down to $0. That has slowly happened over the past year. This and other 'equity write-downs', I view as non-recurring items that negatively impact financial statements now, but will actually be much more positive moving forward. So the below chart shows earnings if we ignore these large equity impairments: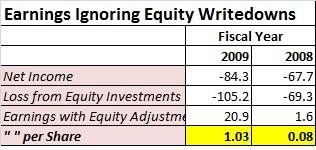 This gives us yet another potential estimate of "real earnings."
Earnings Analysis and Valuation
Due to the eclectic range of activities Winthrop engages in, it can be a tricky company to value. When I originally wrote about this company at $6, this was simply irrelevant to me because the margin for error was so huge, that it was very unlikely that the stock would not be worth more than that amount. Now, it's trickier.
If you glance back up to my "Real Income" chart, cash flows, the FFO chart, and the Earnings with Equity Adjustments chart, you can see that I've come up with a lot of different estimates of Winthrop's real profitability. It's difficult to peg down one as the "correct" one. But it's not difficult to see a range that has developed.
-- The Conservative Scenario --
Even using the more conservative figures, I came up with profitability for Winthrop at around 40 – 50 cents per share on a yearly basis. Even under this scenario, the stock still might be undervalued. Net tangible assets are worth about $10 - $11 per share. Let's write down PP&E another $20 million for safety and that should give us adjusted NTAs of about $9.50 - $10.00 per share.
Assuming 50 cents per share is a realistic measure of "real profitability" moving forward, I'd estimate Winthrop's value at around $16, even if we are going by rather conservative standards. Even with the stock selling at $13, that's a 23% gain. I'm more bullish than this on Winthrop than this, but it's nice to know that even my "conservative scenario" seems to price the stock above it's current level.
-- Intermediate Scenario --
A more intermediate scenario might suggest that Winthrop improves revenues via clever moves with their cash and debt holdings. Their equity investments in other REITs also boost the bottom line and $1 - $1.25 per share is better measure of average "real profitability" moving forward.
In this scenario, Winthrop ends up being worth somewhere between $22 - $27 per share; which would mean price appreciation of somewhere around 70% - 100% from current levels.
-- Aggressive Scenario --
While I like buying companies below what I might perceive as a probable floor moving forwards, it's still important that I see a possibility for strong capital growth. Otherwise, why should I put my productive capital into the equity of a company if I am going to bond-like returns. However, when you can buy below a realistic floor and you see potential for a large upside, I think that makes a much more intriguing buy. With Winthrop, I see a lot of potential for large gains in the future.
With a strong balance sheet, lots of cash, and a shrewd management team, this company can gobble up assets in the current environment, which will increase revenues and long-term profitability. Let's say that some of our more aggressive measures are more realistic estimates of profitability and that Winthrop can grow sustainable earnings to the $1.50 - $2.50 per share range. These are aggressive figures, but they would also be quite possible given the dynamics described here.
If this were the case, Winthrop's valuation could range anywhere from $28 - $45. In which case, this stock would be an absolute steal, even after moving up over 100% off its lows. At $35, one would see gains of about 170% from the current level, in what is generally considered a safer investment vehicle. I love the risk-reward balance for Winthrop – that's the biggest reason why I am long.
-- The Accretive Offering Chain-Scenario [Ultra-Aggressive] --
One more thought here --- Winthrop recently did a small equity offering in order to grow their cash and pursue more opportunities during this current downturn. Smart money is starting to gravitate towards this stock, if Berkowitz's moves are any indication. My belief is that Winthrop will gobble up assets on the cheap moving forward and increase the bottom line significantly.
What if I'm right? And what if the market slowly starts to see this and pushes the price up closer to intrinsic value?
Think about this scenario for a second --- book value is only around $10 - $11 per share right now. Therefore, any secondary offering held above that price might actually be "accretive" rather than dilutive, in nature. So let's say that FUR is trading at $16 mid-year. Let's say that Winthrop's management decides to do another offering at that point. Book value increases and management has even more cash to pursue cheap assets. Which in turn, could drive the stock price upwards, giving management even more leeway to do more offerings, and gobble up even more assets.
I'm not betting the bank on this scenario. I merely float it around as a possibility because it seems to me that Winthrop is in a situation where they could build on their own momentum and create very massive value for shareholders, even while issuing more shares.
I can't pretend to know Winthrop's exact value right now, but I do see a lot of potential for upside here and while this scenario may seem far-fetched, it's hardly outside the realm of possibility. If it did come to fruition, Winthrop could increase its revenue base in dramatic fashion over the next five years. If this were to happen, FUR would be a complete steal.
Risks
There are risks with all securities, of course. There are some worth noting with FUR. Most of these are from Winthrop's 2008 10-K statement, but I summarize the most notable "risk factors" I spotted:
Winthrop pursues a number of joint ventures and their record with these JVs has not been particularly impressive yet. JVs have certain risks that FUR might not face in other aspects of their business and these JVs could result in negative results for the company.
Winthrop is subject to interest rate volatility. If interest rates were to significantly increase, this could impact their earnings in some adverse ways.
Preferred shareholders in Winthrop have significant benefits that might adversely affect common shareholders.
Tenants could opt not to renew their leases with Winthrop, which would reduce Winthrop's occupancy rates and cash flows adversely.
Loan delinquinces could increase, which would harm Winthrop's cash flows.
Winthrop's equity investments in REITs could perform poorly, which would adversely impact their balance sheet.
Conclusion
Taking everything into account, at $13, Winthrop still looks like a good buy to me. It is not out-of-this-world cheap any more, but given the company's relatively low leverage, recent operating history, extremely strong balance sheet, and a 5.3% dividend yield, I'd view it as one of the safer plays that could still create some considerable upside. Moreover, this might be one of the best growth plays in the REIT sector right now.
While I have slowed down my buying in the REIT sector over the past two months, Winthrop has been one of the few exceptions. In spite of the huge run-up since I originally discovered this company, I have continued buying it over the past month for funds I manage.
Disclosure: Author is long on FUR in his personal account and in funds managed by him.