Nucor (NYSE:NUE) has a 'buy' rating from The Street according to their latest analysis from January 2nd, 2014. They have marked this stock with a price target of $69.21, while it currently trades just short of $53.00. For the steel industry, this rating on NUE would appear to follow the general trend that analysts have been following since late summer. In November, Zacks Investment Research issued a statement indicating that their analysts felt that earnings would increase 9.5% during the first quarter of 2014 for the sector overall.
At the moment, analysts are bullish on the steel industry. And while most analysts are simply increasing their ratings on all steel companies, UBS has decided to prefer Nucor to U.S. Steel (NYSE:X). In the report issued Tuesday, January 7th, 2014 from UBS, Matt Murphy writes the following:
We prefer exposure to mini-mill producers [Nucor] and [Steel Dynamics] with their low cost structures and upside to non-residential construction recovery in 2014. While we remain hopeful of significant cost savings at [U.S. Steel] from Project Carnegie, we think this transformation will take time.
In other words, U.S. Steel will probably do well, but Nucor which has been doing well this entire time (see chart below for earnings per share growth) will probably be a better choice due to the Mini-Mill advantage.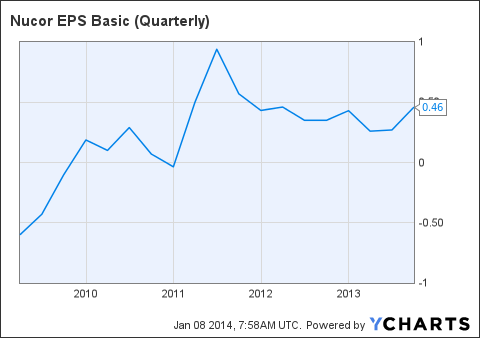 NUE EPS Basic (Quarterly) data by YCharts
So, let's explore Nucor and its unique advantage of the "Mini-Mill." How does this help Nucor effectively compete in the difficult steel industry? To answer this question, I will first take apart the steel industry by using Porter's Five Forces model. An analysis using Porter's five forces is very useful when considering an investment within the Steel industry.
First, I will look at the competitive landscape for the industry as a whole. Secondly, I will look at Nucor and determine how it effectively navigates the challenges of this landscape by relying on its core competencies, which I identify as the Mini-Mill, Product Sophistication, and Vertical Integration in its procurement of supplies for the production of steel.
Analysis of the Overall Competitive Landscape:
1. The threat of substitute services or products - There are some analysts whom might think that this particular threat is not very high. However, as I indicated in my Alcoa article we have entered into a New Age where Aluminum is being used to create our next generation of trucks. Ford (NYSE:F) has initiated this process and will be showing their new F-150 which will mostly consist of aluminum and not the traditional steel. Consequently, there is some threat of substitute products within the steel industry, even if it is rather low.
2. The threat of increased competition from rivals in the market - This threat is very high within the Steel Industry. It is roughly equivalent to the number of competitors within the market, and this can easily be seen from our pie chart of the top 25 steel companies in the world based on their production capacity.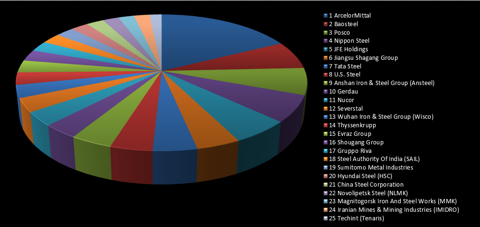 Click to enlarge
As one can see from this chart, the steel market is heavily saturated, with many equally sized competitors. This is a problem because it results in a high level of threat from competitors, which is communicated in the form of severe price cuts. The evidence of this can be seen in the product dumping that China has engaged itself in, all around the world.
3. The threat of new entrants into the market - This threat is probably not very high for the Steel industry. The classic example, given in business school, of a large threat from new entrants is the idea of a Subway sandwich shop. Anyone can walk into the local grocery store and purchase the supplies necessary to compete with a Subway shop. However, in the steel industry, there is such a large amount of resources and expertise required that generally competition does not enter the market easily. The only threat of new entrants within the steel market, are generally the government subsidized steel producers of other countries such as China. I would not classify this therefore as a high level threat, but make no mistake, the threat does exist.
4. The bargaining power of suppliers - I indicated in my article on U.S. Steel that this is a significant difficulty faced by the steel industry. As evidence of this, here is an excerpt from an article in the Economist on the future prospects of the steel industry:
The expansion of Chinese steelmaking has pushed up the cost of the industry's main raw material, iron ore, squeezing margins further. The supply of ore is dominated by four big mining firms, which supply 70% of all the ore traded by sea around the world. Until 2010 ore prices were fixed in annual negotiations between big steelmakers and the four miners. Now the steelmakers have to pay at, or close to, spot-market prices, and these have proved volatile. The futures market is still underdeveloped, with puny volumes and thin liquidity, so hedging is hard. This has made the struggle for profits only more arduous.
This is a very bad predicament for the steel industry. We can see from the article in the Economist, that the Iron Ore mining companies, such as Cliffs Natural Resources (NYSE:CLF), are given an advantage at the expense of the steel industry because of the severe competitive force presented in the form of supplier bargaining power.
5. The bargaining power of customers - Since the market for steel is flooded with product dumping from China, we can only expect the bargaining power of customers to become better, which in turn hurts the overall steel industry. In November, the World Steel Association reported that the worldwide steel production increased by 3.6% from the previous year's output. Meanwhile, here in the United States politicians are arguing over extending the anti-dumping tariffs to prevent China's steel exporting efforts. Clearly, all of these factors add up to a strong bargaining position on the worldwide stage in favor of customers.
After this rather dismal appraisal of the steel industry, we will now look at Nucor's strengths in dealing with the current competitive landscape and see how it will overcome these challenges.
Nucor's Response To Porter's Five Forces:
Challenge #1 Substitute Products: Nucor has been working since its first venture into the steel business under the leadership of Ken Iverson in 1965 to not simply produce steel but rather produce it in a manner that will more easily translate into value for the consumer. Nucor first entered the steel business as a way of providing another division of the company with the capacity to have a ready supply of joists. As a result, Nucor has never been a simple steel roll type of producer. Through this approach for strategic differentiation, Nucor managed to avoid the complication of substitute products within the steel market rather easily, because China does not dump higher quality alloy and engineered steel.
Challenge #2 Threat of Competition: There is not too much that Nucor can do about this difficulty. However, if they continue to pursue a strategy of differentiation versus a low cost provider approach to the steel business as I indicated under point one, they will be able to resist the cost cutting necessitated by head-on rivalry.
Challenge #3 New Entrants: The only real avenue for aggressively attacking this threat, is to continue lobbying for tariffs in congress. Over the years, Nucor has been relatively successful with this activity, spending 2.5 Million on its lobbying efforts.
In addition to their lobbying efforts, Nucor is really quite well known for their pioneering of the Mini-Mill concept. Through this innovation, Nucor manages to keep operations small enough in order to keep labor disputes fragmented, which helps them handle the Union forces within the industry. The reason this is a barrier to new entrants is because even with large amounts of capital it would be very difficult for an operation to riddle the country full of Mini-Mill's (they currently have approximately 200).
Challenge #4 Bargaining Power of Suppliers: This is where Nucor's Mini-Mill concept really steps their operation up a notch in comparison with their competitors. Mini-Mills were designed to work with scrap metal. While Nucor clearly purchases Iron Ore, for the most part they utilize scrap in their operations. And better yet, they vertically integrated in 2008 with their purchase of David J. Joseph Company which was a major national company in the brokerage of scrap metal. This helps set Nucor apart from the competition because it helps them obtain the much needed supplies for their core business without the usual difficulties that others within the industry experience.
Challenge #5 Bargaining Power of Customers: The way to deal with the bargaining power of customers, is to give them something that no one else can provide. How does Nucor do this? By providing items such as steel fastners and engineered steel products in addition to the usual steel products that companies such as U.S. Steel provide (such as sheet, tin, and tubular). Once again, through unique products that other competitors within the industry are not offering, Nucor gains the advantage.
I recognize that there are others within the Steel industry such as Kennametal (NYSE:KMT) which provide highly engineered products (and probably better products), but Nucor is unique in that it can provide a customer with the needs of sheet metal and/or the more sophisticated types of steel. Nucor certainly does not provide everything in the way of steel, but it has effectively created a portfolio of products that can out-compete others within the industry.
To summarize, I believe that Nucor is uniquely situated to compete against foreign competition as well as domestic. Nucor has put in the time required to create many Mini Mill's, that together, accomplish the tasks of much larger Mills. On the supply side, Nucor has adequately guarded against leverage of Iron Ore suppliers by vertically integrating into the scrap business. Therefore, Nucor has sufficient leverage to compete within the difficult steel industry.
Key Metrics For Analysis:
No analysis of Nucor would be complete without a proper mention of the valuation metrics with respect to this stock.
P/E Ratio:
Currently, the P/E Ratio for NUE is rather high and does not show much positive in the way of a value investment. See the chart below: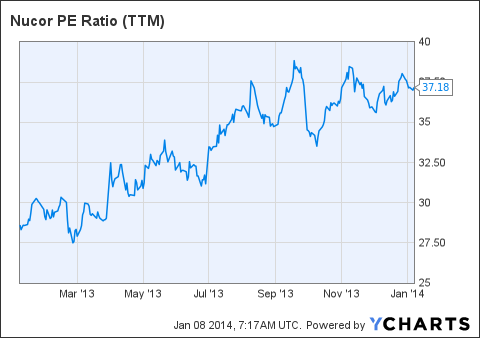 NUE PE Ratio (TTM) data by YCharts
However, if one considers the P/E 10 they will find the following: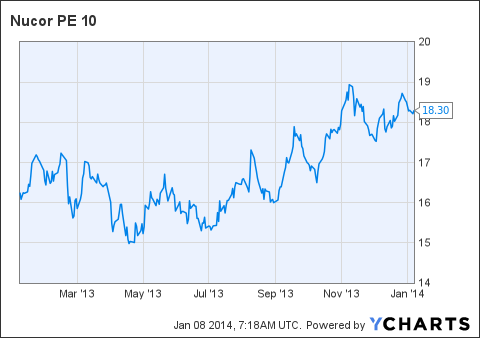 While a P/E 10 of 18.30 does not indicate that the stock is currently trading at a discount, it is clear from the 18.30 value that NUE provides strong value to the potential shareholder.
Additionally, it should be pointed out that during the most recently released quarter, the Earnings Per Share suffered from a one-time write-down of assets. This resulted in a somewhat smaller denominator for the twelve-month trailing P/E ratio cited above. Consequently, the P/E 10 in this case is probably a better indicator of value.
Return On Investment:
I believe that within the steel industry, this is a good metric to utilize as it shows management's effectiveness in utilization of their capital equipment. If we want to know how well management is utilizing those Steel Mills, the ROI is the place to go. I have also included the other major steel companies for which there was data (obviously some of the top 10 steel producers are not publicly traded).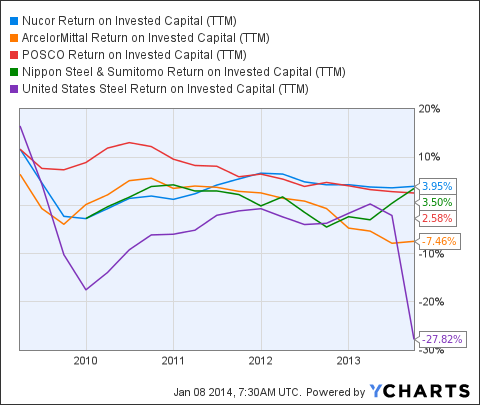 NUE Return on Invested Capital (TTM) data by YCharts
I really think this chart is a solid endorsement of Nucor. It shows that they are doing better than any other major company within the steel industry with respect to equipment utilization. Nucor's Capital Equipment utilization is almost at 4%, while the next best is the Japanese company Nippon which is a full 1/2% less. This is a clear indication that management at Nucor must know how to do the right things right.
Conclusion:
Nucor is a great company situated within a difficult industry. They have effectively made the difficulties of the steel industry their strength by capitalizing on their core competencies. I think that Nucor might not grow as fast as some other companies, but it will make for a solid long-term investment opportunity for the right investor.
Disclosure: I am long CLF, NUE. I wrote this article myself, and it expresses my own opinions. I am not receiving compensation for it (other than from Seeking Alpha). I have no business relationship with any company whose stock is mentioned in this article.