John Chambers, Cisco (NASDAQ:CSCO) CEO, highlighted during the Consumer Electronics Show the Internet of Things, a world in which objects everywhere are connected to the Internet and know peoples' preferences. Chambers said: "This is not about technology at all… It's about how it changes peoples' lives forever."
We believe that the Internet of Things is a great investment theme for coming years and that a smart way to play it is through the RFID technology. Radio-frequency identification (RFID) is the wireless non-contact use of radio-frequency electromagnetic fields to transfer data, for the purposes of automatically identifying and tracking tags attached to objects. The tags contain electronically stored information.
We've got two main plays here: Avery Dennison (NYSE:AVY) and Zebra Technologies (NASDAQ:ZBRA) manufacture RFID tags, labels and packaging materials and produce printer/encoders that are designed to write to RFID chips embedded in labels and tags.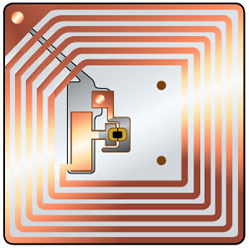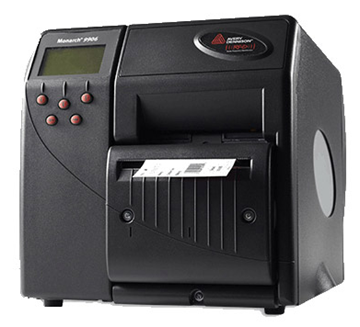 Note that semi companies like RF Micro Devices (RFMD) and ATMEL (NASDAQ:ATML) are also active in the production of RFID products but this business accounts for a small part of their revenues.
RFID traditional applications are healthy: protection against shoplifting and thefts…
With RFID labels making the tracking and location of items much easier and more efficient than barcode technology, the protection against thefts on retailers shelves, in the supply chain (in-house thefts) or in sensitive areas (hospitals) is improving.
Austerity all around the world calls for higher security spending from retailers notably, as rising unemployment and poverty (specifically in Europe) lead some individuals to steal commodity products in order to survive. Last year, the French TV highlighted that meat was more and more stolen in supermarkets…
… and improved inventory management
The other main application of RFID tags is inventory and shipments management, i.e. monitoring inventories to avoid sold-out situations and eliminating shipment errors. First, RFID enables real-time management in a very efficient way (reading and storing data from a smartphone, reducing the inefficiencies of a paper-based system). Second, it is particularly useful for large retailers having a multi-channel approach: it allows store staff to sell a product that may be out of stock locally, by selecting merchandise from other locations, or from an online fulfillment center for shipment to the customer's door.
RFID adoption in retail outlets to increase very soon
RFID is still a "new" technology, and most retailers that have decided to use it are rolling out RFID selectively: in a limited number of stores and/or with a limited number of SKUs.
As pricing gradually goes down and as benefits appear more and more obvious, we believe that RFID adoption growth could accelerate. Printers increasing affordability is likely to help, with Zebra notably releasing recently a new compact desktop RFID printer, smaller than a shoebox and priced at $1,995. The device is designed to enable businesses to produce a limited number of labels as needed, without having to invest in a large, industrial-size printer which can cost between $5,000 and $10,000.
In our view, RFID adoption trends are likely to get a boost from declining costs and from the increasingly supportive consumer spending environment, in both the US and Europe. Demand is clearly a function of retail/apparel unit growth, meaning that consumer spending (and thus confidence) is a major driver.
RFID likely to become ubiquitous
Interestingly, many new applications are emerging for RFID tags as the technology improves. Notably, RFID tags can extract and record data from a variety of items such as:
- Concrete, with Lafarge recently including tags in its products to track them and, more importantly, to collect data on the material qualities over time → this opens the door to smart buildings delivering useful data on the materials to the builders, owners and municipalities
- Temperature-sensitive products (pharmaceuticals or biomedical items), with RFID-based air-freight services allowing customers to track the temperatures of their goods throughout the shipping process
- And waste & recycling (material handling and asset tracking)
In the sports business, RFID can also appear useful, enabling spectators to know each participant's location and position throughout the race.
In the future, it is likely that the whole production, supply chain & sale / retailing processes will rely on RFID to track items to be produced and sold.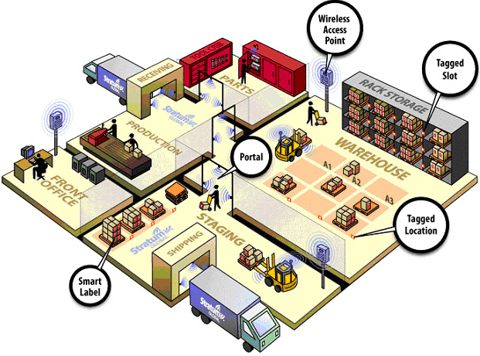 The future is also about "wearable" RFID
Two students at MIT recently developed a RFID-embedded ring that serves as a subway fare card, with users refilling it either online or at a vending machine. This is an illustration that RFID is not just about more efficient inventory management and industrial processes, but also about generating revenues and marketing strategies.
RFID could notably be used in loyalty cards that could be identified as a customer enters a store, and thereby enable the retailer to display offers and discounts on a screen/device relevant to the customer.
But "wearable" RFID is also about tiny RFID capsules implanted in the body to store data. This has already started with some night clubs in Spain accepting this as a means of payment…
80bn items to be connected by 2020
As RFID is expected to collect more and more data, and notably personal data, the technology is likely to be under authorities and governments scrutiny. Anyway, this should not prevent RFID from becoming ubiquitous: some research institutes forecast that 80bn items will be connected to the Internet in 2020, directly or through a device, vs 15bn in 2012, i.e. a c.23% CAGR with likely upside, in view of the sharply declining cost of printers.
RFID and improving Europe to spark revenue upside at Avery and Zebra
Both Avery Dennison and Zebra have started to surprise on the upside recently and we believe the trend is likely to continue.
While Avery delivered Q3 organic growth of 4%, only in line with the previous quarter, it nevertheless narrowed up for the second time in a row its FY2013 EPS guidance to $2.60-2.70 vs $2.50-2.70. More interestingly, Zebra was able to post a top-line acceleration to 4.6% in Q3 from 2.5% in Q2 with a strong margin leverage. This was the result of a better environment and product development investments, with the introduction of a record 14 new printer-related products enabling the group to serve new verticals:
- hospitals, health care providers are improving patient safety with the use of Zebra wristbands for identification and connection to electronic health records
- sports, the MotionWorks platform is designed to track player movement in real-time
- governments, new card printers with personal identification applications appear promising
More importantly, we believe the long-term outlook of both companies is bright: while it's quite hard to accurately determine the RFID exposure of both Avery Dennison and Zebra, it's quite obvious that RFID is a major revenue driver going forward for the two companies which, otherwise, operate in a somewhat mature, not glamorous market.
RFID is not the only source of upside in our view: the European exposure of both companies is quite high (around 30%), suggesting that organic growth could accelerate from the current trends (flat to low single digit growth) if consumer confidence and spending in the region improve as expected.
Disclosure: I have no positions in any stocks mentioned, and no plans to initiate any positions within the next 72 hours. I wrote this article myself, and it expresses my own opinions. I am not receiving compensation for it (other than from Seeking Alpha). I have no business relationship with any company whose stock is mentioned in this article.