What can $1,141.23 buy you these days? For some, it's a monthly mortgage payment on a house. For others, it may be a year's worth of gasoline for your vehicle. That sum of money could buy you a $3 cup of coffee everyday for a year, and you would still have some money left over. With that money you could buy a television, surround sound system, and a Blu-ray player. Or, you could buy one share of Google (NASDAQ:GOOG) stock.
Yes, Google is no longer a $500, $800, or even a $1,000 stock. Shares have soared in the past year, as the stock seems to be the only pure growth play in the large cap technology space. Google is loved by analysts on the street, it is a wall street darling, and it seems to make new highs almost every day. But yet, the company's results haven't been great lately, and those are results that the average investor needs hours to analyze because they are so extremely complex. Google misses on revenues and earnings often, but yet the stock keeps going higher and higher. Today, I'll show why Google may be the most overrated stock out there.
Results - not so great:
It will be three weeks until Google reports Q4 2013 results. That will be the next true test for this stock, but at the rate things are going, shares will probably be over $1,200 by then and we'll have another 3-5 analyst upgrades under our belt. More on that later. Google shares are up nearly 30% since reporting Q3 results, which actually were not that great if you read the whole report.
Which gets me to my main point here. Google's results in the past two years have been underwhelming to say the least. The great folks here at Seeking Alpha have a wonderful page that tracks earnings results, and I've used that to compile the following table. The table shows Google's top and bottom line results for the past 8 quarters - beat or miss, along with the stock price reaction the day after earnings.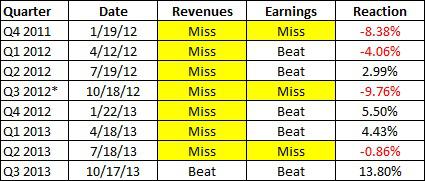 *Reaction includes day of earnings and day after. You may remember that Google's results were mistakenly released early, which caused shares to be halted for quite a while, then drop after re-opening.
I chose to highlight the misses in yellow, but the SA page has them in red, so there is a lot of red. There is only one quarter in the past eight in which Google beat on both the top and bottom line, the last reported quarter in October 2013. Even that "beat" comes with two huge asterisks. First, estimates were reduced tremendously thanks to the previous quarter's huge miss. As I described in my above Q3 earnings wrap-up, earnings per share estimates were reduced by 77 cents in between earnings reports! Additionally, while Google beat by about 35-40 cents, depending on who you ask, the company had a huge reduction in its tax rate. That tax rate made up for the entire earnings beat and then some. Could you just imagine if Apple (NASDAQ:AAPL) beat by getting its tax rate to plunge for a quarter? The bear camp would be lining up at Apple's door with pitchforks and calling the company cheaters or worse. Seriously, Google is held to a different standard. Even when Google had the huge Q2 miss, the stock barely sold off initially. Microsoft (NASDAQ:MSFT) had a bad report on the same day, and Microsoft shares lost more than 11%, its biggest fall in years.
Strangely enough, Google shares are up almost 30% since that Q3 report. But the most shocking thing to investors may be that 2014 revenue estimates have been cut since then! Going into Google's Q3 report, analysts were expecting $69.54 billion in revenues during 2014 from Google. Current estimates call for $69.46 billion. I know that is not much, but estimates are still lower. On the flip side, Apple's fiscal 2014 revenue estimates (Apple's fiscal year ends in September) are up by more than $2 billion since Apple reported in late October. Are Apple shares up almost 30% since then? Not by a long shot, and they aren't even up 5% since then.
About those results - not exactly easy to understand:
When you want to make results look better than they really are, without doing anything illegal, what's the best way to do it? Well, how about making the results so complex that people give up when trying to analyze them? Let's first look at Apple's latest quarterly earnings release. Look at the page. It's clean, it's crisp, it's concise, it is easy to read. Apple's page gives you basically everything you need to know in a manner that makes it easy to understand.
Now, let's look at Google's latest earnings release. The tabs on the financial pages at the bottom are terrible, they are cut off, and you need to use a scroll bar which means you can't see everything. Why even bother with this? Yes, the PDFs at the top of the earnings release are much better. But then look at the actual results. It's a jungle out there. Google provides a bunch of stuff that's GAAP, other that's non-GAAP, and has to provide lengthy descriptions of what is included or not included in each. Not only does the company need to file an entire page to show a reconciliation between GAAP and non-GAAP results, but the reconciliation page in the pdf file contains 13 footnotes! If you weren't confused already by the numbers, you probably are by this point.
So why is this done? Well, in my Q3 article, I put together a table showing the importance of providing non-GAAP numbers, which by the way, are what the analysts use for earnings estimates. Analysts use GAAP for revenues, and I'll get to that in a bit. So here is the table showing the difference between GAAP and non-GAAP results over the past two years. By excluding certain expenses, Google can make its net income and earnings per share look 15%, 20%, even 38% better! Does Apple do this? Not at all.

Again, Google is not doing anything illegal here. A lot of technology companies, including many newer ones like Facebook (NASDAQ:FB) and LinkedIn (NYSE:LNKD), provide numbers on a GAAP and non-GAAP basis. For these newer names, it's a way to actually show profits, as some names are not profitable yet on a GAAP basis. But for Google, it can make things look a bit out of touch, and I'll show why this is important for valuation purposes in a bit.
But unfortunately, it gets even worse. Earlier this year, and continuing to a point now, Yahoo! Finance made this GAAP/non-GAAP argument even crazier. When it appeared Google's growth numbers were slowing a bit, Yahoo! decided to change part of its estimates page from non-GAAP to GAAP revenues. GAAP revenues include traffic acquisition costs, which can be more than $2 billion or $3 billion a quarter. So what's the big deal? Well, the site used GAAP for current estimates, including the "TACs," but left the year ago period numbers as non-GAAP. Yahoo! ended up showing Google's growth at 72%, when it really was 31%. That's not exactly a slight difference. To some extent, this is still going on. The Q4 estimate for Google's revenues shows growth of 37.4%, based on last year's Q4 revenues of $12.16 billion. Google's GAAP revenues were more than $14 billion in the period, so again, the growth numbers are a bit off. Hopefully, this process will end in 2014 as Yahoo! is to the point where all revenue numbers shown are GAAP. But don't forget, earnings per share estimates are non-GAAP! Sure, this last part isn't of Google's doing, but it just feeds into the legend of Google that isn't as great as it may seem.
Does the word "downgrade" mean anything to you?
So you would think that some bad quarterly results and a surging stock might lead to an analyst downgrade here or there. Well, if you look at the first two pages of Street Insider's analyst ratings page for Google, there is exactly one downgrade of Google since March 8th, 2013, 10 months ago. That downgrade was on April 8th by Pivotal Research, not exactly your Goldman Sachs or Morgan Stanley size firm. A word search of those first two analyst pages shows zero mentions of the word "neutral," and the only time the word "hold" is used is in the downgrade from Pivotal Research.
Unless the website is hiding analyst downgrades, which would be another story in and of itself, there hasn't been a single downgrade of Google in 9 months! A company that has had huge revenue and earnings misses, and has rallied more than $350 a share, and not one downgrade. Apple has been downgraded multiple times already this year, with one analyst even downgrading Apple for not paying its workers enough to the point where the workers commit suicide. I kid you not, this really happened. Just going back to September, 4 months ago, I can find at least six instances where Apple was downgraded. Apparently, Google is perfect.
Growth is good, but what's the cost?
When you think of established large cap tech names, there are probably five names you think about most. Apple, Google, and Microsoft are definitely the first three. Intel (NASDAQ:INTC) and Cisco Systems (NASDAQ:CSCO) are probably the next two. Google is certainly growing faster than the other four names, although Google's revenue growth (in GAAP terms) is falling under 20%, expected to be 16.4% in 2014. The following table shows some key growth and valuation statistics for these five names as of Wednesday for their respective fiscal years.
*EPS and P/E values are non-GAAP.
Google does have growth, but it is also expensive. The P/E value above for Google is based on non-GAAP earnings. Were you to convert the P/E to GAAP, like the other names use, you get a P/E north of 27. I calculated this by using a rough average of the non-GAAP to GAAP conversion over the past two years (8 quarters). Essentially, Google trades at more than double the valuation of Apple, Microsoft, Intel, etc. That's a steep price to pay. The price to sales valuation above is based on GAAP results. If you like to subtract out those traffic acquisition costs, the price to sales number is north of 7.30. Any way you slice it, Google is expensive. That's another reason why I find it curious that Google has not been downgraded recently. You would think maybe one analyst would be concerned over valuation. Nope, that's not the case. Apple got downgraded recently to Market Perform because it was within the analyst's price target range. Also, that analyst did not raise his price target range after Apple signed a deal with China Mobile (NYSE:CHL), which many believe will add several billions to Apple's top and bottom lines. Yet we've seen numerous price target raises for Google in the past few weeks.
The argument for Google here is that Google's valuation should be higher because Google offers more growth. I understand that, but that is all that Google offers. Google does not offer a dividend like these other names. Google does not have a buyback that reduces its share count each quarter. That's why I think Apple is a steal at less than half the valuation of Google. Google offers growth, but Apple offers a complete package. Google shareholders are actually being diluted every single quarter. If you've held the same number of Google shares for the past year, two years, or more, your ownership percentage has gone down. That's not the case with many of these other names.
That gets us to a very interesting discussion about Google. Will Google be punished like Apple was for slowing growth? In late 2012 into 2013, Apple was severely punished by the street for slowing growth, but yet Apple restarted its dividend and started buying back stock, a lot of it. Yes, those new complaints were the same people criticizing Apple for not returning capital to shareholders for years, but Apple is always held to a double standard. At the end of Q3, Google's cash/investments pile was more than $56.5 billion, up more than $10 billion over the past year. When Apple's cash pile got into the $50 billion to $75 billion area, the calls really started for capital returns. Google is now in that area. Will Google use its cash for another large acquisition, or will the company start buying back stock and paying a dividend? Knowing how this market has operated with Google, Google will probably be rewarded for a dividend and buyback. Apple was punished. Google probably should be, with a P/E returning to the 15-20 range on slowing growth. If that happens, the company will really need to boost earnings to justify current prices.
How you can play the short side:
You're probably guessing that I'm going to suggest shorting Google. Well, you'd be wrong in a sense. Despite all my criticisms and my view that shares really are overvalued, I would not go out and short Google stock right now. With the Fed's QE program pushing markets higher and higher, I think there are too many bubbles out there, but it's been a very dangerous game trying to short them. Investors have found that out the hard way with Tesla Motors (NASDAQ:TSLA) and Twitter (NYSE:TWTR), just to name a few. Google has raced higher and higher, as you can see in the chart below. Another new high was hit Wednesday.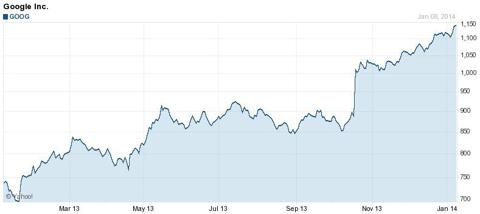 (Source: Yahoo! Finance)
So how would I play Google? Well, I would use an options strategy known as a put ratio spread. How does this work? Well, you buy a higher priced put, one that is at the money, and sell lower priced puts that are out of the money. I'll give you an example using some June 2014 expiration options. You can buy an $1,140 (at the money basically) put for about $67 right now. You would then sell a number of lower priced puts so you wouldn't have to pay $67. For instance, you could sell five $970 puts for $13.40 each. Using limit orders, you can structure this to be a net zero trade, even after commissions.
The beauty of this trade is that unlike a short position, you don't lose money if Google goes higher. If Google goes lower, you gain money, with the maximum gain at that $970 strike (or whatever lower strike you choose). Should Google go lower than that, you would start to lose money faster on the $970s since you have five contracts of those for one contract of the $1,140s. The breakeven on this trade is around $928. Should Google go below that level, you start to actually lose money. Right now, does anyone see that happening? With Google being upgraded and being given higher and higher price targets every week, that price seems like a fantasy at the moment. Again, this is just one example of an options trade that fits better than flat out shorting shares. Options trades carry a bit of risk, so you should always consult your broker before executing one of these to find out all of the parameters, costs, and even any margin required. But if you want to bet on Google going lower, I think this is the way to do it.
Final thoughts:
I've laid out my case today for why I think Google may be the most overrated stock in today's market. This wall street darling is not producing great results, and those results are often extremely complex. Google also uses non-GAAP earnings to show better results, and while not illegal, it makes the valuation argument ridiculous in my opinion when comparing Google to its peers. Additionally, analysts seem to think Google is perfect, with no downgrades in nearly a year. Apple gets plenty of downgrades, with the most ridiculous reasons behind them. Google shares have rallied tremendously since the company's Q3 report, which was helped by a tax rate drop, and this was the first double beat in quite a while. Eventually, I do think the Google frenzy dies off a bit as growth continues to slow and the company is forced to pay dividends and buy back stock. For now, I wouldn't short Google shares, but instead would use some better options strategies. Google has been held to a different standard for quite a while, and I for one think that is completely ridiculous.
Disclosure: I have no positions in any stocks mentioned, and no plans to initiate any positions within the next 72 hours. I wrote this article myself, and it expresses my own opinions. I am not receiving compensation for it (other than from Seeking Alpha). I have no business relationship with any company whose stock is mentioned in this article.
Additional disclosure: Investors are always reminded that before making any investment, you should do your own proper due diligence on any name directly or indirectly mentioned in this article. Investors should also consider seeking advice from a broker or financial adviser before making any investment decisions. Any material in this article should be considered general information, and not relied on as a formal investment recommendation.