Ford's (NYSE:F) share price performance has been relatively poor over the past 3 months. Shares are down about 10% while the SPDR (NYSEARCA:SPY) has rallied 8.25%. That's a whopping underperformance of 1,800 basis points. Even worse, shares of GM (NYSE:GM) are up 8%, so Ford is greatly lagging its comparable US peer.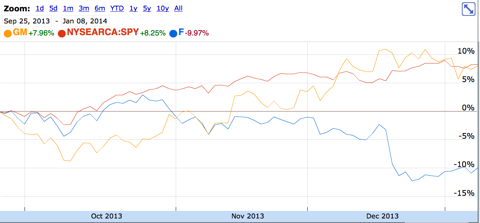 However, with CEO Alan Mulally staying, I think the worst is over at Ford. Although I've previously argued that Ford would be fine without Mulally, and it will be when he inevitably leaves, many investors do not agree with my sentiment. Mulally pulled the company from the grips of bankruptcy, and in the process, cemented a legacy as one of the greatest CEOs of the 21st century. Mulally has made shareholders boatloads of money, so they are rightly attached to him.
Undoubtedly, Ford has a strong bench led by COO Mark Fields and Mulally will eventually retire. Nevertheless, the fact that he will stay through 2014 allows the market to focus on what is much more important: Ford's fundamental standing.
Guidance was a disaster
Although I think some of the reason for the huge sell-off was from investors getting shaky about Mulally's unwillingness to comment on his future with Ford, the firm's guidance was pretty bad.
North American operating margins will be slightly lower than previously anticipated at 8-9%, down from the 10%+ run-rate shareholders have become accustomed to over the past several quarters. Management blames incentive spending to move old inventory as the firm introduces 16 new vehicles in 2014-an acceptable excuse.
South America is struggling mightily. Argentina's economy is a disaster, and it could be even worse than Ford anticipates.
"Argentina's economy stands on the brink of collapse after years of mismanagement, with long-term government bond yields of 10.5 percent exceeding even those of governments in crisis such as Greece."
The country is at risk for defaulting on its debt yet again, and even a $21 billion stimulus program may have a hard time restarting the local economy. As riots and looting spread, I think the outlook for auto sales is gloomy.
Brazil isn't looking much healthier as S&P mulls slashing the country's credit rating as strong levels of economic growth fail to materialize. Previously elevated levels of inflation are no longer being offset by wage growth-not a great formula for higher auto sales.
We all know the story of Europe. Ford expects to be profitable by mid-decade, which would be a huge positive for overall profitability. However, 2014 could result in a loss of $400 million to $500 million. Some may be hoping for a US-like 2011 recovery, but with Euro Zone unemployment hovering at 12.1%, that outcome seems unlikely.
However, a better than an expected loss definitely seems possible. Retail sales rose 1.4% in the Eurozone in November--the fastest pace in 12 years. Eventually European consumers are going to have to replace an aging fleet, and with GM pulling back in the region, Ford will make share gains.
On top of the slowly improving European outlook, Chinese wholesale volumes jumped 49% in 2013 to 938,00 cars. Mulally anticipates China will eventually become 40-50% of sales, so Ford is only reaching the tip of the iceberg in terms of sales.
What about December Sales?

December North American sales were not great, up only 1.8%. Retail sales were up 3%, but I was encouraged to see F-Series sales remain solid (up 8.4%) and the Fusion grow at an impressive clip (up 26.6%). Sales for the entire auto industry were poor, so it's probably not worth panicking over.
Still, I am worried to see incentive spending increase. According to TrueCar.com, incentive spending was 4% higher than a year ago. The auto industry is one of the most visible industries in the United States, and it has the tendency to become competitive and less profitable. Companies love underpricing each other to gain market share. Hopefully we see more rational behavior during this automotive cycle, but I'm not overly optimistic. Incentive spending at Ford will be elevated for the first half of the year, but hopefully we see it gradually decline when new inventory hits dealerships.
Competition remains robust, with General Motors introducing several new vehicles and Chrysler officially becoming part of the Fiat (FIATY) family. Though the respective leadership of both companies is fantastic, neither has been able to touch Ford when it comes to the insanely profitable pickup market.
With the US economy adding a lot of jobs, I am very optimistic about the pickup opportunity going forward. A robust pickup market could help mitigate operating margins pressures, leading Ford to outperform its own forecast.
Ford is still a Buy
Although I have readjusted my expectations based on Ford's lackluster guidance, Ford remains one of my favorite stocks for 2014. Shares currently yield 2.6%, and I cannot see shares falling much below $15, unless the US economy deteriorates. Sales growth in North America will somewhat counter operating margin compression, and there is a very slight chance the firm exceeds low expectations in Europe. More importantly, China is going to be a huge growth driver in the next few years, and another year of solid sales growth should help make this clear to investors. I think shares are worth $22.
Disclosure: I am long F, FIATY, . I wrote this article myself, and it expresses my own opinions. I am not receiving compensation for it (other than from Seeking Alpha). I have no business relationship with any company whose stock is mentioned in this article.