Despite being in a precarious situation, DryShips (NASDAQ:DRYS), a global diversified marine transporter, is still regarded as a leading player in the shipping industry. The company has performed exceptionally well and has appreciated nearly 100% in the last 12 months. However, I think investors should now book their gains and consider selling DryShips as soon as possible. Here's why I think investors should sell DryShips.
Dilution and poor management
If the company's poor management isn't enough to convince you to sell, I don't know what is. Over the years, the management has proved that they don't care about shareholders. And this fact became evident when the company declared the resumption of the previous announced program of issuing $200 million worth of common equities in an at-the-market offering. On December 5th, DryShips declared that they were suspending the offering, which resulted in an increment of 35% in the stock price.
So, it turns out the only reason why the company suspended the dilution in the first place was because they believed the price was too low. The company decided to reactivate the dilution when the stock started hovering around its 52-week high mark. Moreover, this isn't the first time DryShips has resorted to diluting shares to tackle the financial pressure and this just goes on to show that DryShips might never return a good yield in the long run because of poor management.
Ideally, DryShips management should have considered selling off underperforming assets to keep its financial condition intact rather than dilute shareholder equity. However, the company seems to be doing the opposite. Another example of poor management is when DryShips paid a buyer $21.4 million to take two unfinished ships off its hands.
Poor Quarterly Performance
DryShips reported a mixed quarter as it managed to beat estimates on revenue, but missed out on earnings. Revenue was up 18% from last year and comprehensively beat the consensus estimate of $343 million. But a look at the bottom line shows that all is not well for DryShips. DryShips' performance on the bottom line was disappointing as losses rose from $51 million to $64 million year-over-year.
What's even more worrying for investors is that the company's debt-to-capitalization ratio jumped from 0.52 to 0.58, which signifies that the company's debt is becoming unmanageable. In addition to that, DryShips also reported a year-over-year increment in expenses of 6.3%. The rising debt-to-capitalization ratio and increasing expenditure shows that the company might struggle to stay afloat and may even dilute its shares once more.
Unmanageable Debt
DryShips has nearly doubled year-to-date due to optimism that the company is well positioned to capitalize on the recent revival in shipping rates. However, I don't think that the hike in shipping rates will help DryShips generate enough money to offset its gigantic debt, and it is one of the primary reasons why I will suggest investors to stay away from the stock.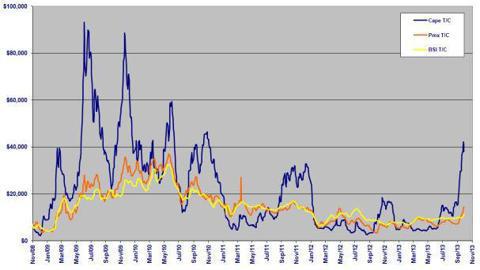 As per Yahoo Finance, DryShips' debt currently stands at $4.55 billion. And given that the company only has $227 million in cash, this scenario is very daunting. While maturities of many of these debts have been extended to 2015, DryShips is still in a very precarious situation.
Moving on to the shipping segment, DryShips reported $13.4 million in EBITDA for this sector. However, the company has spent more than $33 million in debt payments. So, it is evident that DryShips is not generating enough money to keep up with its debt payments, and will need to triple its earnings just to remain on par with the debt payments. Therefore, it will be irrational to assume that the recent revival in shipping rates will turn around the company's fortunes.
Ocean Rig Falsehood
Many analysts and investors are of the opinion that DryShips' financial situation will improve because of drilling operations which it provides through its partially owned subsidiary, Ocean Rig (NASDAQ:ORIG). Quarterly revenues from drilling contracts jumped 15% from last year to $328 million, and even though DryShips owns a 59% stake in Ocean Rig, it has no control over the capital and resources of Ocean Rig. So, investors shouldn't believe that Ocean Rig's order backlog worth $5.8 billion will benefit DryShips in any way.
Conclusion
DryShips has gained strongly this year despite a huge debt burden, poor cash position, and poor management decisions. However, after the resumption of share dilution, one cannot expect the stock to yield good returns in the future. So, investors who have made some good money this year by investing in DryShips should take their gains off the table and look for safer and more stable investment options.
Disclosure: I have no positions in any stocks mentioned, and no plans to initiate any positions within the next 72 hours. I wrote this article myself, and it expresses my own opinions. I am not receiving compensation for it (other than from Seeking Alpha). I have no business relationship with any company whose stock is mentioned in this article.