Investors in Johnson & Johnson (NYSE:JNJ) have started the year of 2014 on a strong note following an upgrade from analysts at RBC. This optimism follows strong returns in 2013.
The strong performance, and further growth expected at the pharmaceutical business is a major driver behind Johnson & Johnson's share price. Continued, and very profitable growth in the area makes the company a long-term earnings and dividend champion.
Johnson & Johnson Receives Some Love From Analysts
Investors in Johnson & Johnson are pleasantly surprised after analysts at RBC Capital Markets upped their rating on the stock from "Sector perform" to "Outperform." Analyst Glenn Novarro sees further upside for the shares, attaching a $104 price target to the shares. This suggests some 12-13% upside from current levels.
The focus with Johnson & Johnson is pharma growth according to Novarro who believes the market is overlooking the long-term operating margin expansion opportunity. After boosting operating margins by 100 basis points in 2013, the company is on track to repeat this in 2014, excluding the negative impact of the Japanese Yen.
Another 100-150 basis points of margin leverage is seen in the coming three years according to Novarro. Pharma launches and consumer remediation are slowing down, while adverse foreign currency movements will create less of a drag. I agree with Novarro, after the division has seen strong momentum and sustained growth in recent years fueled by drug introductions. As many of these products are still in the ramp up phase, this creates further growth in the coming years.
All this should drive high single digit earnings per share growth in the coming three years. RBC sees earnings per share of $6.42 in the year of 2015, fourteen cents above consensus estimates.
Optimism About Pharmaceutical Business
Novarro's and the wider market optimism is driven by the expected outperformance of the pharmaceutical business, which already resulted in 30% returns for the shares in 2013.
Part of this bullishness is driven by the strong outlook for "Invokana," the type 2 diabetes treatment which has been launched in the middle of 2013. According to Novarro, the drug could have peak sales of $2 billion, as surveys indicate Invokana gains traction in the endocrinology community. Reflecting this optimism, pharma revenues are now seen at $29.4 billion for 2014, up $700 million from an earlier estimate.
This expected success comes on top of the strong launches of Xarelto and Zytiga in recent years. Notably Xarelto is reporting very strong growth. The drug generated $246 million in revenues according to the third quarter earnings release, on its way to quickly become a billion dollar blockbuster.
A Diversified Powerhouse
Johnson & Johnson has demonstrated solid and strong earnings as well as dividend growth over the past decades. The company has grown adjusted earnings for 29 years in a row, while raising its dividends for a very impressive 51 consecutive years in a row.
The company derives a quarter of its sales from products, drugs or treatments invented over the past five years. The solid geographical diversification and product diversification give the company great diversification. Consumer sales make up roughly a fifth of total revenues. Pharma sales and device & diagnostics sales each generate about 40% of total revenues.
As such the company is committed to benefit from the growing global pharmaceuticals market, which is expected to grow at a compounded annual growth rate of 4.5% per annum to reach $1.2 trillion by 2017. Aging demographics, a growing middle class and increasing unmet medical needs are the drivers behind that growth.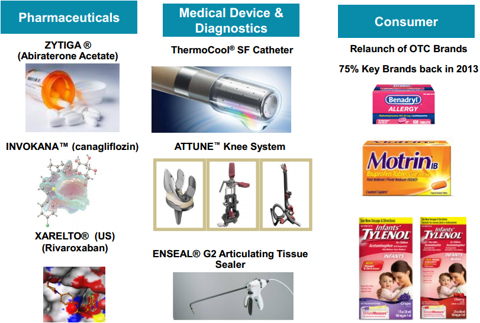 Johnson's Growth Success
Johnson & Johnson has seen quite some success in recent years. On top of relying on industry growth and maintaining its position, it has focused on growth by new medicine and product introductions. Over the past decade it has released 15 new medicines, after introducing 11 drugs since 2009. The graph below shows just how quickly and large the cumulative sales have grown from those new products, and how they stand to fuel further sales growth in the coming years.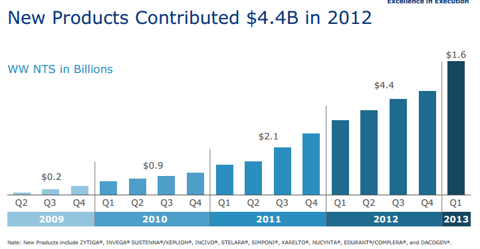 A star performer of the growth within the pharmaceutical business has been the immunology portfolio. Johnson & Johnson is a leader in the business, competing with the likes of AbbVie (NYSE:ABBV) and Amgen (NASDAQ:AMGN). The company has introduced Remicade, Simponi and Stelara in recent years fueling its immunology sales. Note that the entire immunology market is expected to show decent growth in the future, growing at an expected compounded annual growth rate of 8% to reach a size of $52 billion by 2017.
Total immunology sales rose by 15.1% in the first three quarters of 2013. This growth was driven by sales of Simponi whose revenues were up by 59.2% to $678 million in the first three quarters of the year. Sales are approaching an annual run rate of a billion. Sales of Stelera rose by a very healthy 43.8% to $1.09 billion, running at a rate of $1.5 billion per annum.

Another growing area is the oncology business which reported cumulative revenue growth of 47% in the first nine months of 2013, with sales coming in at $2.66 billion. In the third quarter, revenues came in at a run rate of $4 billion, driven by the success of Zytiga which reported a nearly 73% increase in revenues for the first nine months. Sales for the period came in at $1.2 billion.
A Look At The Valuation
Trading around $94 per share the market values Johnson & Johnson at some $266 billion. Given the net cash position of around $10 billion, with $25 billion in liquidity available, operating assets are valued around $256 billion.
This values operating assets at around 3.7 times annual revenues and 19 times annual earnings. What is even more interesting to investors is the $0.66 quarterly dividend being paid to shareholders, providing them with a dividend yield of 2.8%.
Given the very strong financial position of the firm, the dividend yield is rock solid amidst fair payout ratios.
Implications For Investors
After shares have been tied around the $60 per share mark over the past decade, shares have broken out towards the upside since the summer of 2012. In the past 18 months, shares have risen by a cumulative 50%.
The quick pace of drug introductions, supporting revenues and earnings growth, caused a great deal of enthusiasm among investors. As the share price increase outpaced operating earnings growth, the valuation has increased to 19 times earnings for 2013.
With earnings expected to increase towards $6.42 per share by 2015 according to RBC, the market values the company at 14-15 times earnings. Note that this is still two years ahead in time, and expectations are based on strong growth in immunology, Zytiga, Xarelto and Invokana.
As such I believe the run up in the past year has been warranted driven by strong growth and expected further growth in the coming two years. Yet as the share price appreciation has outpaced operational improvements, the best appeal has gone. That being said, the solid diversification in terms of great geography, product category and individual drugs create great diversification. Add to this the focus on R&D and product introduction, combined with a solid dividend payout, and you have a long-term winning strategy.
I remain optimistic for the long-term prospects of Johnson & Johnson, driven by the solid prospects and performance of the pharmaceutical business, yet the most immediate appeal is behind us. That being said, the company remains a cornerstone in any growth and dividend oriented investment portfolio.
Disclosure: I have no positions in any stocks mentioned, and no plans to initiate any positions within the next 72 hours. I wrote this article myself, and it expresses my own opinions. I am not receiving compensation for it (other than from Seeking Alpha). I have no business relationship with any company whose stock is mentioned in this article.