The US Energy Information Administration ("EIA") recently released a report predicting total US oil production will peak around 2016, level off for a few years, and in 2020 begin a gradual decline toward 6 million bpd. Notice that lower-48 onshore, indicative of shale oil production, will level off in the 2016-2022 time frame, and then begin a decline to 4 million bpd by 2040. This will likely come as a surprise to many who have been conditioned by the media to believe the US shale revolution will lead us to energy independence ad-infinitum. The predictions also have important implications for energy companies as well as for those who invest in them.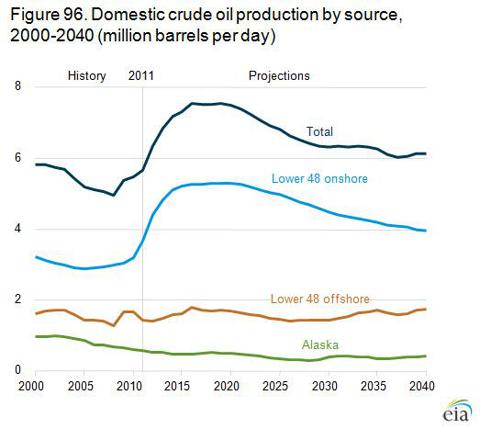 Before a discussion of the potential impacts if such a production scenario becomes reality, a few observations are in order. First off, I salute the EIA for being so bold (foolish?) to make a production estimate out to the year 2040. I'd rather the agency spend much more time and effort doing 5 and 10-year analysis.
Notice the Alaska production curve. As I have reported in the past (ConocoPhillips (NYSE:COP): What Alaska's Oil Tax Cut Means), the decline in Alaskan oil production has had much more to do with high production taxes than with a lack of hydrocarbons. Indeed, Alaska recently cut oil taxes and companies have already announced they are increasing cap-ex and moving additional rigs to the state.
The lower-48 offshore curve looks a bit pessimistic to me considering some of the very large production projects scheduled to come online soon combined with recent discoveries in the Gulf like the prolific Shenandoah well. Chevron alone has four projects starting up in 2014 with a combined production capacity of over 400,000 boe/day although not all of that is oil (Chevron (NYSE:CVX) In The Gulf of Mexico: Full Steam Ahead).
But of course the most interesting curve is the blue line indicating Lower-48 onshore production. This is where the action is and it is dominated by shale oil plays like the Eagle Ford, Bakken, Niobrara, and Permian Basin.
Now let's take a look at the supplemental data the EIA used to make its predictions. I will have pulled some graphs from the EIA's December 2013 Bakken Productivity Report to help further analyze the administration's predictions: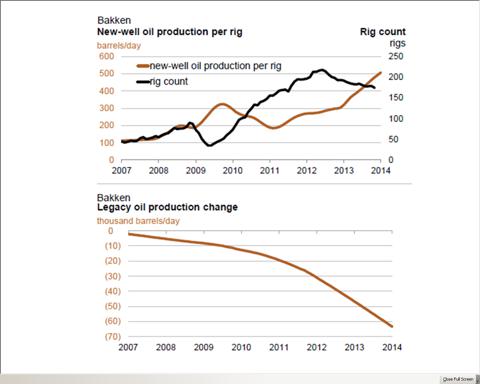 The first observation that jumps out of the page about Bakken productivity is how steeply new well oil production grew in 2013 as rig counts fell (top graph). On the bottom graph, we can see the reality of shale oil depletion rates as 2013 saw a continuation of the sharp reduction in legacy oil production, which started in earnest during 2012. As a result, the EIA predicts January 2014 production growth will be only 25,000 bbl/day above that of December, as 88,000 bbl/day of new production will be offset by a legacy production drop of 63,000 bbl/day (see below).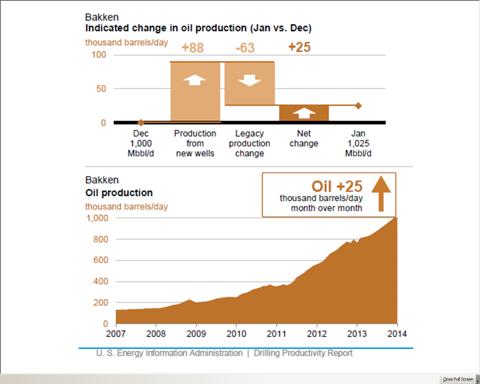 A similar scenario is depicted in the most recent Eagle Ford productivity report in terms of productivity per well (growing), rig count (falling slightly), and legacy production (sharply declining). Net-net, the EIA believes Eagle Ford production will grow by 29,000 bbl/day month-over-month: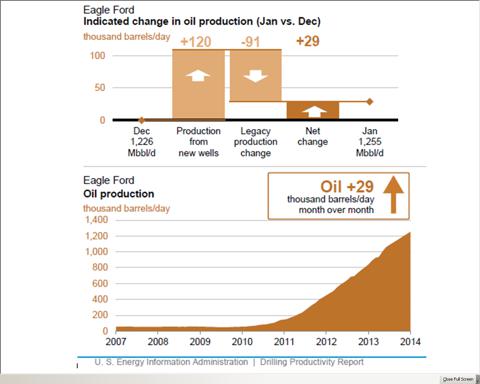 Are the EIA's Predictions Valid?
I believe the EIA's predictions are valid for the data set they are using. However, therein lies the rub. The EIA's predictions are somewhat backwards looking because the administration is extrapolating future production growth by extending legacy production curves, which are dominated by wells drilled years ago - as far back as 2007. Those early wells, and even wells drilled as recent as 2012, do not reflect the incredible progress made by implementing new completion techniques, downspacing and array fracking.
Many of these methodologies were implemented and refined during 2013. Companies across the Bakken and Eagle Ford are seeing large increases in IP rates and ultimately expect EURs to grow substantially. Evidence of the significant increase in shale well performance just since the start of 2013 can be seen from a slide in a recent EOG Resources (NYSE:EOG) presentation where the company reports a 30% improvement over year earlier 120-day cumulative production rates: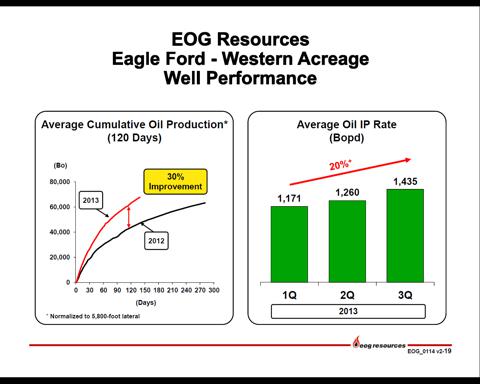 The company is seeing even better well performance across the Bakken. And EOG is not alone - similar improvements have been reported by Whiting Petroleum (NYSE:WLL), Kodiak Oil & Gas (NYSE:KOG) and many others.
The point is this: the EIA's current shale oil legacy production decline curves are not representative of the most recent new well productivity improvements simply because these wells have not been online long enough to affect the curve. As a consequence, my belief is that at some point in the very near future, actual month-over-month production results in the Eagle Ford and Bakken will begin to exceed the EIA's expectations. And that means the total US peak production will likely be pushed out from the EIA's 2016 projection. Considering the well productivity gains, and the large inventory of drilling sites still available to the largest shale producers, my guess is the peak will more likely be closer to a 2020 time frame - 4 years later than the EIA's estimate. But of course this is a SWAG because we still need to see the how the existing well production decline curve is affected by the newest wells and that will take time, and lots of data.
Another factor to consider is that all of the shale plays could likely be exploited at a faster rate if the larger energy companies decided to do so. In the Eagle Ford for example, the #2 producer ConocoPhillips made a conscious decision to ramp production up to 130,000 boe/day and then level off and maintain that "manufacturing rate" out to 2017. It doesn't mean they couldn't increase production higher than 130,000 boe/day (indeed they are above 130k now due to much improved well results), it just means they choose not to. I believe the same is true of large companies like Conoco and Exxon Mobil (NYSE:XOM) in the Bakken as well. My point is that the EIA data and projections don't really take into account variables like a company deciding to rapidly increase (or decrease) developmental cap-ex in any particular shale play.
That said, despite whatever short comings may or may not be contained in the EIA's oil production projections, it would be wrong not to come away from the EIA's report with some other observations as well.
Shale Oil Is Simply Not Inexhaustible
From a long-term energy policy perspective, whether total US oil production peaks in 2016, or 2020, or even 2025 is not really the issue. The issue is at some point in time, shale oil and total US oil production will peak and begin a gradual decline. This means US energy policymakers should take a good hard look at several issues:
Crude oil exports: An article in the Wall Street Journal recently reported that the push to ease the 40-year-old crude oil export ban is growing. Senators from both parties as well as Energy Secretary Ernest Moniz have said the export ban should be revisited.
Keystone-XL: When shale oil does decline, the US will wish the -XL pipeline had been built. With all the recent train wrecks, it appears -XL is less an environmental issue and more a matter of long-term energy security.
Natural Gas Transportation: The US conspicuously remains the only major economic power not to enact long-term strategic natural gas transportation initiatives: the EU, China, Brazil, and Russia have all done so. How a country that has a 100+ year supply of natural gas currently selling at 3-4x less than the rest of the world, and that imported 281 million barrels of foreign oil in November (at a cost of $30 billion), could not enact strategic long-term natural gas transportation policies is beyond my comprehension.
LNG Exports: Exporting LNG without adopting strong natural gas transportation policies could be a huge mistake.
Imports/Exports: As a result of the shale renaissance, the US has seen a significant reduction in its foreign oil import dominated trade deficit. This could be a short-term phenomenon if oil production peaks sooner rather than later.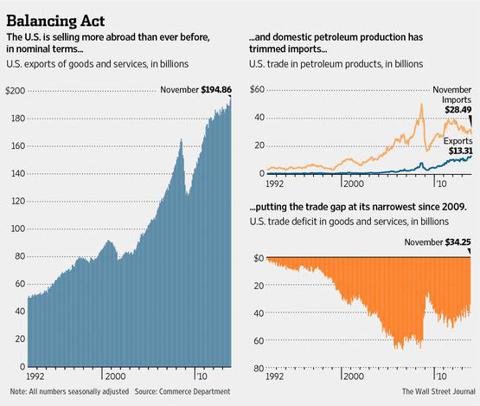 Investment Implications
When total US oil production peaks obviously has implications for energy investors. As shale production peaks, shale oil producing companies will see their historical production growth rates slow. While year-over-year comparisons may still look quite rosy, especially in light of the new completion techniques combined with downspacing and array fracking, investors should pay particular attention to sequential month-over-month production data. Of course 2016 is 8 quarters away, and if I am right in that the EIA's prediction is too conservative and shale oil production won't peak until 2020 or so, we have years of impressive shale oil production growth ahead. However, the market is forward looking and anticipatory.
Does the Pendulum Swing Back?
Over the past five years, shale oil companies like EOG Resources and Continental Resources (NYSE:CLR) have creamed the larger integrated oil companies like Chevron (CVX) and Exxon Mobil in terms of stock price performance: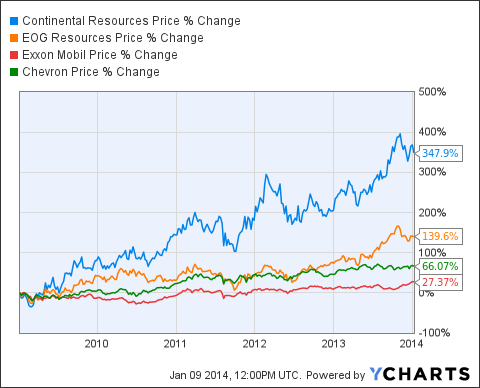 However, as shale oil production growth slows and historical well depletion rate arithmetic asserts itself, the pendulum will swing back in favor of the large-cap internationally diversified dividend paying energy companies. While most of the big energy companies have significant exposure to shale plays, they also have very large and diversified production and asset bases.
Take a company like ConocoPhillips for example. COP is the #2 producer in the Eagle Ford (after EOG) and is also growing production in the Bakken and Permian. However, the perception that COP is primarily a U.S. unconventional centric company is incorrect. In the most recent Q3 earnings report, U.S. lower-48 production composed only $548 million in earnings for the first 9 months of 2013. That is only ~8% of the company's total earnings of $6.7 billion through the first 9 months of the year. Going forward, the lower-48 percentage will decrease as more international growth projects kick in. To put things in perspective, the four wells comprising COP's Jasmine project in the UK's North Sea are the most prolific in the company and have a production capacity of 140,000 boe/day - about the same as all of the wells the company has drilled in the Eagle Ford. Meanwhile, COP has a well diversified asset base including Alaska, China, Australia LNG, Norway, the UK, and a top-tier position in the Canadian oil sands - just to name a few.
After its takeover of XTO, Exxon became the US's largest producer of natural gas. Chevron has significant operations in California and the Permian Basin. And both companies, along with Conoco, have significant oil production and acreage positions in the deep water Gulf of Mexico. But the bottom line is that these three companies produce the majority of their oil internationally and are not tethered solely to the fate of the domestic shale plays. Exxon and Chevron also have excellent downstream refining and chemicals operations.
Summary & Conclusion
The recent EIA report predicts total US oil production will peak in 2016. I believe it will be more toward 2020 for the reasons stated in the article. Regardless, US energy policymakers and investors should take note. Although the shale players have had a nice run, and it could continue for a few more years, at some point the pendulum will swing back to large-cap internationally diversified dividend paying energy companies like ConocoPhillips, Exxon, and Chevron.
A company like Suncor (NYSE:SU) is also a very interesting long-term bet on oil. SU recently announced plans to proceed with the Fort Hills oil sands project. The mine will be designed for a capacity of 180,000 bpd. SU will be the operator with a 40.8% stake. Other partners include Total (NYSE:TOT) with a 39.2% interest and Teck (TCK) with 20%. The resource will provide stable cash flows for the next 50 years and will be ramped up to 90% of capacity by 2018. I will end with a chart from SU's presentation on the Fort Hills project. The graphic says a lot about the cash flow profiles for the major types of oil plays: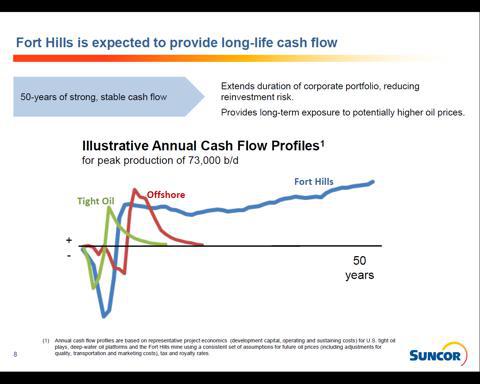 Disclosure: I am long COP, CVX, XOM, SU. I wrote this article myself, and it expresses my own opinions. I am not receiving compensation for it (other than from Seeking Alpha). I have no business relationship with any company whose stock is mentioned in this article.
Additional disclosure: I am an engineer, not a CFA. The information and data presented in this article was obtained from company documents and/or sources believed to be reliable, but has not been independently verified. Therefore, the author cannot guarantee its accuracy. Please do your own research and contact a qualified investment advisor. I am not responsible for investment decisions you make. Thanks for reading and good luck!