After bagging the largest share among foreign vendors for rolling out China Mobile's (NYSE:CHL) TD-LTE, Nokia's (NYSE:NOK) NSN segment won another LTE contract from China Telecom (NYSE:CHA) in December. China's third largest operator, China Telecom, selected NSN to be a major partner for the roll out of LTE services in China. Under the contract, NSN will provide Flexi Multiradio 10 Base Stations as well as its supervision and care services. The agreement also requires NSN to supply network management systems to manage China Telecom's multi-vendor system. Not only has NSN received contracts in China, but it also has orders in Indonesia as well. Indonesian company Telkomsel selected NSN to provide the RAN platform for its LTE network and to upgrade its GSM and 3G HSPA+ network across the country.
The growing 4G expansion across the world represents huge potential for network infrastructure providers, especially in China, which recently granted 4G licenses. In December, China issued 4G licenses to the three Chinese telecom providers, China Mobile, China Telecom, and China Unicom. Although China remains a late entrant in the 4G domain, three years after the launch of 4G in the U.S. and Japan, this marks a breakthrough in the Chinese telecom industry. Chinese telecom providers require hardware modification and software upgrades to make 4G commercially available everywhere. China Mobile alone needs to upgrade 200,000 base stations compared to the combined 150,000 base stations across the U.S. and Japan, and station upgrades will cost China Mobile a total of $3 billion. The total investment in China 4G is expected to be $16.5 billion in 2014 and will take the total user base to 30 million in more than 300 cities. China Mobile will enjoy the first mover advantage in the 4G business as it has made investments and rolled out 4G services well ahead of its competitors.
NSN is capitalizing on Chinese LTE deployment, as evident from its contracts with two out of three Chinese telecom providers. The NSN segment has been going through a lot of restructuring including a significant headcount reduction in the last few years to focus on more profitable areas. The top-line has seen a decline of 26% year over year to approximately $3.53 billion. I believe NSN's aggressive bidding helped it grab a significant share of the contracts in China, Indonesia, and in the U.S., which will help boost its top-line.
However, aggressive bidding will likely put some pressure on margins, as Nokia will have to compete in terms of price with its competitors. The company pointed out that it will "trade some of that profit for top line" and focus on getting more contracts for 4G infrastructure upgrades. In the past few years, NSN has lost its market share to its competitors and continues to lose revenue, but with the company now on steady ground with a more focused strategy and a strong balance sheet, I expect NSN to win more contracts and regain its market share.
Guiding its way through HERE maps
Nokia recently pulled out its HERE mapping application from Apple's (NASDAQ:AAPL) app store due to compatibility issues with the iOS 7 operating system. The iOS 7 upgrade wasn't providing a positive overall user experience so Nokia decided to remove the app. It made HERE maps available on iOS in November 2012, the same time Apple launched its own maps for iOS. HERE is one of the leading mapping databases dominating the market. The three large-scale databases are Google Maps, Tele Atlas, and HERE. Leveraging on this opportunity, Nokia has expanded its mapping service to more cellphones, cars, and companies. HERE's main revenue comes from providing location-based products and mapping services to automakers and Internet services providers.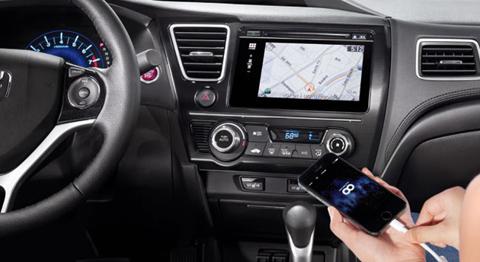 (Source: engadget)
During the second half of 2013, Nokia partnered with different automakers like Mercedes-Benz, Mitsubishi, etc. to provide mapping and location services along with real-time traffic and weather updates. Last month Honda announced the availability of HERE maps in its newly launched 2014 Civic. This allows users to look for locations and pre-plan routes on smartphones, which will be displayed on the vehicle's touchscreen panel. I believe Nokia's HERE business holds a strategic value in the industry given the importance of maps in mobile devices, the automobile industry, and Internet based services. The fact that Google acquired Waze for around $1 billion justifies the high value mapping assets hold in the industry. Even though Google had been dominating the mapping services, HERE is trying to build a strong position with new upgrades and off-line features.
Bottom-line
I am optimistic about Nokia since the day it announced it was going to sell its handset division, and believe that the share prices don't reflect the true value of the company. Additionally, NSN's ability to win contracts worldwide implies that it will return to profitability and acquire a substantial cash balance in the coming year. Nokia has a healthy net cash position of around $3.27 billion at the end of the third quarter of 2013, and after the Microsoft deal, Nokia's net cash could go up to $10.79 billion. Historically Nokia has used both dividends and share buybacks to return cash to shareholders, and I expect something similar to occur with Nokia's large cash position. Though there is no official statement from Nokia regarding how it will use this cash, investors could expect a possible dividend in the first quarter of 2014.
Disclosure: I have no positions in any stocks mentioned, and no plans to initiate any positions within the next 72 hours. I wrote this article myself, and it expresses my own opinions. I am not receiving compensation for it (other than from Seeking Alpha). I have no business relationship with any company whose stock is mentioned in this article.