Synopsys (NASDAQ:SNPS), among the largest EDA (Electronic Design Automation) software vendors, reported results in line with estimates for the first quarter of 2010 (QE Jan10).

Synopsys Jan 10 Quarter Results Snapshot

(Click to view enlarged image)


Click to enlarge
Source: Gridstone Research

Though revenues declined by ~3% YOY and sequentially by ~2.5% to $330 M, net profit increased due to a one-time tax benefit of ~$61M. As you can see, operating profits declined by ~18% YOY though the tax benefit resulted in an increase at the net income level.

Revenue Vs. Guidance

(Click to view enlarged image)


Click to enlarge
Source: Gridstone Research

The revenue guidance for Apr10 quarter shows that SNPS expects flat revenues YOY and QOQ. Since SNPS gets more than 90% of its revenues from time-based licenses and the average duration of these licenses is ~3 years, any new contracts take time to find their way to revenues. This ensures no lumpiness in revenue recognition but also becomes a lagging indicator of top-line recovery. The Apr10 quarter guidance seems to indicate that no big deals were concluded in the first few weeks of the second quarter.

When we compare the quarterly revenues of Synopsys with its rivals, Cadence (NASDAQ:CDNS) and Magma (NASDAQ:LAVA), Synopsys seems to have done better than its rivals during the downturn.

Synopsys Vs. Competitors( LAVA-Magma, CDNS - Cadence)

(Click to view enlarged image)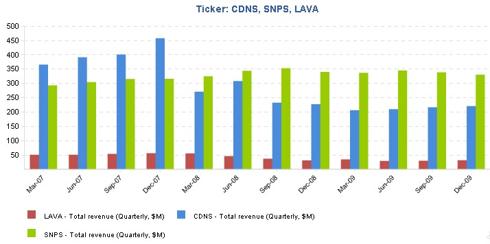 Click to enlarge
Source: Gridstone Research

Prior to the downturn, Cadence grew faster than Synopsys but suffered more during the downturn. However all the EDA vendors have been growth challenged in the recent quarter too, and their guidance shows no indication of a good recovery in their order books.

YOY Revenue Growth By Quarter - Magma (LAVA), Cadence (CDNS) and Synopsys (SNPS)

(Click to view enlarged image)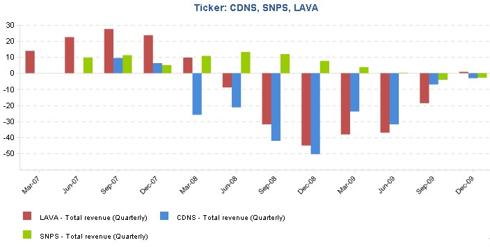 Click to enlarge
Source: Gridstone Research

In fact, the main worry about EDA vendors is whether the phenomenal growth in IC design starts (design of new semiconductor chips) in the 2006-07 period will be matched in 2010/11. Since EDA vendors sell licenses on a seat basis, any increase in revenue will only follow a significant increase in IC Design headcount at leading chip vendors like Intel (NASDAQ:INTC), Broadcom (BRCM) etc. This seems unlikely in 2010 at least, as most semiconductor vendors are still very cautious on spending inorder to protect their margins. The other option is for vendors to have a broader portfolio of products / services so that the TAM (total addressable market) is larger for them and they benefit from that.

Previous Semiconductor Cycle Upturn - Cadence Outdid Synopsys

(Click to view enlarged image)


Click to enlarge
Source: Gridstone Research

Looking at the semiconductor cycle from 2004-07, we see that Cadence outshone Synopsys thanks to its broader portfolio of products / services. But this did not protect it from the severe drop in revenues in 2009. Synopsys seems to be inclined to replicate the Cadence model during this semiconductor upturn cycle. In the recent earnings call (read full transcript here), Synopsys CEO Aart de Geus expounds on the same:


"...As we introduced to you in our last earnings call, we see 2010 and '11 as the time to benefit from the economic recovery, while actively broadening our opportunity space. We are pursuing three fundamental strategies. One, accelerate our execution momentum and expand our core EDA leadership. Two, broaden our EDA TAM by aggressively fielding adjacent products and capabilities. Three, expand our TAM outside of core EDA by aggressively driving the emerging systems space..."
Synopsys has already made some acquisitions in this regard and had made its intentions clear of continuing in the same vein during the rest of 2010. Though these acquisitions will have no material impact on current fiscal numbers, the intention is that a broader product portfolio will bring in more revenue per customer when spending picks up. A broader revenue stream will also ensure that expense synergies (across different product categories) can lead to an improvement in margins. Quoting again from the recent earnings call:


"..And with every deal, we look at the expense state to identify the synergies. We look at the key skills that are required to deliver what we build as our business case. And obviously, that's the way we've done it. And we've done, I'd say, as I said, five acquisitions in the last six quarters, with one more pending. And so we've gotten very good at the integration process and the flow through there, and still are targeting on the same level of operating margins we have while we expand into additional segments to expand our TAM..."

In areas like non-core IP licensing, Synopsys expects to generate another stream of recurring revenues and diversify its model to move away from a per seat revenue basis. The per seat license model led to a stagnant phase during a dowturn as R&D resources were either reduced or kept constant at a company level. This severly impacted new seat revenues for EDA vendors, their primary source of growth. Synopsys also mentions that rather than just focusing on increasing the number of seats in each customer, their intention is to also increase the number of product licenses per seat / engineer.

Summary

Synopsys is banking on increasing its share of the EDA and allied services pie in each customer as adding new customers will be a difficult task in the first half of 2010. If EDA tools spending picks up in the second half of 2010, Synopsys would be well positioned to benefit from it to emerge as the premier EDA vendor. However competitors like Cadence are in the same situation and so its not going to be an easy ride for Synopsys. EDA seems to be a mature market rather than a growth market and that itself limits Synopsys's ability to ride the expected unpick in semiconductor spending.

Disclosure: No Positions