Ford (NYSE:F) had a solid year in 2013 seeing a rise of ~30% in its stock. The shares have pulled back a bit recently giving investors a better entry point. The stock still looks attractive and has been garnering some positive catalysts recently. I think Ford is now ready to continue its move higher.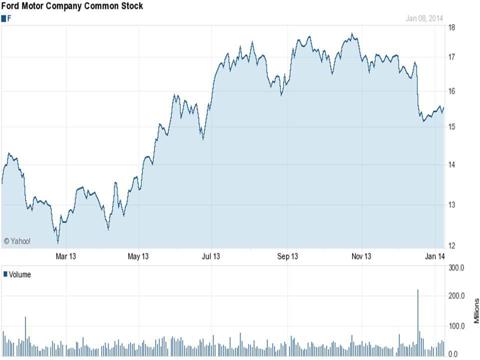 Positive Catalysts:
Well regarded CEO Alan Mulally finally announced he is staying as the head of this manufacturer. Mr. Mulally has been a primary catalyst to the company's impressive performance over the last couple of years. The rumors that he was leaving to head Microsoft (NASDAQ:MSFT) were proving to be an overhang for the stock.
The company just broke the news that it is hiking its dividend payout by an impressive 25%.
Ford just announced that is now selling almost 100K vehicles a month in the Middle Kingdom through joint ventures. This represents a 35% year over year gain.
U.K. auto sales are recovering as auto registrations improved almost 24% in December and ~11% in 2013 overall. Ford is gaining share in this market with its Fiesta and Focus product lines which are market leaders
Valuation:
In a market that sells for ~15x forward earnings, Ford is a bargain at under 10.5x forward earnings. The shares now yield over three percent taking into account its new dividend hike.
Domestic vehicle sales remain strong, China is going gangbusters, the U.K. is turning around and even Europe is looking a bit better as auto registrations have increased now for three straight months in the Eurozone.
I believe the analyst community is too negative on Ford's earnings prospects in 2014 as consensus estimates have come down significantly recently. The company has beat bottom line estimates for each of the last six quarters and the average beat over consensus has been ~20% over that time frame.
The company has a significant amount of new rollouts this year including the critical F-150 series. Ford sports a strong balance sheet, insiders made some purchases in the fourth quarter and the stock has a five year projected PEG of under 1 (.83). BUY
Disclosure: I am long F. I wrote this article myself, and it expresses my own opinions. I am not receiving compensation for it (other than from Seeking Alpha). I have no business relationship with any company whose stock is mentioned in this article.