Mohannad Aama is a Managing Director and Portfolio Manager at Beam Capital Management, a New York-based value-driven registered investment management and advisory firm. His responsibilities cover overseeing investment research, portfolio construction and risk management.
We recently had the opportunity to ask Mohannad about his the position he's most confident in right now.
What is your highest conviction stock position in the portfolios you manage - long or short?
We have very high conviction in every position we own, but since we are a value oriented manager, I would say that our most undervalued current stock position in our opinion is TheStreet.com (TSCM).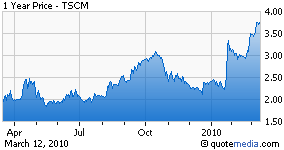 TheStreet.com is an interactive media company focusing on financial content. It operates websites and premium subscription services and newsletters covering financial news and investing. Its namesake is also the company's flagship site but TSCM also operates several other websites in the Finance category that cover news, investing, and personal finance. Revenue is generated from advertising on the company's websites as well as from subscription fees to premium content and email newsletters.
The stock has fallen hard over the past couple years, and online advertising has slumped during this time. To what extent is this a bet on display advertising recovering, as opposed to a pure bottom-up pick on TSCM and its hybrid revenue model?
Generally speaking, Beam Capital is a top-down manager. That is, we have a view on the economy overall and about what industries and sectors stand to benefit or suffer given our view. Then we drill down to individual companies or ETFs in our favorite sectors that we expect will gain the most. So, in that regard TheStreet.com is also an industry play. But given its valuation and position within its industry, it is also a stock that we own based on its own fundamentals.
Our big picture view is that we are in the early stages of a new business cycle and increased stability in financial markets. Typically, advertising spending is very cyclical and we think it is often a leading indicator in terms of economic recovery. Similarly, subscription revenues, which are a big component of the company's top line, are also positively correlated with more stable financial markets. In addition, we see a continuation of a major secular trend which is the increased shift of advertising dollars from offline and traditional mediums to online and interactive mediums.
Simply put, we believe that TheStreet.com stands to benefit from both of those trends: the improving economy and its ramifications for advertising and financial markets in general and from more advertising dollars going online.
How would you say TSCM is currently positioned vis-a-vis its competitors?
TheStreet.com operates in the online publishing space which is highly fragmented and pretty competitive. But while the old saying "Content is king on the internet" rings true, not all online content is valued equally by advertisers. Ad impressions on social networks are not as equally valued as those on Technology or Sports news sites, for example.
The Finance/Investing vertical is among the highest valued content in terms of display CPM rates (cost per ad impression) or CPC values (cost per click). Furthermore, there are not that many pure play publicly traded companies, of scale, that operate in this space. TSCM is very unique in this regard.
At the end of the day, advertisers look for two important ingredients when it comes to online advertising campaigns: scale and a targeted audience. TheStreet.com offers both. In addition, as I mentioned regarding the importance of content, more and more online as well as traditional media companies are focusing on content.
We see Yahoo CEO Carol Bartz and AOL's Tim Armstrong shedding non core assets and focusing on content. Similarly, traditional print media companies are trying to figure out their online business model and in our view that will have to include scalable high-value content.
What does all of this mean? Good quality content, of scale, will be more sought after: be it from advertisers or industry consolidators. For The Street.com this means that there will be new avenues of revenue through partnering or content licensing, but also an increased chance that the company will be taken over by a bigger company that wants to beef up its online presence in the highly sought after Finance/Investing vertical.
How do you assess TSCM's valuation?
As I mentioned, there are not that many identical publicly traded competitors that operate in the same field. However, on a standalone basis, TheStreet.com is a small cap stock that has a market value of about $115 million based on a recent stock price of around $3.50. It also has about $80 million in cash and marketable securities, no debt, and pays $0.10 a year in dividends for a yield of just under 3%. It is announcing Q4 and full year 2009 earnings on Monday, March 15th and we expect full year results to show a small deficit on a net income basis but still be cash flow positive.
The investment thesis is really about buying an interactive media company that has revenues of roughly $60-$65 Million and improving fundamentals, for about $35 million (after taking out the cash balance from its market cap) or about 0.5x sales, when comparable companies have been sold for more like 3x or 4x sales.
For example, CBS bought CNET for roughly 4.5x sales and Dow Jones (NASDAQ:NWS) bought MarketWatch Inc. for 5.5x revenues. So given these multiples, I do not see why a fair value for the stock should not be in the high single digits.
It is important to note that Gannet (NYSE:GCI), Yahoo, Viacom (NYSE:VIA), and The NY Times (NYSE:NYT) were among the bidders for MarketWatch, which has an almost identical business model to TheStreet.com. I know that sales are not the ideal benchmark for all companies, but they are in this case when your revenue comes from advertising and subscriptions.
What catalysts do you see that could move TSCM stock?
TheStreet.com has a pretty high operating expense base (around $15 million per quarter) for a company of its size, and I am certain that there is a lot of room for improvement there, either internally by the new CEO Daryl Otte, who has been the permanent CEO for less than a year now, or by an industry consolidator who can run the company in a more efficient way. So while a buyout is always a possibility, we are not holding our breath waiting for it to happen.
At these levels, we are content holding the shares and collecting the 3% dividend yield while watching the company benefit from an improving economy and a brighter outlook for financial markets. At the same time, we're watching how management will execute. In the meantime, I believe that more investors are beginning to see our point of view on the stock as the shares have been steadily climbing this year.
How does your view differ from the analyst consensus?
TheStreet.com is not heavily followed by analysts. But if the stock price is any indication, I can tell you that the stock, until recently, was not getting any appreciation from Wall Street. In December it was trading near its 52 week low and during our end of year analysis we take a look at every one of our holdings to see whether it would make any sense to harvest any losses for tax purposes.
After doing our analysis on TSCM we decided to double our holdings in TSCM stock, as we believed that investors were overly negative on the stock. In short, while we try to listen to all points of view on any stock, we formulate our own views based on our own internal due diligence.
Isn't TSCM way too exposed to Jim Cramer? What if he leaves?
You can't mention TheStreet.com without mentioning Jim Cramer of course. In addition to being the largest individual stock holder in the company with around a 12% stake, Jim is also the Chairman and a paid columnist for the company who writes for its various web properties. While officially he is the Chairman, effectively he is the company's biggest salesman and public face who generates tons of free publicity, page views, and subscriptions for the company. So there have always been worries about what would happen to the company if he left.
While theoretically this is a valid concern, realistically it is a non issue in my opinion. Jim Cramer has a large ownership stake in the company and his economic and financial interests are closely aligned with that of the rest of the shareholders, so I do not see him intentionally doing anything to jeopardize that. Furthermore, to be blunt, I think any exit strategy for Jim Cramer will also be beneficial to all stockholders.
As for the rest of the management team, there has been some senior executive turnover and some corporate governance issues that plagued the company in 2009 relating to one of its web properties that they have since divested. I think that these issues are behind the company and the new CEO is turning things around.
What could go wrong with this stock pick?
The unlikely event of a double dip recession or a stock market crash will negatively impact advertising and subscription revenues, for sure. The company's cost structure is pretty high as I mentioned above, so any deterioration in the company's operational efficiency will negatively impact the bottom line.
Also, I believe that there will be a wave of consolidation in the online publishing space over the next few years. TheStreet.com will not fare too well on its own if it decides not to participate in this consolidation, particularly if this consolidation results in the creation of several well diversified mega players.
Thank you, Mohannad.
Happy to participate.
Disclosure: Beam Capital Management is long TSCM in portfolios
Read more High Conviction Picks »
If you are a fund manager and interested in doing an interview with us on your highest conviction stock holding, please email Rebecca Barnett.