(Editors' Note: This article covers a micro-cap stock. Please be aware of the risks associated with these stocks.)
In April, 2011 we wrote about a trust preferred stock that was little known and most certainly little owned by income investors. The preferred issue we wrote about is Glacier Water Services 9 1/16% Trust Preferred shares (OTC:GWSVP). After almost 3 years we continue to get questions from readers on the issue and many notes from those that have owned the issue since the original article on Seeking Alpha.
Glacier Water Services (OTCPK:GWSV) is a tiny company with revenue in the most recent quarter of approximately $35 million dollars (which is 13% above the year ago period) all of which comes from the simple product of filtered water. The company has 23,700 water vending machines (up from approximately 19,000 when we last wrote) which are placed in retail locations throughout the United States and Canada to serve up filtered water. Recently the company has added a line of ice machines to their product line-up.
When reviewing the financials of Glacier Water Services you might wonder how they stay in business--seldom do they show any net income and why would anyone own such a risky issue? Not unlike a REIT or many Canadian income issues the key with Glacier is the free cash generated. If one were to review the most recent quarterly income statement you would see that they had a net loss of $358,000 (and a loss of $4,708,000 for the 9 month period). But doing a quick calculation you would see that they had free cash of $4.7 million in the quarter and over $7 million in the 9 month period. Not too bad--and the exact reason we feel comfortable owning this trust preferred stock.
But let us dig deeper and understand that Glacier Water Services originally funded their business with the proceeds received from the sale of debentures to the trust (formed by Glacier Water Services), which in turn sold preferred shares to the public to fund the debenture purchase (thus the preferred shares are "trust preferreds").
Yes Glacier Water Services has common stock outstanding, but the shares were voluntarily delisted from the Amex in 2005 and they trade only on the OTC pink sheets at this point in time. Additionally, when one wants to research the company it will do you no good to go to the SEC Edgar system to look up 10Qs and 10Ks as the company is no longer a "reporting" company. A certain number of shareholders are required in order to be required to file with the SEC -- at the time they delisted they had 37 common shareholders and 70 trust preferred holders. For research purposes you can only get information from the company website. Needless to say the trust preferred shares are not very liquid and trade on average only about 1000 shares per day.
After a review of some of the background of this issue one might think there would be a high level of volatility in this trust preferred issue and that it may have taken a "hit" like other similar securities did in 2013, but neither are the case. Below is a chart of the price from the last 2 years.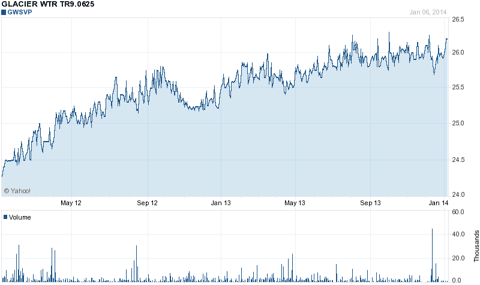 You can see that in the last 2 years the shares have trended higher and in most weeks have traded in a 2% range. In May and June when other bond like issues took hard falls this security just "wiggled" a bit. This has been a rock solid issue to have held and collected a nice 9 1/16% dividend on for many years.
It should be noted that the shares now trade in the $26 area -- and they are callable at $25, thus for a potential purchase it may not be wise to buy these shares unless they fall into the $25 to $25.25 area. We do not believe these will be redeemed anytime soon (if we did believe they would be redeemed we would certainly sell now). The company did contemplate a common offering a few years ago with the proceeds being earmarked for the redemption of the debentures -- but they withdrew the offering and the subject has not been publicly discussed since that time.
The bottom line on these trust preferred shares is that they provide a great dividend with a stable share price and they have provided this return for many years. The shares are not for someone who feels the need to have current information from the SEC (or other government kept repositories of data). Lastly these shares should not be purchased at prices above $25.25 as there is a risk of instant capital loss if called.
Disclosure: I am long GWSVP, . I wrote this article myself, and it expresses my own opinions. I am not receiving compensation for it. I have no business relationship with any company whose stock is mentioned in this article.