Even though time, dates, and years are rather arbitrary when it comes to investing, it gives investors a benchmark to compare their returns to well… anything. Just like those investors, each year we like to look back to see if buying and holding a couple commodity markets over the course of a year are doing better than investing in the ETFs that supposedly track them: Crude Oil (NYSEARCA:USO), Natural Gas (NYSEARCA:UNG), Corn (NYSEARCA:CORN), Copper (NYSEARCA:JJC), Coffee (NYSEARCA:JO), and Wheat (NYSEARCA:WEAT).
Typically, the ETFs underperform a simple strategy of buying the December futures contract and rolling it annually. Well, the numbers are in for the final tally in 2013, and it looks like futures edged out ETFs on average by a little more than 1%, although there was a wide dispersion of results with the ETF 7% better in the case of Natural Gas and 8.5% worse in the case of Wheat. (Disclaimer: Past performance is not necessarily indicative of future results).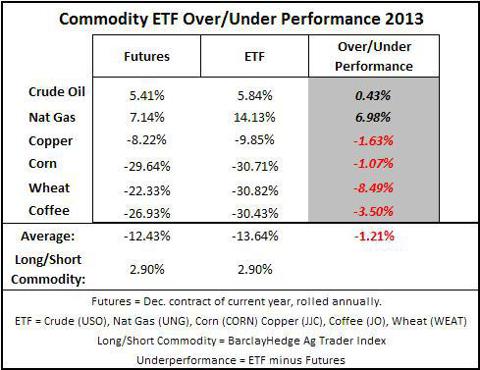 (Disclaimer: Past performance is not necessarily indicative of futures results)
For many investors, however; the comparison of how to buy commodity exposure is becoming a moot point after reading article upon article this year about the end of the commodity "Super Cycle." The problem is the nature of these types of investments, which enable them to make money only when prices rise (and then only after paying the roll yield if there is one). You can see that it wasn't a profitable venture investing in commodities rising in 2013, with a -12.43% average return over six commodity markets, and a -13.64% average return over six commodity ETFs nothing to get too excited about.
Which leads us to the widely known secret that many are still unaware of… there's another way to invest in the commodity market. It's a "Long/Short Strategy" which can profit from rising or falling commodity markets, and just happens to be a popular strategy in a subset of the Managed Futures space called Ag Trading. The BarclayHedge Ag Trader Index tracks these traders, and over the course of 2013, they managed to show a +2.90% return for the year while direct commodity exposure struggled. (Disclaimer: Past performance is not necessarily indicative of future results). But Ag traders are just a portion of the whole managed futures sector though. To see more, we covered each managed futures 2013 strategy performance, in our latest newsletter.
As for Ag Traders, could next year be different? Absolutely… They will have losing months and years just like anyone else, and they may not catch a huge uptrend in commodities like the direct exposure will. But better performance when commodities are falling sure seems to make up for any missed upside, in our opinion.
Disclosure: I have no positions in any stocks mentioned, and no plans to initiate any positions within the next 72 hours. I wrote this article myself, and it expresses my own opinions. I am not receiving compensation for it. I have no business relationship with any company whose stock is mentioned in this article.