Just three weeks ago I had a look at Ford (NYSE:F) after shares sold-off in the wake of a disappointing guidance for 2014. Shares fell to levels around $15.00-$15.50 in the wake of the releases at the time.
Yet investors finally have some good news to digest this week. On Tuesday Ford reported strong sales results in China. Yesterday it was confirmed that Ford's successful CEO Mulally will remain with the company, although I downplayed his importance for the company in the medium term.
On Thursday, the company is announcing more good news, which is the 25% hike in its quarterly dividend.
The Dividend Hike
Ford came out with quite a substantial dividend hike on Thursday. The first quarterly dividend for 2014 will now amount to $0.125 per share, a hike of 25% compared to the last dividend of 2013.
Ford is comfortable raising the dividend to the new level on the back of the strong financial performance following the One Ford global strategy. CFO Shanks believe this regular and growing dividend is sustainable over economic as well as business cycles.
Note that Ford restored a dividend of $0.05 per quarter at the start of 2012, after it stopped paying dividends in 2006. This dividend has been doubled to $0.10 at the start of last year, followed by the latest hike.
The ten cent annual hike might cost Ford up to $400 million per annum, with annual dividend payments now pegged around $2 billion. While the 3.2% dividend yield is appealing, the payout ratios remain fairly low to make the dividend sustainable through-the-cycle. As such, Ford continues to reinforce its balance sheet even at the current dividend yield. The new payout ratio equates to roughly 35% of 2013's earnings and 40% of anticipated earnings in 2014.
Mulally Stays Onboard
Earlier this week, Ford's CEO Alan Mulally told the press that he will remain with Ford through 2014, pulling himself out of the race to become CEO of Microsoft (NASDAQ:MSFT).
While his leadership is widely admired, possibly his lack of technological knowledge might have been a decisive factor. That being said, it is not known whether Microsoft rejected Mulally or whether he decided to pull himself from the candidate list.
Chinese Sales Results
For 2013, Ford sold nearly 936,000 cars which is up 49% on the year before. These are very impressive numbers, even as the pace of sales growth slowed down to 35% in December.
This success for 2013 is driven by the joint venture Changan Ford Automobile which sold nearly 679,000 cars for the year.
Despite the high growth numbers, the December results are cautious. Note that reported 35% year-on-year growth implies quite a slowdown from the reported 47% growth for November.
Continued Pension Progress
At the presentation for next year, Ford updated the market as well on its progress to reduce pension liabilities. The underfunded status of its plans is seen at roughly $10 billion by the end of 2013, which is roughly half the gap a year before.
Rising markets were helpful, so were 35,000 former employees which opted for lump-sum packages. This settled $4.2 billion in obligations in the process. These steps will reduce anticipated contributions to fully fund pension plans to $1-$2 billion in the coming three years, a billion less than previously anticipated.
The progress in this area, is furthermore a big driver in strengthening the balance sheet, allowing Ford to increase its payouts to shareholders.
2014 Is A Bridge Year Into 2015
Investors were quite disappointed with the full year outlook for 2014, issued about three weeks ago. The projected fall in earnings caused a sell-off of roughly a dollar per share as notably product introductions will eat slightly into earnings this year.
Total worldwide launches are expected to more than double to 23 in this calendar year, as can be seen in the illustration below. Ford will focus on North America and Europe in the release of these new models.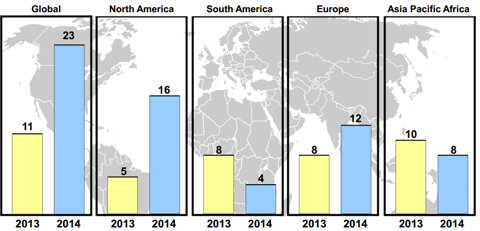 Yet the associated costs will result in pre-tax earnings of $7-$8 billion for 2014, down from an expected $8.5 billion in 2013. With GAAP earnings seen around $5.5 billion for 2013, these earnings could fall towards $4.5-$5.0 billion in 2014 as the company prepares for a very strong 2015.
Implications For Investors
Investors are happy with the dividend hike sending shares of Ford 3% higher in early trading towards $16 per share. This values the company at $63 billion or 11-12 times 2013's earnings while paying out a 3.1% dividend yield.
While 2014 will be a bit of a transition year, with the earnings multiple expected to increase to 13 times 2014s earnings, Ford has positioned itself for a blow out result in 2015. When the market will shifts its focus to this, looking beyond 2014s results, this could result in a serious boost to the shares.
The introductions, progress in every region of the world and solid China sales could all fall together and create significant momentum. Luckily for investors Mulally has decided to stay a bit longer, not missing this stage of the party.
Current levels continue to represent an excellent opportunity to pick up some shares in this quality name.
Disclosure: I have no positions in any stocks mentioned, and no plans to initiate any positions within the next 72 hours. I wrote this article myself, and it expresses my own opinions. I am not receiving compensation for it (other than from Seeking Alpha). I have no business relationship with any company whose stock is mentioned in this article.