Louis-Vuitton Moet Hennessy (OTCPK:LVMUY) is a global luxury goods company that operates in five segments: Wines & Spirits, Fashion & Leather Goods, Perfumes & Cosmetics, Watches & Jewelry, and Selective Retailing. It owns over 2400 stores worldwide. The company has been profitable throughout financial crises and has grown revenues at a compounded average growth rate [CAGR] of 8% for the last 10 years with a slight flattening recently. Each segment contributes significantly to the overall figure, with Fashion & Leather and Retailing posting over two-thirds of the total revenues: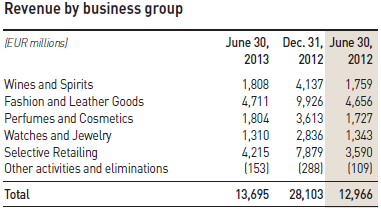 (Data obtained from Q3 10-Q)
LVMH is by far the biggest company in its group, trumping its nearest peer three times by size:

(Data courtesy of TD Waterhouse)
In its segments, the company holds 59 brands and continues to grow through M&A with recent acquisition of controlling interest in Loro Piana in July 2013: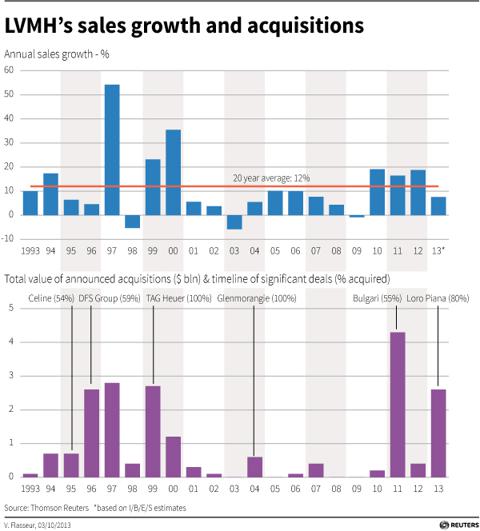 (http://pdf.reuters.com/pdfnews/pdfnews.a)
During the long consolidation path dating back to the 1970s LVMH managed to accumulate and integrate the world's most prestigious and established brands. For example, Château d'Yquem, a wine producer, was founded in 1593. It is noteworthy to mention the remarkable success of the company's leadership; it has maintained growth and profitability despite hurdles associated with constant additions of brands, while focusing on value creation and long-term sustainability. The following chart shows outcomes of effective decisions regarding internal and external operations of the company during the last decade: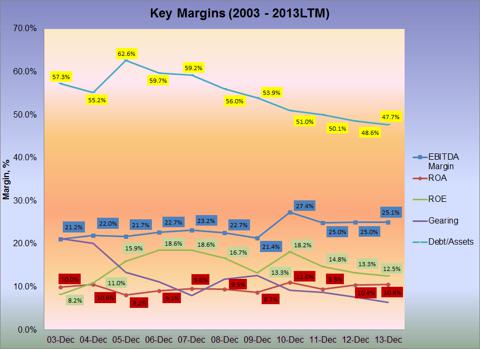 New acquisitions actually helped drive the EBITDA margin from around 21% to over 25%, while keeping total Debt/Assets ratio on a decline. Return-on-Assets has remained largely the same as ten years ago, while Return-on-Equity has increased by a half since 2003. We can also see that during crisis years, the company's profitability was little affected. Long-term debt (Gearing) was decreased by over 60% in the same timeframe. Let us take a look at the maturity schedule: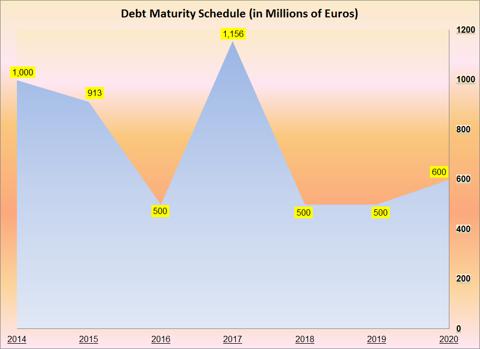 (Data compiled was obtained on the corporate website)
From the above graph, it is clear that LVMH keeps its debt horizon low with the bulk of payments due in the next 3 years. The last piece of debt expires just over 5 years from now. Although these figures may seem large, LVMH has sufficient cash flows to cover them; as of June 30, 2013 the company's LTM net cash flows from operations exceeded 4B Euros.
Market Treatment
LVMH has been a success for shareholders, having outperformed the broader market in the past 5 years (a total return of 182% vs 106% for S&P):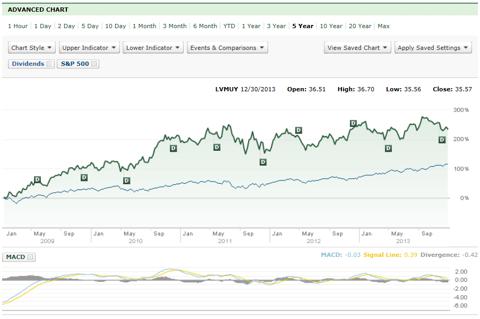 (Chart taken from TD Waterhouse trading platform)
Dividends per ADR are paid twice a year: typically, in May and November. The company has doubled dividends since 2008, and the effective yield as of the recent closing price is 2.26%, in line with the Apparel & Accessories industry average. The payout ratio is just over a quarter, which means there is still room for expansion, even if EPS growth slows down dramatically. In terms of multiples, LVMH is in the middle of the range for its industry group: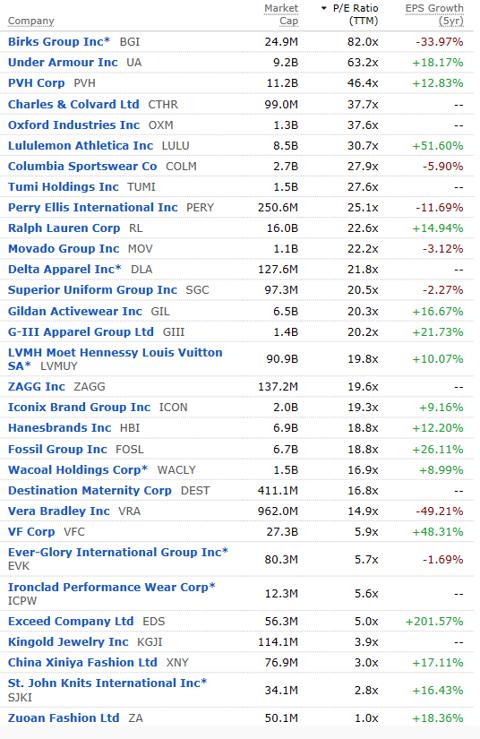 (Data courtesy of TD Waterhouse)
Although a P/E of 19.8X may seem expensive, it is in line with the 10-year average:

(Table obtained from Stock Rover)
Price-to-Sales ratio, a useful metric in retail business, is actually below the historical median as of the most recent trading period.
Even though LVMH did well overall, it delivered mediocre performance in 2013, having underperformed major indexes including European benchmarks: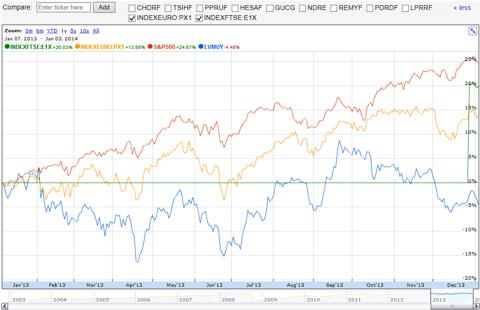 (Data courtesy of Google Finance)
EPS Estimates and Valuation
LVMH has received little coverage from American professionals, even though the company is the behemoth in its niche. Retention ratio in combination with Return-on-Equity gives us an EPS growth estimate of just over 9%. This seems to be reasonable, given the historical CAGR for sales of around 8% or so. Margin expansion shall also contribute to a faster EPS growth. The following estimates compiled by 4-Traders show slightly higher figures: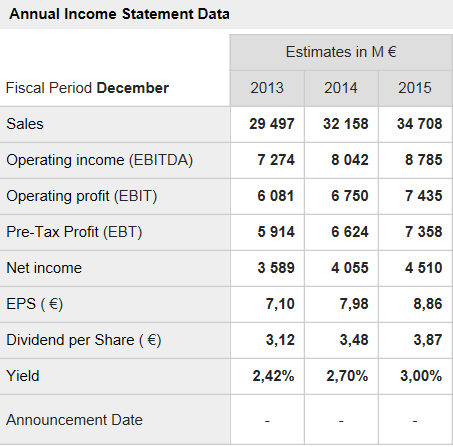 While sales are expected to grow at approximately 8% for the next 2 years, EPS is assigned a mean growth rate of over 12% in 2014 and about 11% in 2015. Remarkably, the dividend yield is also expected to expand by approximately the same rate. Given that the stock is expected to appreciate, it seems reasonable to expect an expansion of the payout ratio in addition to the estimated EPS growth.
If the multiples stay the same on average, the stock is expected to perform in the low teens in the next two years or more, partially offsetting opportunity cost with dividends.
Summary
Louis-Vuitton Moet Hennessy, despite its size and maturity, continues to derive robust growth from business combinations that fit the vision of the company. Expansions in important margins as well as high-margin business acquisitions further enhance the retailer's long-term success and shareholder value creation. Strong balance sheet and stable cash flows yield financial flexibility and allow expansions in the emerging markets. The company proved to be resilient to crises due to the class of its customer base and healthy capital structure. Relative to its peers and historical figures, LVMH is fairly valued, even though the stock experienced a mediocre yearly performance in 2013.
Conclusion
I issue a "BUY" recommendation for LVMH's equity, and expect stock performance to be superior to the broader market in the next two-three years. A good portion of the capital appreciation is anticipated to come from the "catching up" with the market. In the event dividends increase as estimated, the stock shall be further fueled for growth by the yield adjustment.
Analyst Consensus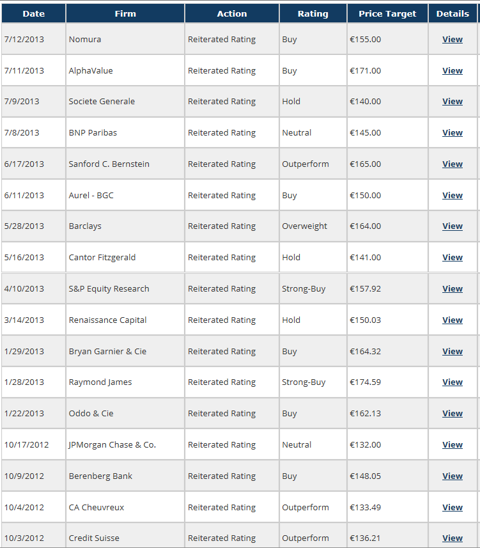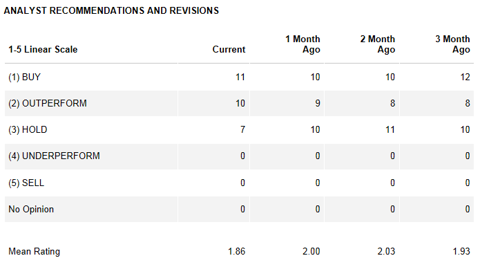 Disclosure: I have no positions in any stocks mentioned, and no plans to initiate any positions within the next 72 hours. I wrote this article myself, and it expresses my own opinions. I am not receiving compensation for it (other than from Seeking Alpha). I have no business relationship with any company whose stock is mentioned in this article.