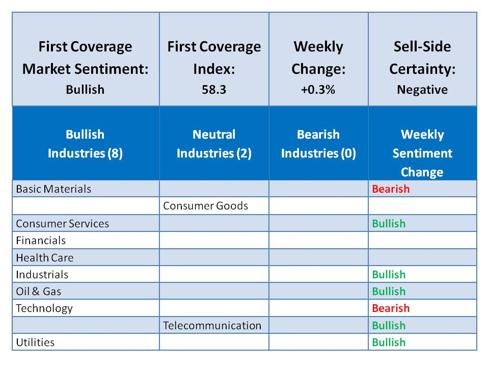 Market Sleepwalks Through Last Week
One would have thought it was time to break out the champagne. Last week the indexes were hitting new highs for the year. But most only barely surpassed the highs hit in January. The Dow Jones Industrials only eked out a gain of 0.6% last week. The S&P500 did a little better at 1.0% as did the DJ Total Market (which is composed of the industries used in First Coverage Market Sentiment) at 1.1%.
These paltry gains came on low volume with low volatility. Except for Thursday afternoon the markets had almost nothing to say. There was some surprising economic news on Friday, but apparently the drop in consumer sentiment canceled out the better than expected retail sales. One positive about last week was that market does continue to creep up, even if investors lack conviction.
If you had gone on vacation last week, you wouldn't have missed much in the markets. That likely will not be the case this week. The market will turn its attention to financial regulation machinations in the Senate as Senator Dodd tries to shepherd a bill through committee. The market no doubt will hang on every nuance of what is proposed or on speculation of what is likely to be proposed or passed.
Adding fuel to the fire will be discussion of last week's bombshell report on the bankruptcy of Lehman along with a house panel grilling witnesses on Fed bank supervision and monetary policy. And with the focus back on the financial crisis, somebody's sure to remember that Fannie Mae and Freddie Mac continue to dig themselves into an ever deeper hole. Without some reform of those two, there can be no real reform of the problems of the causes of the last financial crisis. They're still in the same game of guaranteeing mortgages and the losses continue to mount. When will we learn?
The Lehman report showed that a lot of the problem that led to their failure, just like with Enron, was the use of off balance sheet artifices. Just like all those Fannie and Freddie losses are off the government's balance sheet. And Barney Frank says he will start hearings of the Fannie and Freddie issue later this month. All these uncertainties about financial regulation are bound to increase market volatility.
If all that isn't enough, there is important economic news on each of the first four days of the week and there is a Fed meeting. This could be a bad week to go on vacation.
While the markets may have been docile last week, there were major changes in sell-side sentiment. Five industries had gains of 3% or more in sentiment, while two had declines of greater than 3%, including Technology.
Concerns on Most Favored Industries of January and February Remain
Last week we said that Consumer Services and Technology had had recent pull backs in sentiment, although both were still within their multi-month upward channels in sentiment. Consumer Services was at the bottom of its channel and poised for a possible downside breakout. Last week sentiment jumped 3%, pulling it back from its precarious position of the week before and keeping the upward channel intact, but some confirmation would be nice.
It was the reverse in Tech. Two weeks ago sentiment fell back to the middle of its upward channel, raising only mild concern. The 6% drop this week is far more serious and has pushed sentiment for Tech to the bottom of its channel. Tech now seems poised for a downside breakout. Sell-side favoritism in Tech for December, January and February had helped drive the NASDAQ to an 18-month high. Tech industry prices outgained the market last week, rising almost 2%, and fundamentals remain strong. Maybe the 6% drop was only an anomaly.
Potential Upside Breakouts for Industrials and Telecomm Further Solidified
The last several weeks we have pointed out that the Industrial and Telecommunications industries were building a pattern that might have the kind of strength that would put them among the most-favored industries in sell-side sentiment.
A week ago, it looked like sentiment for Telecomm might be rolling over and that the sentiment rebound in late January and early February may have only been a dead cat bounce. That thought was wiped out with the 5% gain in sentiment last week. It looks more and more that the rebound in Telecomm sentiment is for real. The Telecomm industry had the biggest gain in prices last week of the ten industries with a rise of 3%.
The Industrial industry has seen rising sentiment for the last two months. The 3% rise last week extends the pattern. Prices in Industrials slightly outpaced the market last week.
Hope for an Upgrade in Financial Industry Sentiment Still Possible
The Financial industry had three months of declining sentiment followed by a small bounce up in February that put it near the top of its downward channel. Two weeks ago sell-side sentiment rose 4%. Sentiment was essentially unchanged last week, so an upside breakout could still be in the cards. However, with the coming focus on changing financial regulation, it may be best to stick with the long term downward trend in sentiment.
Stocks to Watch
Over the last week, the following stocks had the largest bullish and bearish sentiment shifts amongst the sell-side.
Bullish:
| | | | |
| --- | --- | --- | --- |
| Symbol | Company | Industry | Exchange |
| | Visa Ord Shs Class A | Financials | NYSE |
| | Green Mountain Coffee Roasters Ord Shs | Consumer Goods | NASDAQ |
| | Quanta Services Ord Shs | Industrials | NYSE |
| | Monsanto Ord Shs | Consumer Goods | NYSE |
| | Barclays Bank iPath S&P 500 VIX Short Term Futures ETN Exp 30 Jan 2019 | Financials | NYSE |
Bearish:
| | | | |
| --- | --- | --- | --- |
| Symbol | Company | Industry | Exchange |
| | Agnico Eagle Ord Shs | Basic Materials | TSX |
| | Las Vegas Sands Ord Shs | Consumer Services | NYSE |
| | STEC Ord Shs | Technology | NASDAQ |
| | Coca-Cola Ord Shs | Consumer Goods | NYSE |
| | New York Times Ord Shs | Consumer Services | NYSE |
Until next week …
Disclosure: No positions