During my annual review (Part I, Part II, Part III and conclusion) of my trading set, which is a set of 40 equities that I judge fundamentally, but trade technically, it became clear that some issues need to be either immediately replaced or put on the watch list for potential removal. None was more obvious than J.C. Penney (NYSE:JCP). As such, JCP was dropped from the trading set as of the beginning of this year.
You see, this is a retailer that is both struggling on the ground and on The Street. The struggle started with the sub-prime crisis (2007), which was a general industry-wide and, as such, very understandable. Yet, the post-Financial Crisis recovery suddenly came to a screeching halt for JCP in early 2012; and the reversal ensued.
JCP, as a (used to be) dividend payer, failed the litmus test that makes people, such as I, trade dividends-paying stocks. This came when JCP decided to suspend dividends payout in early 2012. It was clearly a downhill road since, and not only due to falling out of favor with Wall Street.
The struggle on The Street cannot be captured better than what the comparison(10-year monthly) chart below indicates. It is clear that JCP stood out amongst peers with its lack of recovery. Whether it is Macy's (NYSE:M) and Nordstrom (NYSE:JWN) on the higher end, or Kohl's (NYSE:KSS), Target (NYSE:TGT) and Wal-Mart (NYSE:WMT), it is clear JCP's pains of late were unique to it alone.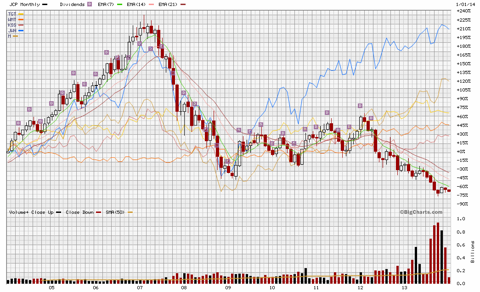 Click to enlarge
Yet, the real struggle was in the fact that, as of this writing, the management compensation is still listed as lucrative! Further, it is clear that there was a significant disposition of shares in the recent few months. This "vote" on management is the one most important factor in my decision to classify a company an investment grade or not. After all, companies are all about the people who run it. This is the way it has always been; and this is the way it will most probably always be!
Once you move beyond management, and look at the financials, the picture does not improve. In reality, the operational aspects are far uglier than one would expect from a landmark retailer such as J.C. Penney. The company is listed as having a trailing-twelve months profit margin of -16.5% and with a -$1.5 billion of operating cashflow. Given that the total shareholder equity as of the end of the last quarter was listed as $2.65, it is clear that something drastic needed to happen with JCP.
On the positive side, it is clear that retailers of the type of JCP can be viewed as real-estate companies (as we remember the Sears story). Yet, if I wanted to by a commercial real-estate company I would just do so, and not buy a department store to get to that! Further, the only consideration this will enter is whether the $5.75 billion of property owned is under- or over-stated.
Yet, when it gets to liquidation value, an equities investor has to keep in mind that common-stock owners are at the bottom of the priority chain. First it is the bond holders, then the secured debtors, then the commercial paper owners and other unsecured debtors, then it is the preferred stock owners. Before all these comes the government with its taxation, and after all come common stock holders.
In essence, a common stock holder should not have to worry about liquidation value of a company: they should have bailed out long before!
Another point worth mentioning is that there is actually an effort to address issues. If you look at the cashflow statement, you will realize that the company has written off inventory and reduced borrowing. Yet, for one to consider management to be on top of issues, such efforts should have started around the time dividends was suspended and not only in the last few reported quarters, as the above statement reveals.
As I am mainly a technical trader, I stuck to JCP long enough, but as I like my traded issues to be investment grade, I think the management of JCP, regardless of their best intentions, are doing too little -- and possibly too late -- to earn my continued attention.
In conclusion, I did drop JCP from my trading set, as I currently deem it as below investment grade, and I replaced it with another investment grade company.
On the replacement side, I still like the retail sector. In particular, with the improving economy, employment, and increasing consumer confidence, there seems to be amble opportunity in this depressed sector (as the charts above suggest) to choose from.
As JCP is a mid-range department store retailer, I have a choice of either sticking with a similar one, and here Target is my choice, or to move to a different type of retailer, and here VF Corporation (NYSE:VFC) would be my choice.
From a charting point of view, VFC's chart resembles only that of ABC in my earlier articles: a continuous rise in price over many years! Further, it is clear that its stock price has moved so much above its monthly moving averages that mean reversion resembles a serious price risk.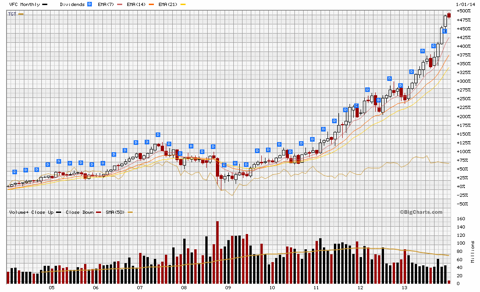 Click to enlarge
On the fundamental side, VFC has a trailing PE of 23, while that of TGT is 13. The profit margins for VFC are closer to 10% while that of TGT is around 3%. VFC, as a $27 billion market cap company, is generating $1.6 in operating cashflow, while TGT, as a $40 billion company, is generating $6.7 billion.
Finally, to apply same measures we judged JCP with, note that VFC has half of its $9.6 billion of assets in goodwill and intangible assets, while TGT's $46 billion in assets are mainly tangible.
In essence, TGT is a much less leveraged company, with a relatively depressed price. Further, TGT's price action is nicely cyclical with good mean-reversion properties. Hence, it is better suited for my purposes.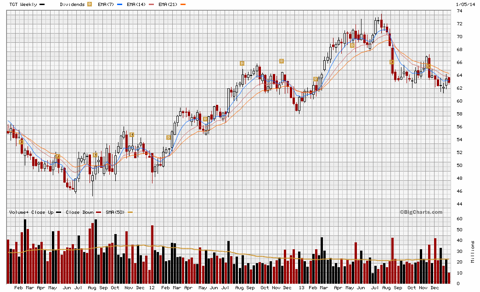 Click to enlarge
As such, TGT made it into my trading set as of the beginning of 2014.
Disclosure: I am long TGT, JWN. I wrote this article myself, and it expresses my own opinions. I am not receiving compensation for it (other than from Seeking Alpha). I have no business relationship with any company whose stock is mentioned in this article.