QTR's recommendation: Not just yet.
Netflix (NASDAQ:NFLX) is one of the stocks that I don't usually revisit. During a pretty good 2013 full of good calls on stocks, Netflix was one of my biggest boners of the year. Upon introducing a short thesis, Netflix quickly rose all year, become almost a three bagger for those who held through 2013.
Netflix is probably the most popular streaming media provider on Earth right now. Born out of its "we'll send you DVDs in the mail" business, Netflix has effectively and efficiently been the early adopter to the streaming media field. They are on the top portion of the streaming media wave - the same one that companies like GameStop (NYSE:GME) are going to get caught under if they don't begin to evolve quickly. Also riding the top of this wave are companies like Amazon (NASDAQ:AMZN), Microsoft (NASDAQ:MSFT), Comcast (NASDAQ:CMCSA), Time Warner (TWC), Sony (NYSE:SNE) and Hulu (NYSE:DIS). The landscape is plentiful, but Netflix remains the de facto choice for most households who want to introduce themselves to on-demand streaming media.
Over the last year, Netflix has risen over 250%. To start 2014, Netflix has been mired by a recent downgrade and is off about 7%.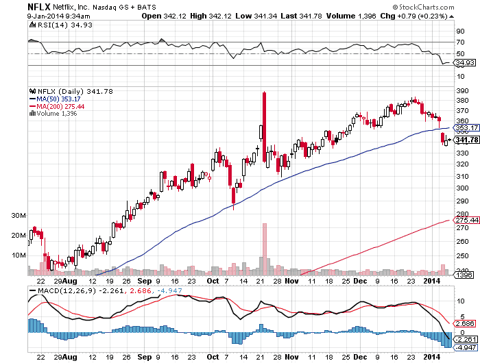 Netflix has over 40 million subscribers as of Q3 2013, and is growing exponentially.
With such growth, Netflix's valuation - like Amazon - becomes a large part of the short argument. At around $340, where Netflix is currently trading, it's posting a market cap of $20.2 billion and an astronomical P/E of 286.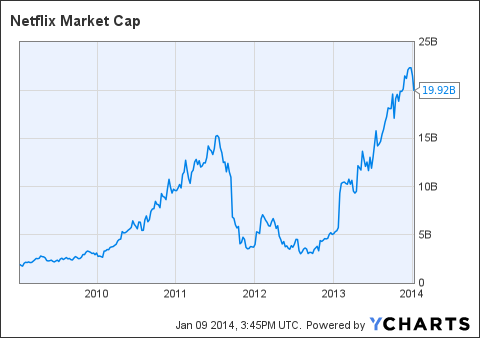 NFLX Market Cap data by YCharts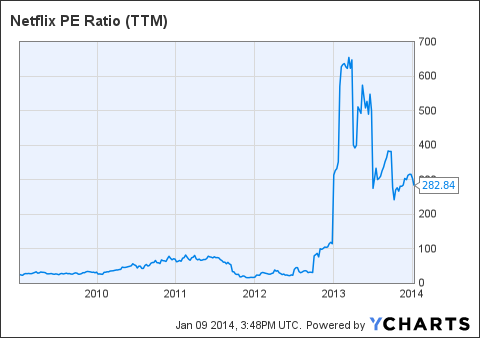 NFLX PE Ratio (TTM) data by YCharts
With that, I'll provide a concise wrap up of a couple more bullish and bearish arguments for the company as of today.
The Bearish
Lofty valuation leaves fundamental investors considering Netflix well overvalued.
Amazon's Prime service expected to be a worthy competitor in the field. Amazon has both the customer base and the cash to be a threat.
The company earned just $17 million last year, despite sporting a market cap of $20.2 billion.
With Netflix's lofty valuation, it's a prime target to be susceptible to a macro market correction.
The Bullish
Current subscriber growth continues to impress.
The company won three Emmy awards last year for its programming.
Other analysts, like Citi's Mark May think that Netflix is heading towards $400 before heading back to $300.
Due to its early adopter status, it's becoming synonymous with being the industry standard - similar to the way people use "Google" as a verb to search for content on the web. Netflix remains the most popular streaming choice for most households that use broadband media.
Since the beginning of 2014, however, the stock has declined and it's been recently attributed to a downgrade. Earlier this week, Morgan Stanley came out and downgraded Netflix:
"We expect competition in US digital video streaming to grow tighter in 2014 as services like Amazon Prime Instant Video, HBO GO, and Hulu Plus offer compelling alternatives to Netflix's service and each could corner specific segments of the market. This could challenge Netflix's gross subscriber growth and lead to higher US marketing / content costs," said analyst Scott Devitt.

"Even if Netflix's churn levels fall to record lows, we estimate that over 48MM out of 92MM residential broadband households (~53%) would need to watch Netflix over the next 12 months to meet our 2014E domestic sub forecast of 39MM. If monthly churn is closer Netflix's long-term average of ~4%, the number of households would need to reach ~52MM (~57%)," added the analyst
The question then becomes whether or not this is going to the beginning of some negative momentum - and whether or not you should sell on this downgrade. My answer to that question is to wait. I'm predicting that the support at $330 is going to tell the tale for Netflix over the coming weeks.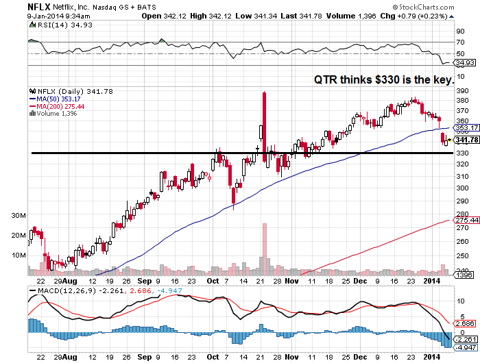 If you're a holder of Netflix since earlier in 2013, now could be a good time to take a small amount off the table - but I think the "tell" of which direction the stock is going to be heading for a sustained monthly trend is going to come in the next few weeks. If the stock can once again eclipse its moving average and bounce off of its support around the $330-$335 level, it could be poised to shake off the recent downgrade and move up. If it starts to dip below $330 for a few trading days, might be a good time to take half off the table, even if you simply wait to reintroduce it on a bigger dip.
I wish all investors the best of luck going forward.
Disclosure: I have no positions in any stocks mentioned, and no plans to initiate any positions within the next 72 hours. I wrote this article myself, and it expresses my own opinions. I am not receiving compensation for it (other than from Seeking Alpha). I have no business relationship with any company whose stock is mentioned in this article.