By Bryan McCormick
US stock index futures are down after a weak session in Asia and moderately lower trading so far in eurozone and UK markets. Much of the weakness overnight appears to relate to a currency spat between the US and China.
There were new also fears of potential tightening actions by China, and now India, which posted an inflation rate approaching 10 percent. Although India receives less headline attention, both countries have been engines economically in the nascent recovery.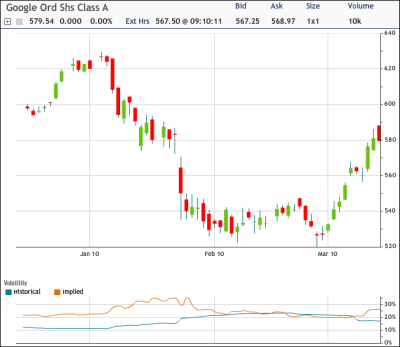 Tighter rate policy could constrain growth prospects. One part of that engine which may cease functioning is foreign participation in China's growing Internet economy.
Google (GOOG) is widely expected to shut down its Google.cn website, marking the exit of one of the few significant foreign presences in China's internet economy. Investors are sending Google shares lower by over $13 in the early going on the news, which is expected to negatively affect the company's long-term growth prospects. Google's principal competitor in China, Baidu (BIDU), is meanwhile up $27 in the early pre-market.
In merger news, Phillips-Van Heusen (PVH) has agreed to purchase Tommy Hilfiger in a deal valued at $3 billion.
The dollar is higher this morning, following sharp weakness in the UK pound. The higher dollar, along with concerns of a China tightening, is helping to send commodity stocks lower.
Among sell-side research analysts, the following are a few of the notable calls at time of writing. Wal-Mart (WMT) was upgraded to "buy" at Citigroup. Keefe, Bruyette, & Woods raised its price target on Visa (V) to $112 but downgraded IntercontinentalExchange (ICE) to "market perform." UBS downgraded CF Industries (CF) to "sell." HSBC Securities downgraded Arch Coal (ACI) to "neutral."
In S&P 500 (SPY) earnings for this week, there are just a small number of companies reporting. One of those names, FedEx (FDX) will be closely watched Thursday as a company sensitive to economic conditions.
Discover Financial Services (DFS) will report tomorrow, and we will hear from Nike (NKE) on Wednesday. Thursday will be the largest reporting day, with results from Cintas (CTAS), Gamestop (GME), and Ross Stores (ROST), as well as FedEx.
Disclosure: No positions