Kimberly-Clark (NYSE:KMB) has taken key steps towards targeting its core businesses (personal care and consumer tissue) by spinning off its healthcare division in November last year. Healthcare has been part of the company since 1970, but due to changed growth priorities between the healthcare division and Kimberly-Clark as a whole, it will be beneficial to pursue this business separately and create increased shareholder value. This transaction is expected to close in the third quarter of this year, and by the end of this transaction, we will see a publicly traded healthcare company.
The healthcare division has never been a major revenue contributor for Kimberly-Clark, with only a 7.6% share in overall revenue for the first nine months of 2013. Unlike other segments, healthcare has been volatile for the company, with demand fluctuating over the years. In the third quarter, the healthcare segment's revenue increased merely 2% year over year. This was the first increase after four quarters of revenue decline. Therefore, this move will have minimal impact on the Kimberly-Clark's top line.
The healthcare segment contributed a high operating margin of 17.4% to Kimberly-Clark in the third quarter, which is similar to its biggest segment, personal care. Therefore, this spin off will result in losing a high margin segment, but its low revenue contribution will reduce the overall negative impact.
| | | | |
| --- | --- | --- | --- |
| Operating Margin by segments | Third Quarter 2012 | Second Quarter 2013 | Third Quarter 2013 |
| Personal Care | 18.1% | 18.1% | 17.9% |
| Consumer Tissue | 13.5% | 13.5% | 14.3% |
| K-C Professional & Other | 17.5% | 19.1% | 18.4% |
| Health Care | 14.9% | 13.5% | 17.4% |
It is clearly visible from the table that healthcare segment's margin increased significantly in the third quarter, and is now similar to the personal care margin. An independent healthcare company will have more freedom in its operations and can therefore mobilize its resources for targeting the market opportunities.
Kimberly-Clark continues to woo investors with dividends and share repurchase activity
Kimberly-Clark has a rich history of providing value to its investors in the form of dividends and share repurchases. The company has gradually increased its dividend per share each year, and for the fiscal year 2013, the company will pay a dividend of $3.24 per share, up from $2.96 in fiscal year 2012. Based on the current EPS guidance for 2013, the payout ratio stands at 58%, based on the lower end of EPS guidance of $5.65 to $5.75. Looking at the company's initiatives to match the payout ratio to its earnings growth, this ratio will increase in the future.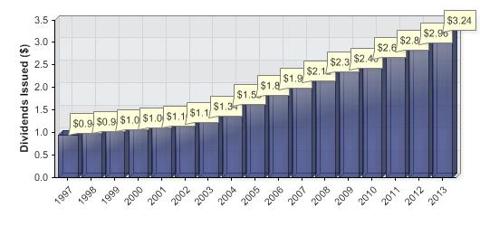 Asia Pacific markets key to the long-term growth
In fiscal year 2012, Kimberly-Clark generated around 50% of its revenue from the U.S., while it generated 37% from Asia, Latin America, and other geographic regions. The Asia Pacific region, especially markets like China and India, are the key growth driver for the company.
China will soon relax its 'one child policy,' and families can have a second child if one of the parents comes from a single child family. Previously, a family may have a second child only if both parents come from single child families. China's birth rate was 16.35 million in 2012, and the new system is estimated to add 1 million-2 million to the birth rate over the next two years. In China, the market penetration rate for baby paper diaper is at 30%, and therefore, with the increase in the birth rate, the market opportunity will increase substantially. This is a new growth opportunity for Kimberly-Clark, to boost its sales from this region.
As for India, Kimberly-Clark's revenue contribution from this region is limited to 1% of overall revenue. The company has focused on baby and child care and feminine care, but it plans to expand to adult care as well. The diaper market in India is estimated at $0.19 billion and is growing at a rate of 30% per year. Despite having a higher birth rate of 25 million babies compared to China's 16.35 million, India's diaper market is much smaller at $4 billion. In India, Kimberly-Clark operates through a joint venture with Hindustan Unilever, subsidiary of Unilever (NYSE:UN). Established in 1994, this 50:50 joint venture targeted the lucrative Indian personal hygiene market with Kimberly-Clark providing the necessary product and Hindustan Unilever providing the strong established distribution channel. In the last annual report (2012-2013), Hindustan Unilever reported a vast distribution network of more than 2,500 re-distribution stockers.
Despite having presence in India for two decades, this JV has failed to expand the market presence of Kimberly-Clark's products Huggies and Kotex, and have lost in the competitive environment. Both these brands are ranked second and third respectively in their respective market segments in India.
Kimberly-Clark is trying to win the market share by focusing on marketing India-specific products. For example, to target Indian mothers' need to keep their baby's skin healthy, the company launched Huggies diapers with breathable covers. I believe that Kimberly-Clark's initiative to deliver products tailored to Indian needs will help it target the Indian diaper market, which is still underdeveloped, with a penetration of 2% in December 2012. Also, the support of HUL's strong distribution reach will help Kimberly-Clark reach the Indian masses and target the lucrative Indian diaper market.
Both China, and India are key growth markets for Kimberly-Clark in the Asia Pacific region, and the company expects to generate $10 billion in revenue from this region by 2020.
Conclusion
Kimberly-Clark's core business strategy is a sound one, and it will allow the company to offload the uncertain healthcare business without significantly affecting the company's revenue and margin. This transaction is expected to be tax free, so the company will receive a breather in tax liability. Since the company has been adding shareholder value through its initiatives, I recommend a buy for this stock.
Disclosure: I have no positions in any stocks mentioned, and no plans to initiate any positions within the next 72 hours. I wrote this article myself, and it expresses my own opinions. I am not receiving compensation for it (other than from Seeking Alpha). I have no business relationship with any company whose stock is mentioned in this article.