Plastic money is one of the most popular payment methods in the developed world and is being widely accepted all over the globe. Visa (NYSE:V) is the leader in this domain and is the world's number one card processing company. Currently the company has 2.1 billion cards carrying the imprinted Visa logo in circulation all over the globe.
In this article, I will discuss the company's recent historical results, growth opportunities and will run a valuation, but before getting into these discussions, let us analyze the performance of the stock during 2013.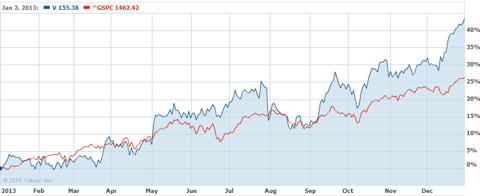 Click to enlarge
Visa's stock multiplied during the year and earned 43.31%, outperforming the broad-based S&P 500 index. This whopping increase was the result of growing top and bottom line figures, $5.4 billion worth of cash distribution in the form of share repurchases plus a dividend of $1.32 per share.
Growth Opportunities
The most important factors driving the growth of card processing companies are the penetration and popularity of plastic money and consumer spending.
According to the economic outlook of 2014 issued by IMF (International Monetary Fund), the global GDP will reach 3.7% in 2014 compared to 3.1% of the previous year. Overall the European region is also expected to recover. The outlook indicates that the European GDP may reach 1.5% in 2014 compared to 0.3% in 2013.
With all of this encouraging news, the most likely outcome would be an increase in consumer discretionary spending initiated by increased consumer confidence, declining unemployment level and encouraging performance of stock markets and other businesses. Hence, more income means increased spending, which ultimately means increased transactions directed through credit card processing companies.
Visa's Focus
Visa has a dominant position in the US, accounting for approximately 25% of the total personal consumption expenditures of the nation. This position was adversely affected by the Durbin amendment to the Dodd-Frank Bill requiring financial institutions with more than $10 billion in assets to use their own payment processing network. The result of this amendment was losses in the debit card market share in the US, but the company eventually recovered from this loss.
Electronic payment solutions account for approximately 60% of total transactions in the US, hence keeping in mind the intense competition in this industry, it is not rational to assume any enormous growth in the future. However, assuming higher transaction volume due to an on-track US economy is safe.
As mentioned by the company's management, Visa has the best network for growth in emerging markets like Mexico, Brazil, India, and Russia etc. where more than 60% of transactions are being carried out through cash and checks. Visa is currently focusing on its goal of achieving more than 50% of its total revenues from international markets.
Moreover Visa currently has no operations in China, but the US government has challenged the Chinese government's restriction on foreign companies at the World Trade Organizations platform. If the US government's challenge succeeds, it will open gateways to the growing Chinese economy.
Visa has an early mover advantage in the digital wallet market. Back in 2012, the company launched its digital wallet, v.me, in Western countries. Digital wallets are designed to save shoppers time by making checkouts faster. This technology has significant entry barriers which will provide some leverage over pricing.
Brief History

Click to enlarge
During fiscal year 2013, the company reported revenues of $11.778 billion, reflecting a growth of 13.02% year over year. Every segment contributed to this growth. The service revenues increased 10%, data processing revenues increased 17%, and international transactions increased 12% followed by an upsurge of 2% in Visa Euro licensing fee, whereas rebates to clients also increased to $2.3 billion.
Transaction volume experienced an increase of 10% year over year and reached $58 billion in fiscal year 2013.
Moreover, total operating expenses were $4.554 billion. Excluding the unusual items from operating expenses of fiscal year 2012, these expenses increased by 8.89% year over year. Selling, general and administration expenses were $4.139 million, reflecting an increase of 7.53% year over year, but on a common size basis, these expenses, as a percentage of revenues, declined 179 basis points.
Visa reported a net income of $4.961 billion and a net margin of 42.12% during fiscal year 2013.
Significantly Overvalued Based On Multiples
The company showed a reasonable performance in the past and is all set to capitalize on attractive growth opportunities in the future, but currently the stock price is severely overvalued.

Click to enlarge
To show this overvaluation, I have calculated Visa's fair value through the multiple based valuation approach. The company's per share earnings, book value, sales and cash flows have been calculated using the company's trailing twelve month figures. Moreover, I assigned 80% weight to the P/E ratio, 10% weight to the P/cash flow ratio and 5% weight to both the P/B and P/S ratios. These weights were selected based on the fact that Visa's operating model is not a capital intensive business.
On the basis of the given multiples of the industry and the company's the fair value of the stock should be $156.44, reflecting a downside risk of 29.18%.
Conclusion
Visa has undoubtedly outperformed the industry at large by posting excellent results in the current fiscal. Moreover its short and long term indicators point towards abundant growth opportunities, and the company is well prepared to take advantage of them, but I see some correction is needed in the stock price. Hence, I do not think it's an entry point for investors.
Disclosure: I have no positions in any stocks mentioned, and no plans to initiate any positions within the next 72 hours.
Business relationship disclosure: The article has been written by a Blackstone Equity Research research analyst. Blackstone Equity Research is not receiving compensation for it (other than from Seeking Alpha). Blackstone Equity Research has no business relationship with any company whose stock is mentioned in this article.