The average age of a car on the road is recorded to be 11 and half years. This means that at some point of time, people need to replace their old cars. And according to the forecast made by Edmunds.com the time is now. Edmunds' chief economist observed that due to a tight supply of used cars the new car market seems to be very attractive. He further noted that the US auto industry's new vehicle sales in 2014 will hit their highest levels since 2006 at $16.5 million.
Owing to the gap between supply and demand I believe that we are at the beginning of a phase of a strong auto sales cycle and that there is a long way to go. As a result of this, all auto related manufacturers seem to be very attractive investment opportunities. In addition, the growth that will prove to be a turning point is expected to come from the emerging markets (i.e. Asia Pacific). In my opinion, Ford Motors (NYSE:F) seems to be the best candidate to capitalize on the growth opportunities.
The Speculation comes to an End
In an interview with Associated Press, the CEO of Ford Motors, Alan Mulally confirmed that he is not under consideration for the job at Microsoft (NASDAQ:MSFT). Since the Mulally staying, at least for the year, the rumors that were hanging over the top have now come to an end.
It certainly gives a huge confidence to have time tested CEO, who's has pulled the company from the grips of bankruptcy. Nevertheless, he has to retire eventually but for now it gives stability to the company, which I believe will be reflected on the stock price. Apart from his staying, it is important to conduct a thorough analysis before making any investment decision. Let's see what the company has to offer to its share holders
Dividend hike: Expectations are met
Ford announced that it plans to raise its quarterly dividend to $0.125 per share, up 25% from the prior $0.10 in 2013. The company continues to impress by targeting a regular and growing dividend that is sustainable.
Strong balance sheet, increased liquidity and solid business performance has led the company to second dividend hike in the last two years. Through the increased dividend, Ford's new dividend yield comes 3.2%. On the other hand, General Motors (NYSE:GM) still yields zero.
Emerging market: Fuel to the Automaker
Apart from regular income stream, Ford has been offering investment opportunity to the growth investors. Ford is anticipating growth prospects in key Asian markets and expects to sell more than 1 million vehicles in that region for the first time ever. China is expected to lead the pack as Ford's sales were up 51 percent during the first nine months of 2013 to a record number of 647,849vehicles sold. Going forward, the company expects to double its market share in China to nearly 5 percent from 2.5 percent in2012. Ford says that it sold a total of 92838 vehicles on a wholesale basis in December 2013, an increase of 35 percent from a year earlier. On the other hand, General Motors was able to achieve sales much faster and expects to sell more than 3 million vehicles in China alone.
Considering the sound position of its rival General Motors, Ford is also putting efforts into reaping the benefits from the lower manufacturing cost in the region. It is currently building manufacturing plants in China, India and Thailand. These plants will increase the regional capacity of Ford to 1.9 million units which will bring the total capacity to 2.9 million by the end of 2015.
Ford expects that annual vehicle sales will hit 32 million in China by 2020which is more than in the United States and Europe combined.
Ford has come a long way with regards to its progress in India and the company seems set to grow further. The auto industry in India is set to grow at a CAGR of 16 percent up until 2020 and Ford is determined to capture a bigger share in the market. The company has been enacting the right strategies towards expanding its dealership network, improving production capacity and offering products at competitive prices.
In India, Ford's sales were primarily driven by the success of the company's new EcoSport. Ford priced the car at $9300creating cut throat competition for its peers (see October sales figures). Despite the fact that the industry witnessed a decline of 3.88% in sales Ford reported record numbers. Its sales jumped by 36 percent compared to the sales of the previous year. Given the fact that India and China have a combined population of over 2.5 billion and have a growing middle class Ford will be launching numerous new cars in 2014 to gain a leading market share.
What to Infer from December's Sales
The company's December sales missed analysts' estimates. It reported increased sales by1.7%, whereas the analysts were estimating an increase of 4.3 percent. The F series' sales increased by 8.4 percent while Fusion sales were up 26.6 percent but the passenger cars saw a big drop in sales.
Despite the fact that Ford missed analysts' estimates it is of worth mentioning here that its performance was better than that of its competitors. General Motors posted negative sales growth of 6.3 percent last December while Toyota posted negative 1.7 percent from the last December. In such a scenario, Ford's positive 1.8 percent sales growth is a testimony to the company's growing market share. So despite ending 2013 on a slower pace the company is likely to see another record sales year.
Beyond 2014, Ford generally remains on track to achieve its long term goals but the targeted global automotive operating margin of 8 to 9 percent seems to be vulnerable. Poor conditions in Europe coupled with the downturn in South America will not allow the company to carry on operations with higher margins.
Valuation
The chart below exhibits the calculation of the intrinsic value using the multiple based valuation. The earnings and cash flow multiples have been allocated a weight of 35 percent each while sales and book value multiples were each assigned a weight of 10 percent. The weights assigned to the different multiples are in line with the general practice in the industry.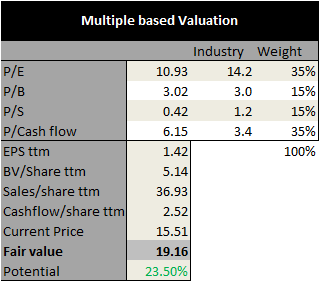 The intrinsic value of the stock gives a nice upside potential of 23.50 percent with a share value of $19.16.Moreover, the company's 0.83 PEG ratio is lower than the industry average of 1.78.
In addition, the company currently offers a dividend yield of 3.2 percent that is higher than the industry average of 2.42.
Conclusion
Ford has been able to increase its sales by 60 percent over the last four years and is on track to increase its sales by 40 percent by the end of 2020. The growth in sales will be reflected in the top line which will result in the improvement of the company's bottom line growth. Analysts are expecting Ford's earnings to grow at a CAGR of 11.67 percent over the next five years.
The company has been experiencing sales from all around the world and is continuously introducing new products to remain competitive. It is also putting considerable and satisfactory efforts towards strengthen its position in the emerging markets.
Disclosure: I have no positions in any stocks mentioned, and no plans to initiate any positions within the next 72 hours. I wrote this article myself, and it expresses my own opinions. I am not receiving compensation for it (other than from Seeking Alpha). I have no business relationship with any company whose stock is mentioned in this article.