Both AstraZeneca PLC (NYSE:AZN) and the Bristol-Myers Squibb Co. (NYSE:BMY) are anticipated beneficiaries of the U.S. Food and Drug Administration announcement Wednesday that it has approved Forxiga (dapagliflozin) tablets for marketing as a means of enhancing glycemic control in adults with type 2 diabetes, despite the fact the two companies are in the process of dissolving their diabetes partnership worldwide.
Type 2 diabetes afflicts about 24 million people in the U.S., accounting for more than 90 percent of diabetes cases diagnosed in the country, according to the FDA. Complications of diabetes can include amputations, blindness, and stroke, as well as heart, kidney, and nervous-system diseases, the U.S. Centers for Disease Control and Prevention has reported. Accordingly, Forxiga is expected to do well even in the competitive diabetes-drug marketplace where Merck & Co. Inc.'s (NYSE:MRK) Januvia may have been the leader with almost $2.9 billion in sales during the first three quarters of last year.
AstraZeneca, based in London, and Bristol-Myers Squibb, headquartered in New York, announced Dec. 19 they had agreed to conclude their collaboration in diabetes. Under the terms of the agreement, the former would make an initial payment of $2.7 billion to the latter, to potentially be followed by regulatory- and sales-based milestone payments of as much as $1.4 billion, as well as royalty payments based on net sales through 2025. If and when certain assets are transferred, AstraZeneca also would make payments of as much as $225 million to Bristol-Myers Squibb, the companies said.
At the time the agreement was announced, AstraZeneca said, "The company expects the transaction when implemented to be neutral to [core earnings per share] in 2014," while Bristol-Myers Squibb said, "The company expects to receive $3.4 billion in the first quarter of 2014, which includes $2.7 billion in an upfront payment and an additional $700 million assuming regulatory approvals of dapagliflozin."
The deal will give AstraZeneca a bigger footprint in diabetes and provide Bristol-Myers Squibb with the wherewithal to sharpen its strategic focus on oncology.
Figure 1: Comparison Of AZN And BMY Share Prices Since Inception Of Their Diabetes Alliance In January 2007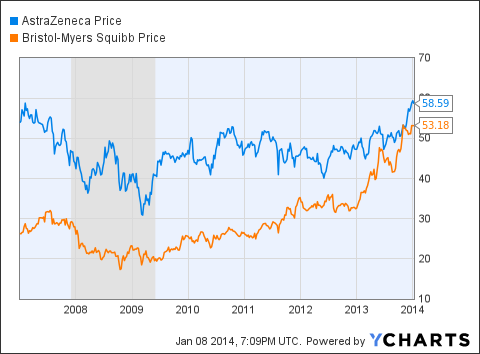 Note: The shaded area denotes a U.S. economic recession.
Source: YCharts
Forxiga Approval Requires Six Post-Marketing Studies
Already granted marketing approval by the European Medicines Agency in a number of European countries, including Germany and the U.K., Forxiga is a sodium-glucose co-transporter 2 (SGLT2) inhibitor that blocks the reabsorption of glucose by the kidney, hikes glucose excretion, and lowers blood-glucose levels, according to the FDA. Its efficacy and safety were evaluated in 16 clinical trials involving more than 9,400 patients with type 2 diabetes, the FDA reported. The trials demonstrated improvement in HbA1c (hemoglobin A1c or glycosylated hemoglobin, a measure of blood sugar control), the agency said.
The most common side effects observed in patients treated with Forxiga in clinical trials were genital fungal infections and urinary-tract infections, the FDA reported.
However, an increased number of bladder cancers were diagnosed among Forxiga users in clinical trials, so the drug is not recommended for patients with active bladder cancer, according to the FDA. Also, Forxiga is associated with dehydration, which can lead to a drop in blood pressure (hypotension) that can result in dizziness and/or fainting, as well as a decline in renal function. Patients who were elderly, had impaired renal function, or were on diuretics to treat other conditions appeared to be more susceptible to this risk, the agency said.
The FDA reported it is requiring six post-marketing studies for Forxiga, as follows:
• A cardiovascular outcomes trial (CVOT) to evaluate the cardiovascular risk of Forxiga in patients with high baseline risk of cardiovascular disease.
• A double-blind, randomized, controlled assessment of bladder cancer risk in patients enrolled in the CVOT.
• An animal study evaluating the role of Forxiga-induced urinary flow/rate and composition changes on bladder tumor promotion in rodents.
• An enhanced pharmacovigilance program to monitor reports of liver abnormalities and pregnancy outcomes.
• Two clinical trials to assess the pharmacokinetics, efficacy, and safety in pediatric patients.
AstraZeneca has a market capitalization of about $73.42 billion, with trailing four-quarter revenue of around $26.15 billion and earnings per American depositary share of $3.71. On Wednesday at 4 p.m. EST, AZN was trading at $58.52, up 1 cent, or 0.02 percent.
Bristol-Myers Squibb has a market cap of about $84.46 billion, with trailing four-quarter revenue of around $16.14 billion and EPS of $1.67. On Wednesday at 4 p.m. EST, BMY was trading at $53.42, up 86 cents, or 1.64 percent.
Figure 2: Anticipated Compound Annual Growth Rates Of Revenue In Five Classes Of Diabetes Drugs, 2012-2018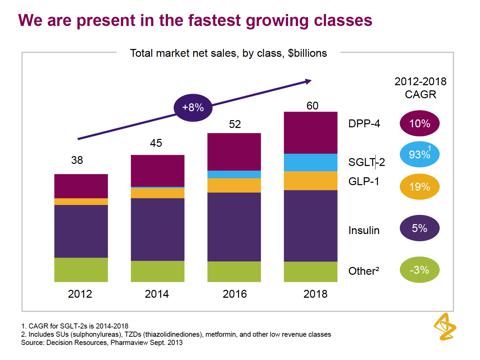 Source: AstraZeneca Global Diabetes Alliance Analyst Call Presentation, Dec. 19, 2013
Disclaimer: The opinions expressed herein by the author do not constitute an investment recommendation, and they are unsuitable for employment in the making of investment decisions. The opinions expressed herein address only certain aspects of potential investment in the securities of any companies mentioned and cannot substitute for comprehensive investment analysis. The opinions expressed herein are based on an incomplete set of information, illustrative in nature, and limited in scope, and there are limitations to their accuracy. The author recommends all investors conduct detailed investment research of their own, including review of relevant SEC filings and consultation with a qualified investment adviser. The information upon which this article is based was obtained from sources believed to be reliable, but it has not been independently verified, which means the author cannot guarantee the accuracy of this information. In addition, the opinions expressed herein reflect the author's best judgment as of the date of publication, and they are subject to change without notice.
Disclosure: I have no positions in any stocks mentioned, and no plans to initiate any positions within the next 72 hours. I wrote this article myself, and it expresses my own opinions. I am not receiving compensation for it (other than from Seeking Alpha). I have no business relationship with any company whose stock is mentioned in this article.