Kraft Foods Group (KRFT) is not your typical low growth, high-dividend stock. The company has a long history of steady growth with a focus on shareholder returns. Kraft Foods' main asset is likely its impressive brand portfolio of food & beverage products where the company is often the market share leader or close to it. Kraft Foods offers a meaningful high quarterly dividend of $0.525 per share and yields about 3.95%.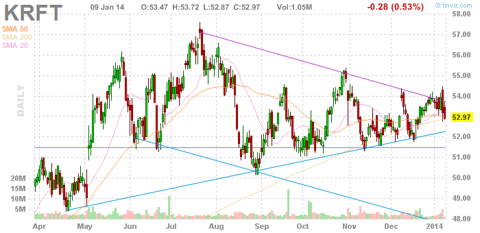 Click to enlarge
Company overview
The current Kraft Foods is the product of a complicated 2012 spin-off where the old Kraft Foods, former ticker KFT, was essentially split in two. The old Kraft Foods changed its name to Mondelēz International (NASDAQ:MDLZ) while the current Kraft Foods was spun off via a pro rata stock dividend. In essence, the new Kraft Foods is a North American focused food manufacturer, while Mondelēz is more of an international player. As a result, Kraft Foods has more moderate growth potential, but also a cheaper valuation.
Kraft Foods is somewhat exposed to commodity price swings, such as for food ingredients and packaging. However, these costs are only a fraction of its overall expenses. The company aims to become one of the lowest cost producers while maintaining and expanding its current healthy profit margins. Since the spin-off, the company has been engaged in a corporate restructuring. The current plan for the company is to simplify its product offerings and increase the size of its distribution network. Doing so should result in significant cost savings and reduce its cash conversion cycle, though at the cost of a short-term increase in capital spending.
Kraft Foods is cheap compared to its peers
Like many other consumer goods stocks, Kraft Foods saw its shares soar during 2013. However, the stock is now off nearly 10% from its 52-week highs. I believe this decline may have made shares of Kraft Foods attractively valued.
However, some analysis is needed to prove this point. One of the better ways to see if a stock is undervalued is to compare it to other stocks in its peer group. As Kraft Foods is mostly a processed food manufacturer, with no one segment accounting for an outsized amount of revenues, finding comparables is quite easy. Do note that the time frames for the comparisons here will be limited as Kraft Foods only started trading in September 2012.
For this analysis, I will use General Mills (NYSE:GIS) (it is basically 100% processed foods by revenues) and J. M. Smucker (NYSE:SJM) (has an even revenue mix between processed foods and coffee). I will also include Mondelēz, though it is not an exactly 100% apples to apples comparable, it does give us a clue as to what Kraft Foods' valuation may look like with a rosier growth outlook.
For starters, let us look at these companies TTM PE ratios. As shown below, Kraft Foods is clearly the cheapest of the bunch with a TTM PE of about 17x. However, the difference between it, General Mills and J. M. Smucker is relatively minor. However, Mondelēz is another story. That stock is basically trading well above the others with a nearly 23x TTM PE, 35% higher than its peers. While this may be due to Mondelēz's better international growth prospects, such a large discrepancy is noteworthy.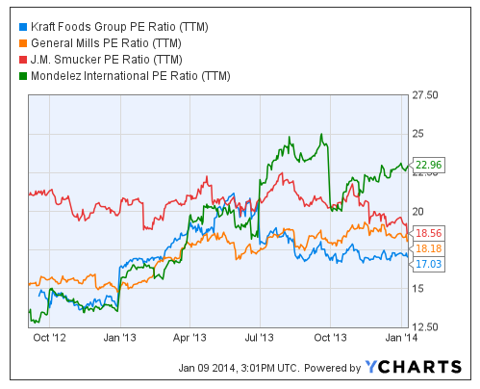 Click to enlarge
As many may be aware of, EPS is often not the best measure of a company's "real" profitability. EPS can and does get manipulated, often times with accounting tricks, share buybacks, and one time items. As a result, a valuation analysis should not solely rely on PE ratios. A better metric for valuing companies would be via using their enterprise multiple, or EV/EBITDA. EBITDA is harder to adjust compared to EPS while this also allowing us to factor in debt into the valuation.
As shown below, Kraft Foods again appears to be the cheapest of the bunch. However, the difference between it, General Mills, and J.M. Smucker is minimal. Mondelēz again appears to be very richly price compared to its peers, demanding a 65% premium to peers.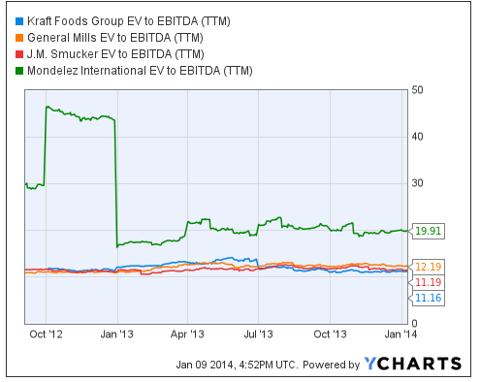 Click to enlarge
Beside its valuation, Kraft Foods also handily beats its peers with its dividend. As value investors are oftentimes also dividend investors, the yield is an important consideration. The current yield for Kraft Foods of 3.95% is 27% higher than General Mills and 150% higher than Mondelēz. Again, Kraft Foods has the advantage here.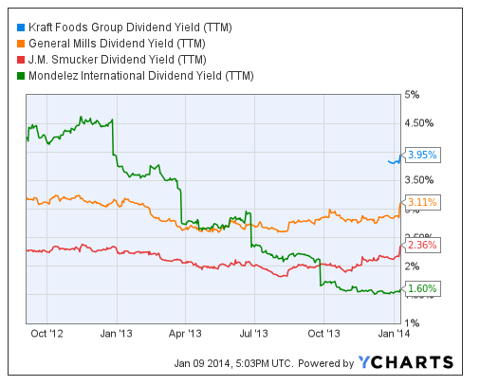 Click to enlarge
Finally, the only real area of weakness for Kraft Foods is it is free cash flow generation. As I noted earlier, the company is in the midst of an organizational turnaround, which has tied up much of its cash flows. Kraft Foods' FCF yield (FCF per share dividend by the stock price) is 30% lower than that of General Mills, inline with J.M. Smucker, and more than double that of Mondelēz. However, as early as Q2 2013, Kraft Foods' cash generation was much stronger. This may point towards a rebound once the restructuring is complete.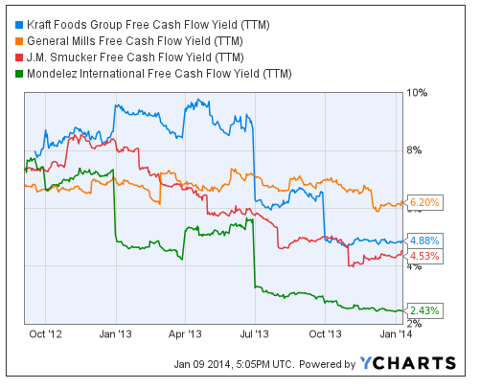 Click to enlarge
I think based solely on valuation, Kraft Foods is the clear winner. However, some of its other peers are very close. Mondelēz is the clear laggard, with its valuation way out of whack with its peers. Kraft Foods also offers the highest dividend yield of the bunch, further setting it apart.
2014 outlook: Massive share buybacks
On December 17, Kraft Foods announced that its Board of Directors had authorized a $3 billion stock repurchase program. The program does not have an expiration date, which may indicate a lengthy time period. This would be Kraft Foods' first repurchase program since its 2012 spin-off.
$3 billion is an absolutely massive sum for a company the size of Kraft Foods. It would represent nearly 10% of its current market cap and will likely put a floor on the stock price for a considerable period. Buying back so many shares is also likely to meaningfully reduce Kraft Foods' dividend payments, and thus lower its payout ratio, as the shares yields nearly 4%.
For 2014, analysts estimate Kraft Foods to post FY 2014 EPS of about $3.20, up 14% from the current 2013 estimate of $2.80. However, Kraft Foods actually saw negative EPS growth in 2013 related to spin-off related charges. Averaging out theses two years, Kraft Foods is likely post an average EPS growth rate of 5% per year since its spin-off.
Conclusion
Kraft Foods has faced some cash flow issues recently. However, this metric should improve once the company finishes its optimizations. It is not surprising that there are already some analysts upgrading and raising their price targets for the stock.
Kraft Foods' massive share buyback program is very likely to provide a key tailwind for its shares through 2014. The company also seems to be fairly cheap when compared to its peers. In addition, the company's yield is one the highest in its industry. For these reasons, Kraft Foods is definitely a stock worth looking at.
Disclaimer: The opinions in this article are for informational purposes only and should not be construed as a recommendation to buy or sell the stocks mentioned. Please do your own due diligence before making any investment decision.
Disclosure: I have no positions in any stocks mentioned, but may initiate a long position in KRFT, SJM, over the next 72 hours. I wrote this article myself, and it expresses my own opinions. I am not receiving compensation for it (other than from Seeking Alpha). I have no business relationship with any company whose stock is mentioned in this article.