Natural gas prices are under serious pressure today and looking to test the support at $4/MMbtu after it was announced that inventories fell by 157 bcf in the last week. It is a trade we have been wary of in recent weeks as the optimism has grown and approached levels we thought was far too bullish, especially with all of the production out there.
Oil is also falling, having broken through $93/barrel and now trading below $92/barrel which could be paving the way for WTI Crude to head into the $80s. A move below $90/barrel would be a serious blow for E&P names, so we are watching the price action in the oil complex closely right now.
Chart of the Day: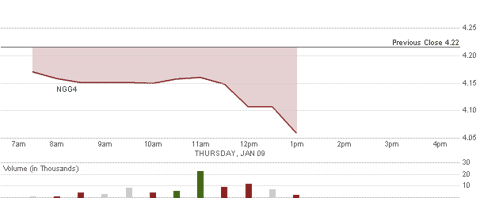 Source: CNBC
Commodity prices this morning are as follows:
Gold: $1,227.60/ounce, up by $2.10/ounce
Silver: $19.595/ounce, up by $0.056/ounce
Oil: $91.77/barrel, down by $0.56/barrel
RBOB Gas: $2.6572/gallon, up by $0.0009/gallon
Natural Gas: $4.059/MMbtu, down by $0.157/MMbtu
Copper: $3.3005/pound, down by $0.042/pound
Platinum: $1,419.80/ounce, up by $5.60/ounce
Oil & Natural Gas
For those looking to gain exposure to international drillers, it might be time to look at BPZ Resources (NYSE:BPZ) which reported yesterday results from its 51% owned Block Z-1 which lies offshore Peru. BPZ Resources reported (see press release here) the results from its exploration drilling with the results from a well called Albacora A-18D which produced roughly 2,250 boe gross production over the 24 hours prior to the press release. That equates to 1,147 boe net to BPZ Resources based on their 51% ownership. The company also announced that the Albacora A-19D well was spud on January 1, 2014. Block Z-1 gross production now exceeds 4,900 boe.
Goodrich Petroleum shares appear to have found support at $16/share, and if they are moving higher now the next level to watch will be $20/share where we could see some resistance.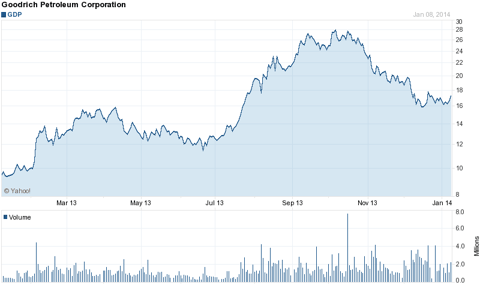 Source: Yahoo Finance
Shares in Goodrich Petroleum (GDP) have been under pressure in recent months, and especially so after the company announced that one of their successfully fracked wells became plugged during flowback. That is an old story, and as many analysts have pointed out the clogs do happen and are not at all out of the ordinary. Goodrich Petroleum continues to develop their 300,000 acre position in the Tuscaloosa Marine Shale, or TMS as many call it, and should have more results to report in the near future. Those results should include the data from the unplugged well. Investors should also take notice that Howard Weil upgraded the shares on Tuesday.
Also receiving an upgrade from Howard Weil on Tuesday was Bill Barrett (NYSE:BBG). The analyst upgraded their rating on the company to 'Outperform' from 'Sector Perform' and we must point out that the company has been outperforming its peers recently as the shares remain within striking distance of their 52-week high with the company continuing to have exploration success and focuses on the higher margin plays. The price target the Howard Weil analyst placed on the stock was $34/share.
Agriculture
Many were quick to write Monsanto (NYSE:MON) off and sell the shares in August after disappointing results. As the shares fell to the $95/share level we became bullish and thought that the sell-off was presenting investors needing exposure to commodities, especially agriculture, an intriguing opportunity to buy a company with excellent long-term growth prospects while also getting a decent dividend.
Monsanto is a stock that has momentum runs and it appears to us that the momentum is once again swinging in favor of the bulls.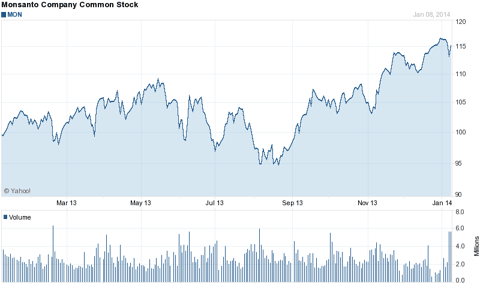 Source: Yahoo Finance
With yesterday's EPS beat by $0.03 and today's price target increase for the company's shares to $130-135/share from $118-120/share by Wells Fargo would seem to indicate that the shares can still move higher. We still like the story long-term and think this is a name patient investors could do well with.
Rare Earths
There were rumors once again of a big company sniffing around at Molycorp (MCP) early yesterday morning. It is a name we have written about many times, always expressing either a neutral or bearish stance. The fact that a large company may or may not be interested in buying the entire company is of little interest to us because we have seen that trap deployed far too many times by day-traders over the years to fall for unsubstantiated rumors. With rare earth prices having fallen considerably from their highs we see little reason for consumers of end products to have a desire to be buyers of the mines at this time. Owning the means of production is a headache that many manufactures have little interest in assuming. The early gains were short-lived and we think that the market got it right.
Disclosure: I have no positions in any stocks mentioned, and no plans to initiate any positions within the next 72 hours. I wrote this article myself, and it expresses my own opinions. I am not receiving compensation for it (other than from Seeking Alpha). I have no business relationship with any company whose stock is mentioned in this article.