We have 7077 stocks in our database, but only one stock has an Equities Lab Fundamental Score greater than 40 (out of 50). That stock is Green Mountain Coffee Roasters Inc. (NASDAQ:GMCR). According to Google finance;
"GMCR is a specialty coffee and coffee maker. It sells Keurig Single Cup Brewers and Arabica bean coffees, including Fair Trade Certified, certified organic, flavored, limited edition and blends offered in K-Cup and Vue packs (single serve packs) for use with its Keurig Single Cup Brewers. The Company's brewing technology, Keurig Single Cup Brewing System combined with an array of beverage brands, offers a variety of options to consumer from the kitchen countertops, to small offices and dorm rooms, to hotels."
Highest "Fundamental Score" in the Market
The Equities Lab Fundamental Score is the sum of our Balance Sheet, Income Statement, Cash Flow, Value, and Buzz Score. Each score is calculated based on how many criteria the stock passes out of 10. For instance, a stock will have an Income Statement Score of 8 if it passes 8 of the 10 criteria. The images below display how the scores are calculated:
- Balance Sheet Score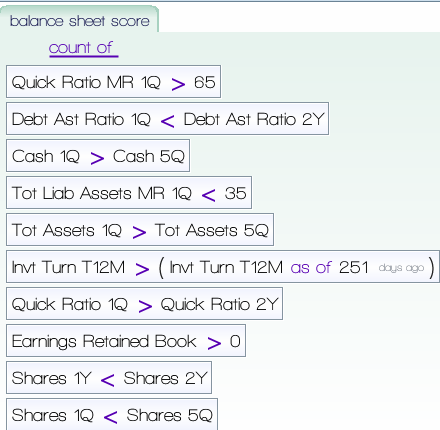 GMCR has a Balance Sheet score of 9 so it passes 9 out of the 10 criteria listed above.
- Income Statement Score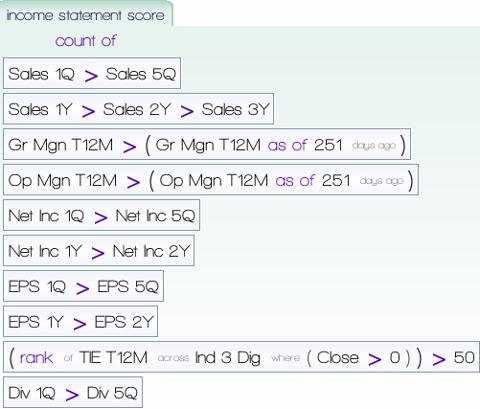 GMCR has an Income Statement score of 9. The final two lines represent that the company's times interest earned ratio must rank in the top 50% of its industry and the company's dividend must have increased from 5 quarters ago to the most recent quarter, respectively.
- Cash Flow Score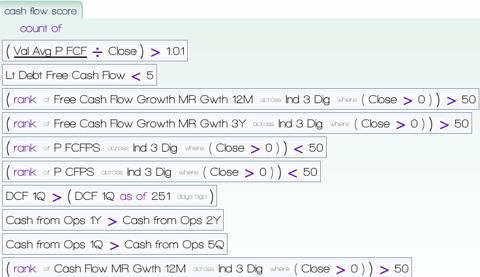 GMCR has a Cash Flow Score of 9. This score uses multiple industry ranks to ensure that the company is leading other companies with similar economic risks.
- Value Score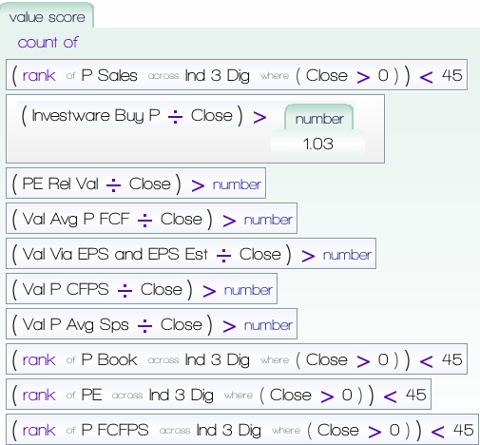 GMCR has a Value Score of 6. The value score uses multiple valuations in dollars per share based on a range of data then divides it by the close to get an idea of how expensive or cheap the stock is based on that data.
- Buzz Score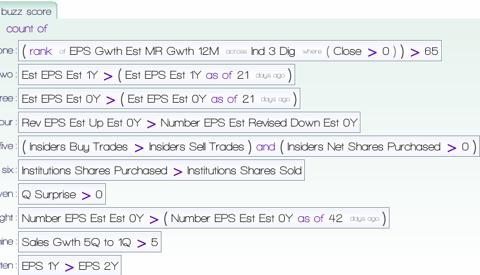 GMCR has a Buzz Score of 10 out of 10. A high buzz score indicates that a company is receiving a very high amount of bullish activity from insiders, institutions, and analysts at the moment.
Does the "Fundamental Score" Matter?
Each of the previous scores (income statement, cash flow, balance sheet, buzz, and value) were tested and changed so that stocks with higher scores would outperform stocks with lower scores on average. The graph below displays our back test of stocks with a fundamental score greater than 35 (out of 50).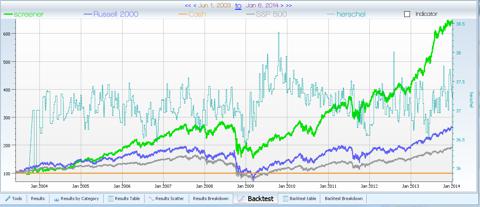 The green line shows the portfolio return if you would have bought stocks when they had a fundamental score over 35 and sold them when the score dropped below 35 with a weekly rebalance. The grey line represents the return of the S&P 500. As you can see the strategy returns 19% on average since 2003 versus a 6.3% return from the S&P 500.
Recent companies that have had a "Fundamental Score" greater than 40 include:
Sentiment
With the Equities Lab "Fundamental Score" we have proven that GMCR is solid fundamentally. Now let's take a look at analyst sentiment to see what the professionals are saying about the stock. According to Yahoo finance, GMCR currently has 14 recommendations and 11 price targets. In terms of recommendations, 5 rate GMCR a strong buy, 6 rate it a buy, 2 rate it a hold and 1 rates it a sell. Of the 14 recommendations provided by industry professionals, 79% are bullish while 7% are bearish. In terms of price targets, the average out of the 11 targets is $85.82 which represents a 6.3% premium to the current price of $80.70.
Summary
Green Mountain Coffee Roasters currently has the best Equities Lab Fundamental Score in the market and analysts have a very positive outlook on the stock. These two reasons along with others make us bullish on the stock. The stock is up about 100% from the start of 2013, but look for the stock to continue the trend and break its previous high of $89.66. If GMCR does break the previous high then we could easily see the stock break $100 around July of 2014 assuming the market suffers no serious correction.
Disclosure: I have no positions in any stocks mentioned, and no plans to initiate any positions within the next 72 hours. I wrote this article myself, and it expresses my own opinions. I am not receiving compensation for it (other than from Seeking Alpha). I have no business relationship with any company whose stock is mentioned in this article.